welcome to scrapbook Sunday!
Wow! Today, I'm partcipating in the very first Scrapbook Sunday blog hop initiated by the wonderful Jenny Hall. I was thrilled to be asked by Jenny to join her and several other talented International Stampin' Up! demonstrators for these Scrapbook Sunday blog hops.
We'll be hopping every third Sunday of the month and each hop will feature scrapbook inspiration, from regular scrap lay-outs to pocket pages, using Stampin' Up! products.
Wow! Vandaag doe ik mee aan de allereerste Scrapbook Sunday bloghop geïnitieerd door de geweldige Jenny Hall. Ik ben zeer vereerd dat ik gevraagd ben door Jenny om samen met haar en diverse andere getalenteerde internationale Stampin' Up! demonstrators deel te nemen aan deze Scrapbook Sunday bloghops.
We zullen iedere derde zondag van de maand hoppen. Iedere hop staat Scrapbook inspiratie, van reguliere scrap lay-outs tot pocket pages, met de prachtige producten van Stampin' Up! centraal. 
sketch
This month we've all used the same sketch for our scrap lay-outs. The sketch is designed by the lovely Pam Staples from Sunny Girl Scraps.
Deze maand hebben we allemaal dezelfde sketch voor onze scrap lay-outs gebruikt. De sketch is ontworpen door de lieve Pam Staples van Sunny Girl Scraps.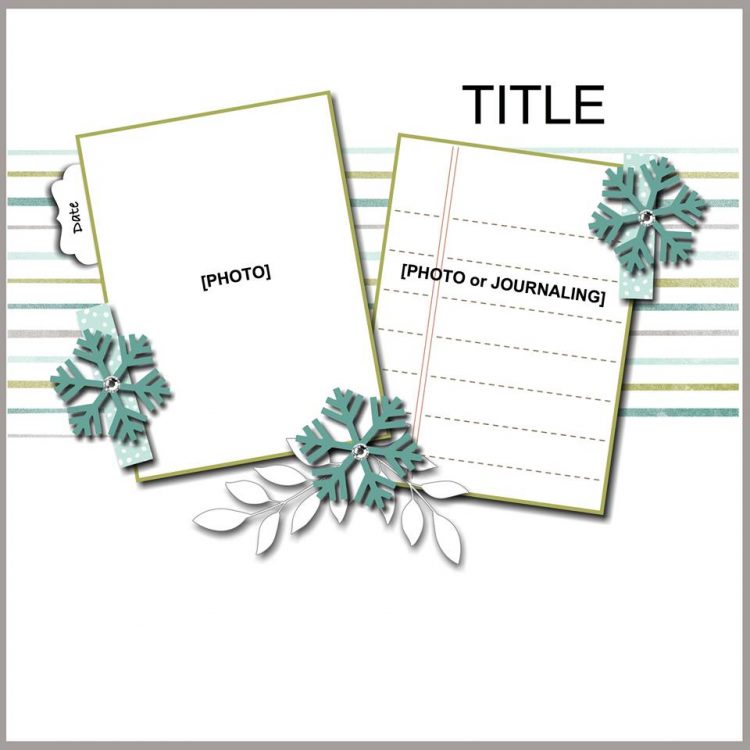 Vancouver aquarium lay-out
I opted to make a 6 x 8″ scrap lay-out with some pictures I made during our vacation in Canada, 2016. It was the best vacation ever and it was wonderful to reminisce about it while making this lay-out. That's probably the best thing about scrapbooking… Thinking about and remembering special moments while crafting a project to keep that memory alive.
Ik heb ervoor gekozen om een 6 x 8″ scrap lay-out te maken met een paar foto's van onze vakantie in Canada, 2016. Het was echt de meest fantastische vakantie ooit en het was fijn om er weer aan terug te denken bij het maken van deze lay-out. Dat is misschien wel het mooiste aan scrappen… Het denken aan en herinneren van speciale momenten terwijl je een project maakt om die herinnering levend te houden.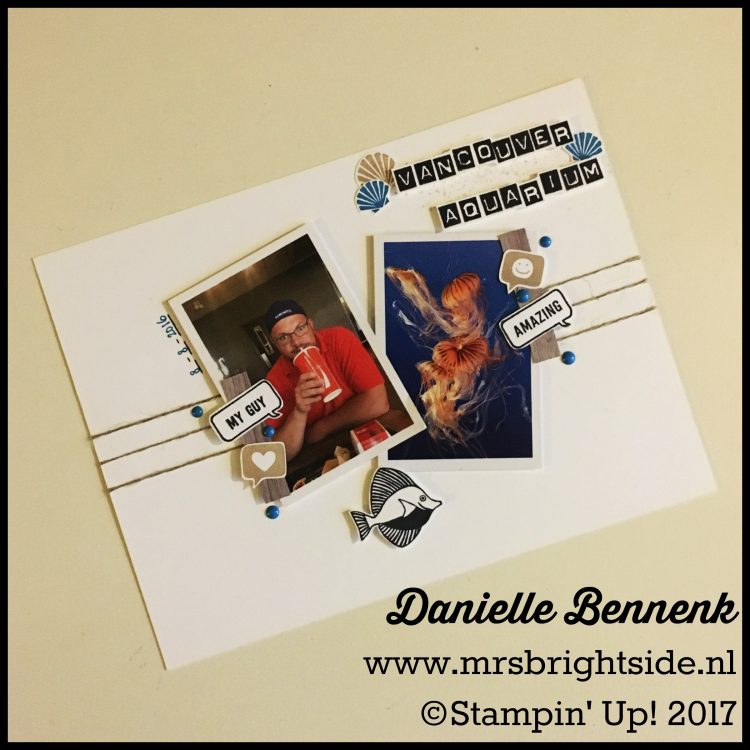 The base of the lay-out is thick Whisper White cardstock and I decided to keep a 'manly' color scheme with Crumb Cake, Basic Black and Pacific Point. The latter not just because it compliments the blue water on the jelly fish pic, but also because it's my guy's favorite Stampin' Up! color 🙂This lay-out will be put in my 6 x 8″ Kraft Album with more pictures of our roundtrip through West Canada.
The stamp sets I used are the Labeler Alphabet – A must have stamp set when scrapping in my opinion -, Seaside Shore for the shells and fish, Text Ya Later and the hostess set You're Delightful for the fun message bubbles. You'll find a complete product list at the bottom of this message.
De basis van de lay-out is thick Whisper White cardstock en ik heb besloten om een 'mannelijke' kleurcombinatie aan te houden met Crumb Cake, Basic Black en Pacific Point. De laatste niet alleen omdat het perfect past bij het blauwe water van de kwallen foto, maar ook omdat het mijn lief z'n favoriete Stampin' Up! kleur is 🙂Deze layout wordt in mijn 6 x 8″ Kraft Album gestopt met meer foto's van onze rondreis door West-Canada.
De stempelsets die ik gebruikt heb zijn de Labeler Alphabet – Een in mijn ogen onmisbare stempelset wanneer je scrapt -, Seaside Shore voor de schelpjes en de vis, Text Ya Later en de hostess set You're Delightful voor de grappige gespreksbubbels. Je vindt een complete product lijst aan het einde van dit blogbericht.
just hop-a-long
I really enjoyed making this lay-out for this very first Scrapbook Sunday blog hop, but now it's time to hop-a-long and see the beautiful projects the other design team members have made. Just click on the 'Next' button below to go to the blog of the amazing Dena Albee.
Ik vond het heel leuk om deze lay-out te maken voor deze allereerste Scrapbook Sunday bloghop, maar nu is het tijd om door te hoppen en de mooie projecten van de andere design teamleden te bekijken. Klik gewoon op de 'Next' knop hieronder om naar het blog van de fantastische Dena Albee te hoppen.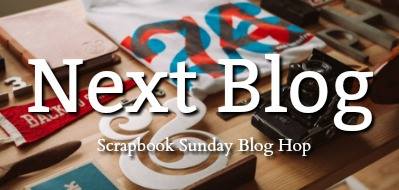 Have a wonderful Sunday! / Nog een geweldige zondag gewenst!
galery
If you missed some other scrap lay-outs I made with the wonderful Stampin' Up! products, just click on the small pictures below to go to the original post for each project! / Als je andere scrap projecten die ik gemaakt heb met de fantastische producten van Stampin' Up! gemist hebt, klik dan op de fotootjes hieronder om naar het originele bericht te gaan!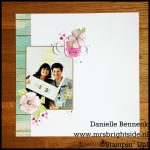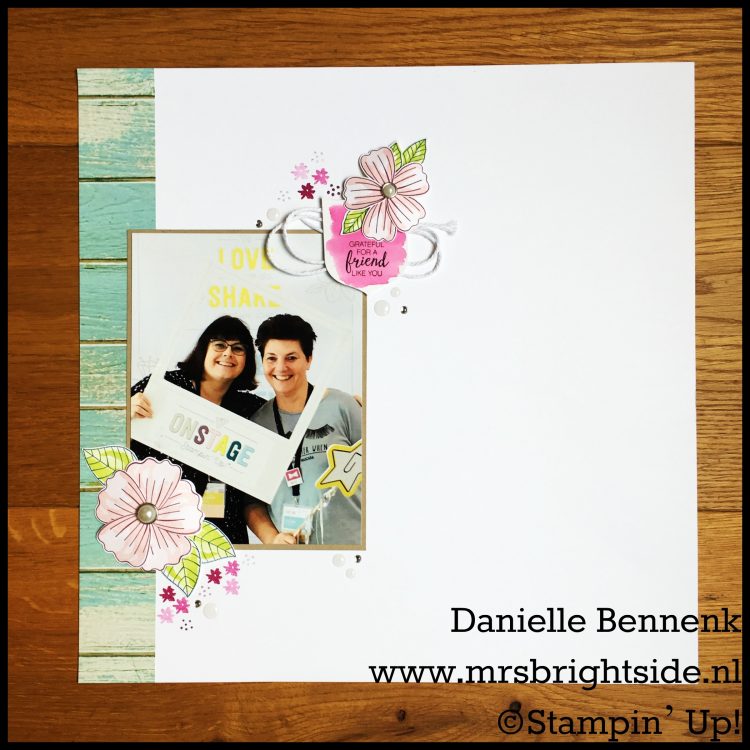 P.S. Hieronder vind je alle door mij gebruikte materialen. Wil je hier iets van aanschaffen? Dan verzorg ik graag je bestelling (mail: danielle@mrsbrightside.nl)! Je kunt op de onderstaande afbeeldingen klikken om naar mijn webshop (Credit Card only) te gaan.
Product List