*Dear international readers, please use the translate button in the right side bar to translate this message to your preferred language.

Fijne zondag met de Scrapbook Sunday Blog hop!
Een hele fijne zondag gewenst en welkom bij de Scrapbook Sunday Bloghop van juni 2018. Een maandelijkse bloghop waarbij een groep van Internationale Stampin' Up! demonstrators laten zien hoe zij scrappen met de mooie materialen van Stampin' Up!
Iedere maand heeft de bloghop een andere focus: Kleur, sketch of thema. Deze maand is het een sketch challenge die ieder design team lid terug zal laten komen in haar lay-out.
Puur natuur
Bij deze sketch challenge heb ik eerste een foto gezocht. Het is een foto geworden van een prachtige kloof in Yoho National Park in Canada. Wanneer je bij, over en langs deze kloof liep was het gewoon koud vanwege het gletscherwater wat er door heen liep. Een hele gekke gewaarwording, want het was toch echt zo'n 25 graden Celsius die dag.
Die koude temperatuur heb ik proberen te 'vangen' met de koele groene kleuren in deze lay-out. Ik heb namelijk het teruggekeerde Mint Macaron gecombineerd met het nieuwe Shaded Spruce. Het witte cardstock embossed met de Pinewood Planks embossing folder en het witte hout uit het Wood Textures designer series paper versterken de koele uitstraling.
In plaats van een titel in de rechteronderhoek heb ik gekozen voor een sticker uit het Memories & More Delightfully Detailed card pack met de tekst 'Every moment matters' en dat vond ik zeer toepasselijk. Het was een fantastische dag vol met natuurschoon.
proces video
Ik heb voor de gelegenheid een proces video opgenomen. Dit is een video waarin ik (versneld) laat zien hoe ik deze layout gemaakt heb. Het is iets wat ik nog niet eerder gedaan heb, maar het bevalt me zeer goed dus er zullen er vast meer volgen. Ik ben benieuwd wat jij van zo'n proces video vindt, dus een reactie zou ik zeer op prijs stellen.
Hop gezellig door
Wil je zien wat de andere design team leden voor deze sketch challenge gemaakt hebben? Dan kun je gewoon op de 'Next blog' knop klikken om naar het blog van de fantastische Charlet Mallett te gaan  óf je klikt op de naam onder die van mij (Ik ben Danielle Bennenk) in de linkenlijst.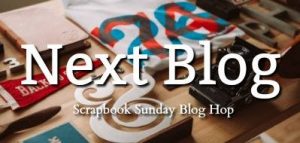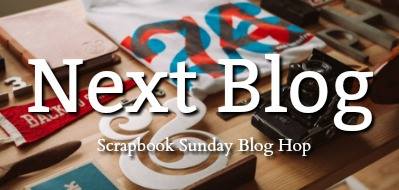 Ik wens je nog veel inspiratie toe bij onze Scrapbook Sunday Bloghop van juni en hoop je snel weer te zien!
Lieve groeten,
P.S. Wil je deel uitmaken van mijn Team Brightside? Klik dan hier voor meer informatie
Gebruikte materialen
Wil je een bestelling plaatsen dan kan dit via een email (zie knop Stampin' Up! bestelling plaatsen in de zijbalk) of via de knop van mijn Stampin' Up! webshop (credit card only).