baker's twine extravaganza
Voor mijn eerste project met als thema 'Ribbons & Threads' ben ik aan de slag gegaan met de verschillende soorten Baker's twine die Stampin' Up! aanbiedt. Zoals ik hier ook al schreef houd ik van borduren, dus dat heb ik op deze kaart ook weer toegepast.
For my first project with the Ribbons & Threads theme I worked with several kinds of Baker's twine that Stampin' Up! offers. Like I told you before (read here) I love to embroider, so that's what I did for this card too.
circles
Met de Layering Circle Framelits tekende ik een patroon op het watercolor paper. Daarna heb ik gaatjes geprikt met mijn piercing tool en ben ik gaan borduren. Ik wilde een kaart creëren die voor vrouwen en mannen gebruikt kan worden, dus heb ik voor de kleuren Basic Black, Emerald Envy, Elegant Eggplant en Blushing Bride gekozen.
I designed a pattern on watercolor paper with the Layering Circle Framelits. After that I pierced holes in the paper with my piercing tool and started to embroider. I wanted to create a card that can be used for males en females, so I chose the colors: Basic Black, Emerald Envy, Elegant Eggplant and Blushing Bride.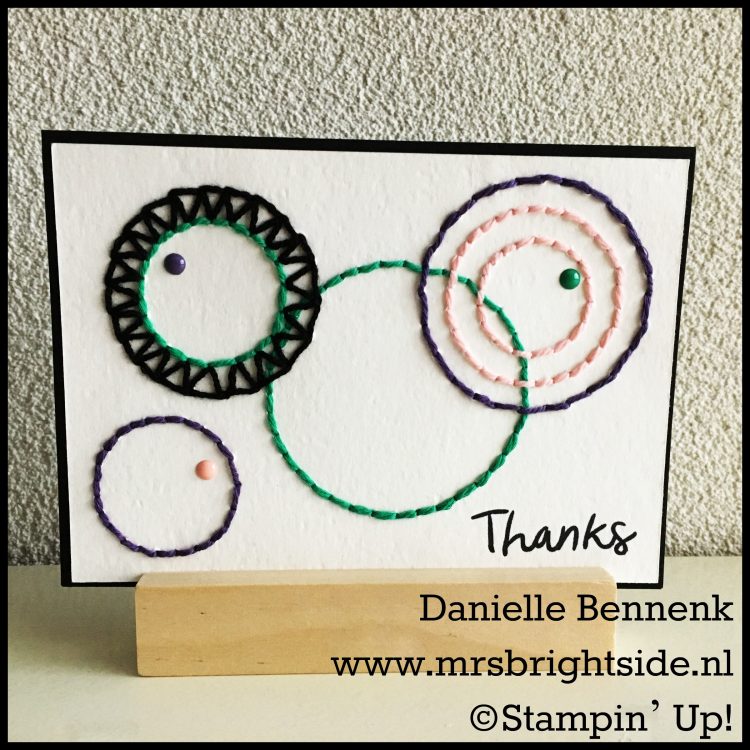 open huis
Zaterdag, 7 januari '17 organiseren wij, Sandra, Hilde en ik, een Open Huis!
Tijdens dit Open Huis kun je kennismaken met de producten uit de spiksplinternieuwe voorjaars/zomer catalogus 2017 én de nieuwe Sale-A-Brations folder. Je kunt onder het genot van een kopje koffie/thee en iets lekkers heerlijk door de nieuwe catalogus en Sale-A-Brations folder bladeren. Ook kun je aan de slag met enkele nieuwe producten door 2 Make & Takes te doen!


We starten om 10.00 uur en het evenement eindigt rond 13.00 uur. Het vindt plaats in Café Tivoli, Kerkplein 6, Nispen en de kosten zijn gratis!
Je ontvangt bij binnenkomst een welkomstpakket met de voorjaars/zomercatalogus, Sale-A-Bration folder en materiaal voor de 2 Make & Takes. Ook hebben wij diverse inspiratietafels ingericht met voorbeelden.
Opgeven kan t/m 27 december '16. Dit kun je doen door een mail te sturen naar danielle@mrsbrightside.nl. Het is mogelijk om meteen tijdens het evenement een bestelling te plaatsen, maar dit is niet verplicht.
Product List