Focus thema: Specialty Basics Papier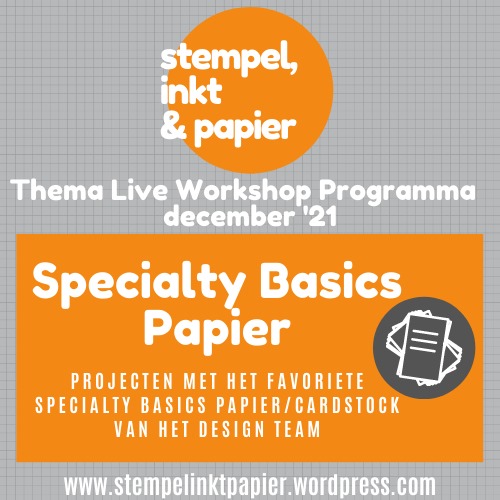 Hallo en welkom bij de Stempel, Inkt & Papier bloghop! Deze maand richt Stempel, Inkt & Papier zich op het thema: Specialty Basics Papier van Stampin' Up!. Dus een van de Specialty Basics Papier soorten die Stampin' Up! aanbiedt staat centraal. Je vindt deze Specialty Basics papiersoorten op bladzijde 135 en 136 van de jaarcatalogus.
Ik koos om aan de slag te gaan met het 2021-2023 In Color Shimmer Vellum. Een prachtige collectie van Ombre papier met een lichte glans op een van de zijden.
Van iedere In Color zitten er twee vellen van 12 x 12″ in het pakket: Pale Papaya, Polished Pink, Soft Succulent, Evening Evergreen en Fresh Freesia.
Het papier heeft op zichzelf niet veel nodig, maar natuurlijk heb ik er nog wat kleine dingen aan toegevoegd om de kaart te maken 🙂
Specialty Basics Ruche Kaart
Voor deze bloghop heb ik een kaart gemaakt met ruches van het Specialty Basics Shimmer Vellum!!
De basiskaart is van Basic White Thick Cardstock (14,5 x 21 cm, rillen lange kant op 10,5 cm), hierop heb ik een mat (10 x 14 cm) van Basic White Cardstock geplakt. Hierop heb ik 5 stroken (3,5 x 10 cm) Shimmer Vellum bevestigd met Seal+ Adhesive. De randen heb ik gekruld met behulp van mijn vouwbeen om zo de ruches te verkrijgen.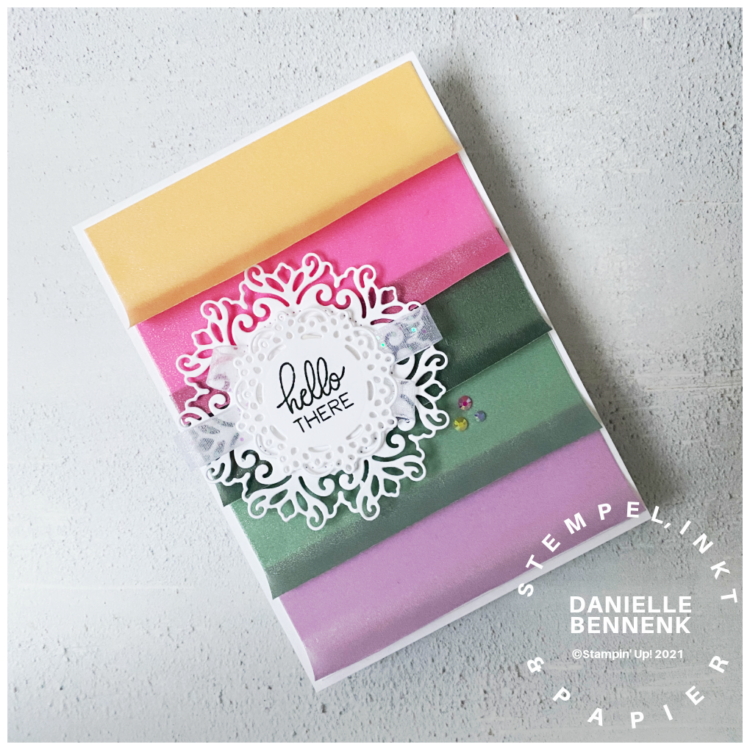 De kaart is vervolgens afgemaakt met twee prachtige labels die gestanst zijn met de Encircled In Beauty Dies. Tussen de labels in zitten twee lussen van het White Organdy Glittered Ribbon.
De tekst is gestempeld met Memento Tuxedo Black inkt en komt uit de Peekaboo Farm stempelset. Een aantal In Color Jewels maken de kaart af.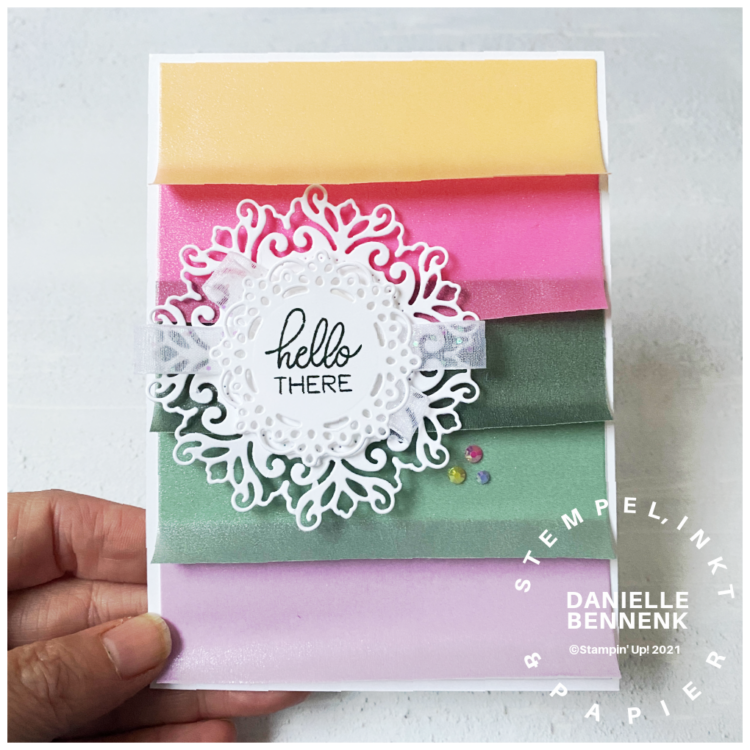 Wat is Stempel, Inkt & Papier?
Nog even ter informatie: Stempel, Inkt & Papier is een creatief initiatief van drie Nederlandse Stampin'Up! Demonstratrices – Sandra Korten, Lotte Noordzij-Walther en ikzelf – die elke maand een specifiek Stampin'Up! Product of specifiek thema centraal zetten in een "Live" workshop programma.
In dit programma bieden we tenminste 4 online workshops aan via Facebook Live uitzendingen in een besloten Facebook groep. Dit zijn dus "Live" workshops waarbij jij als kijker meteen met ons mee kan doen of later aan de slag kan gaan. Wil je weten hoe je aan dit "Live" workshop programma kunt mee doen ga dan naar deze pagina voor meer informatie.
Meer Stampin' Up! Specialty Basics Papier inspiratie
Hieronder vind je de linkenlijst, klik gewoon op de naam onder die van mij (ik ben Danielle) om door te gaan naar het volgende blog.

Gebruikte materialen
Ik verzorg graag je bestelling. Klik op de 'Stampin' Up! bestelling'-knop of de 'Webshop Stampin' Up!'-knop (PayPal en credit card betaling) in de zijbalk om deze te plaatsen.