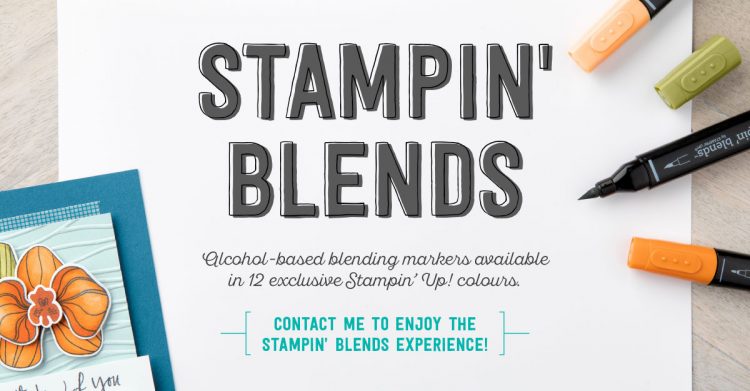 Hello stampin' blends!
Vanaf 1 oktober jl. konden de Stampin' Up! demonstrators Stampin' Blends bestellen om alvast uit te proberen. Stampin' Blends zijn alcohol markers die fantastisch zijn om stempelafbeeldingen mee in te kleuren. En goed nieuws… Vanaf 1 november kun jij deze Blends ook zelf bestellen! Hieronder zal ik je veel meer over deze stiften vertellen 🙂
As of October 1st Stampin' Up! demonstrators were able to order Stampin' Blends in advance. Stampin' Blends are alcohol markers that are amazing to color stamped images. And good news… As of November 1st you can order them too! Below, I'll tell you loads more about them 🙂
features
Stampin' Blends zijn beschikbaar in 12 Stampin' Up! kleuren. Daardoor sluiten ze naadloos aan bij andere producten van Stampin' Up! en geven ze je de mogelijkheid om nog meer plezier aan je Stampin' Up! kleur ervaring toe te voegen.
Van iedere kleur is er een donkere en lichte variant beschikbaar. Je kunt deze als combo pack aanschaffen of individueel.
Buiten de 12 kleuren zijn er ook twee 'huidskleuren' beschikbaar, Ivory en Bronze, én een Color Lifter stift. Een stift waarmee je kleur kunt 'liften' van het papier. Dus ben je ergens uitgeschoten, dan kun je dit verhelpen met deze handige stift.
De stiften hebben twee verschillende punten: Een fine tip point om de details in te kleuren en een brush tip voor de grotere oppervlakken.
Op de stift zit een handige dop, die ervoor zorgt dat de stift luchtdicht afgesloten blijft, zodat de alcohol in de stift niet kan verdampen. Ook kun je tijdens het kleuren de dop op de achterkant van je stift klikken.
Bekijk het onderstaande filmpje om te zien hoe de Stampin' Blends er uit zien en wat je er mee kunt doen.
Stampin' Blends come in Stampin' Up! colours. Because they fit right alongside our other product lines, they give you an opportunity to play with colour in a way that adds to your Stampin' Up! experience.
There's a light and dark shade of each color available. They are sold as individual markers and as a combo pack.
Besides the 12 colors there are also two 'skin tones' available, Ivory and Bronze. In addition, there's a Color Lifter available, a marker with which you can 'lift' color of the paper. So, if you have gone over the lines, you can fix it.
Add just the right amount of colour where you need it with the brush tip or fine-point.
Each marker is sealed with a press-fit that prevents air from entering the barrel (which would lead to evaporation).
The nestable lids are easy to keep track of and have a tight fit for long-lasting colour.
Just watch the short video below to get another impression.
color me happy project kit
Bij de Stampin' Blends wordt ook een leuke Project Kit aangeboden. De 'Color Me Happy' Project kit. Deze kit bevat materiaal voor 16 kaarten (4 x 4 designs) en je kunt er ook een bijpassende stempelset (zie afbeelding hieronder) bij kopen. De kit en de stempelset zijn beschikbaar zolang de voorraad strekt.
The project Kit Color Me Happy is available to purchase with your new Stampin' Blends. This project kit has material to make 16 cards (4 x 4 designs) and you can also order the corresponding stamp set (see image below). This Color Me Happy Project Kit will be available while supplies last. In conjunction with the kit, the Color Me Happy Stamp Set will be available as long as kit supplies last.
brochure
Wil je alles nog eens aandachtig doorlezen, klik dan hier om naar de brochure te gaan. Hierin vind je niet alleen de bovenstaande kit, maar ook alle beschikbare kleuren en wat kleine tips & tricks.
Morgen laat ik een Spotlight project zien waarbij ik de Blends gebruikt heb. Als persoon die nog nooit gekleurd heeft met (andere) alcohol markers moet ik zeggen dat ze heel makkelijk in gebruik zijn en echt een extra dimensie toevoegen aan je project.
If you want to read everything, click here to go the brochure. In it you won't just find the project kit, but also all available colors and some small tips & tricks.
Tomorrow, I'll show you a Spotlight project where I used the Blends. As a person who has never colored with (other) alcohol markers I have to say they're easy to use and really add an extra dimension to your project.