*Dear international readers, please use the translate button in the right side bar to translate this message to your preferred language.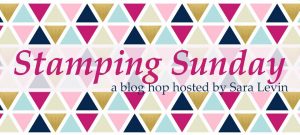 Abstract Impressions in de hoofdrol!
Hallo! Het is weer tijd voor de maandelijkse Stamping Sunday bloghop en deze maand staat de Abstract Impressions product suite in de hoofdrol. Deze prachtige suite bestaat uit een prachtig designer series papier in volle heldere kleuren en een zeer veelzijdige bundel, waarvan de stempelset verkrijgbaar is in het Nederlands: Bloemen Zeggen Meer.  Om een goede indruk te krijgen kun je het onderstaande filmpje bekijken.
De Stamping Sunday Design Teamleden hebben zich weer enorm uitgesloofd om jullie te inspireren met hun Abstract Impressions projecten. Kijk je mee?
Mini verpakkingen
Voor mijn eerste project heb ik twee kleine verpakkingen gemaakt met het Garden Impressions designer series papier (6×6″/15,2 x 15,2 cm). Beide projecten zijn bedacht door Sam Hammond (kijk hier en hier) en heel makkelijk te maken. De teksten komen uit een andere nieuwe Nederlandse stempelset: Van Alles Wat. Doordat het papier zo rijk en prachtig is heeft de verpakking verder weinig nodig qua versiering.
Delftsblauw Tegeltje
In Nederland is het Delftsblauwe spreukentegeltje natuurlijk een begrip. Toen ik de Abstract Impressions (Bloemen Zeggen Meer) stempelset zag met de mooie bloemen en spreuken was ik meteen geïnspireerd om zo'n tegeltje na te maken.
Eerst heb ik de 'tegel' gestempeld met de nieuwe In Color Blueberry Bushel, echt een prachtige kleur. Daarna heb ik de Cracked Glass techniek toegepast. Dit betekent dat ik het kaartje 4 x Clear Embossed heb. Vervolgens heb ik het emboss-laagje gebroken, zodat er scheurtjes ontstonden, die lijken op de scheurtjes van een oude keramiek tegel. Daarna heb ik de scheurtjes gesponst met Blueberry Bushel. Het lijkt gewoon net een echt tegeltje, vind je ook niet?

'Hoi' kaart
Bij mijn laatste kaart heb ik alleen gebruik gemaakt van de bloemen uit de stempelset. Een aantal ervan heb ik op wat restjes Whisper White gestempeld in de nieuwe kleuren Highland Heather, Gorgeous Grape, Coastal Cabana, Petal Pink en Granny Apple Green. Vervolgens heb ik de bloemen uitgeknipt en op een mat geplakt die ik embossed heb met de Quilt Top embossing folder. Ook heb ik wat Silver Baker's twine om de mat gebonden.
Vervolgens heb ik "Hoi" gestempeld met de nieuwe Lined Alphabet stempelset in Gorgeous Grape en de letters met mini Stampin' dimensionals op de kaart geplakt. Een aantal rhinestones maken het kaartje af.


Zie je die mooie achtergrond bij mijn kaartje? Nee, dat is geen echt marmer, dat is gewoon een vel Petal Promenade designer series papier. Het lijkt net echt, niet waar?
Veel plezier nog
Bedankt dat je vandaag een kijkje hebt genomen op mijn blog. Om meer inspiratie op te doen klik je gewoon op de naam onder die van mij (ik ben Danielle Bennenk). Ik wens je nog heel veel plezier én inspiratie toe!

Lieve groeten,
P.S. Wil je deel uitmaken van mijn Team Brightside? Klik dan hier voor meer informatie Wil je een bestelling plaatsen dan kan dit via een email (zie knop Stampin' Up! bestelling plaatsen in de zijbalk) of via de knop van mijn Stampin' Up! webshop (credit card only). Ik verzorg graag je bestelling.
Gebruikte materialen