welcome holiday catalog
A warm welcome to you and thank you for visiting my blog. Today, it's time for another Stamping Sunday blog hop and this month we feature our favorite item(s) from the upcoming Holiday catalog.
This new Holiday catalog will go live on September 1st and is, once again, filled to the brim with wonderful products. The Stamping Sunday design team hopes to inspire you today with their projects. I'm so excited to see what everyone's favorite item is, you too? Well, keep on reading then 🙂
Voor jou een warm welkom en een dank je wel voor je bezoek aan mijn blog. Vandaag is het weer tijd voor een Stamping Sunday bloghop en deze maand staat ons favoriete product uit de aankomende herfst/wintercatalogus centraal.
De nieuwe herfst/wintercatalogus gaat op 1 september van start en loopt, zoals gewoonlijk, over van de prachtige producten. Het Stamping Sunday design team hoopt je vandaag te inspireren met hun projecten. Ik kan niet wachten om te zien wat het favoriete product van de andere teamleden is. Ben jij ook benieuwd? Lees dan snel door 🙂
tough decision
It was a tough decision to choose my favorite item from the Holiday catalog. Is it the new Dutch stamp set December Labels (look for samples here and here)? Or maybe the wonderful Painted Autumn suite (look for samples here, here and here)? Even though, these two are awesome I've chosen for the Hearts come Home bundle as my favorite to feature during this blog hop. In the video below you'll find more information about this wonderful bundle.
Het was een moeilijke beslissing om mijn favoriete product te kiezen. Is het de nieuwe Nederlandse stempelset December Labels (kijk voor voorbeelden hier en hier)? Of is het misschien de prachtige Painted Autumn suite (kijk voor voorbeelden hier, hier en hier)? Ook al zijn dit twee echte kanjers, ik heb toch gekozen voor de Hearts come Home bundel als mijn spotlight favoriet tijdens deze bloghop. In de video hieronder zie je meer informatie over deze gave bundel.
hearts come home gift box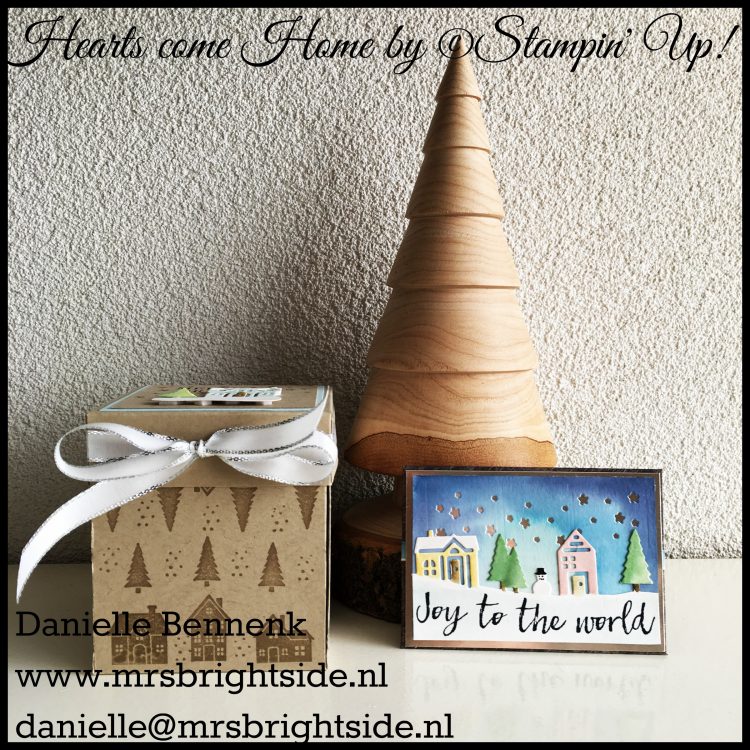 I've made two projects in the same style and are both gifts. The first project I'll show you is my Hearts come Home gift box. The outside isn't that conspicuous but it's the inside that holds the surprise. When you remove the lid the box folds open, it's an explosion box made to measure, and it holds a candle.
The panels are stamped individually and there's space left to leave a message.
Ik heb twee projecten gemaakt in dezelfde stijl en beide zijn geschenken. Het eerste project  dat ik laat zien is mijn Hearts come Home geschenkdoosje. De buitenkant ziet er niet al te opvallend uit, maar de binnenkant bevat een verrassing. Wanneer je de deksel wegneemt, vouwt de doos open. Het is een op maat gemaakte explosion box met daarin een kaars.
De panelen zijn afzonderlijk gestempeld en er is ruimte over gelaten om een berichtje achter te laten.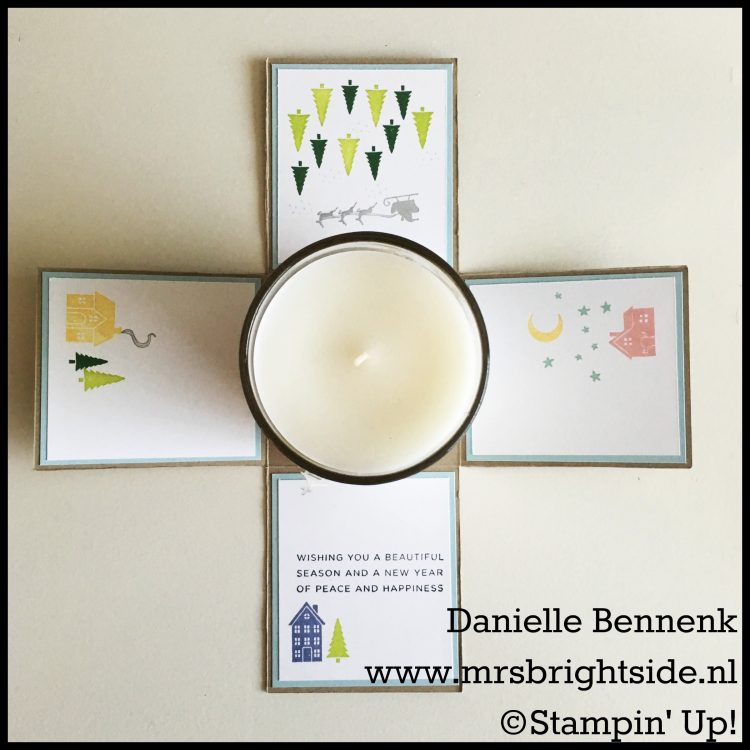 Around the candle I made sleeve using the Hometown Greetings Edgelits Dies. It took a bit of fiddling to get them to line up evenly. After cutting them, I colored the houses and trees with an aqua painter in several subtle colors. On the roofs I put some Clear Wink of Stella to create a shimmery snowy look. I just love how it came out.
Rondom de kaars heb ik een wikkel gemaakt met de Hometown Greetings Edgelits Dies. Het kostte wat heen en weer gefriemel om alles netjes op een rij te krijgen, maar dan heb je uiteindelijk wat. Na het stansen, heb ik de huisjes en boompjes ingekleurd met de aqua painter. Hierbij heb ik verschillende pastelkleuren gebruikt. Op de daken heb ik Clear Wink of Stella gebruikt om een sneeuwachtig effect te krijgen. Ik ben zeer verguld met de uitkomst.
A fun project to make and an even more fun one to give 🙂 / Een heel leuk project om te maken en nog leuker om te geven 🙂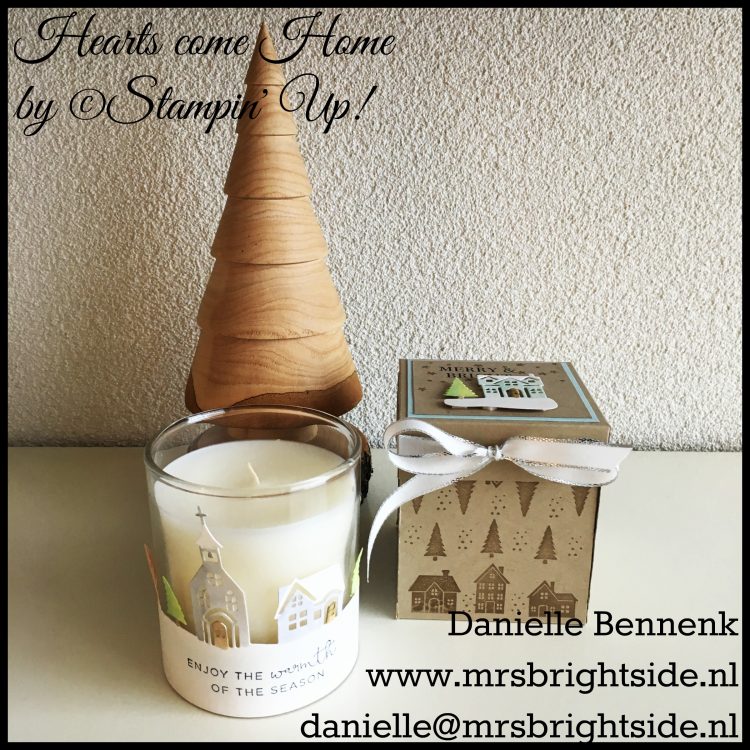 Hearts come home giftcard holder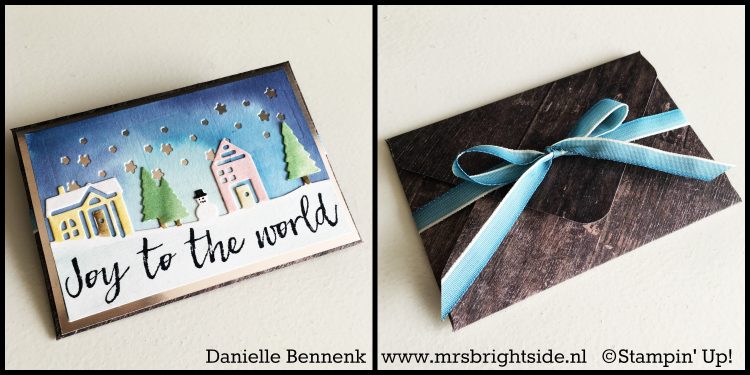 The second project is a gift card holder. For this project I've also worked with the subtle colors, aqua painter and the Home Greetings Edgelits dies. The base is an envelope of Wood Textures dsp with on it a Hearts come Home scene with a night blue watercolor background. Behind the background I've put a piece of the luscious new Champagne foil, that makes the stars glitter in the sky.
Het tweede project is een geschenkkaarthouder. Ook hier heb ik gewerkt met de pastelkleuren, aqua painter en Home Greetings Edgelits dies. De basis is een envelopje van Wood Textures dsp met daarop een Hearts come Home tafereeltje met een nachtblauwe watercolor achtergrond. Achter de achtergrond zit een stuk van het prachtige nieuwe Champagne foil, hierdoor schijnen de sterretjes je tegemoet.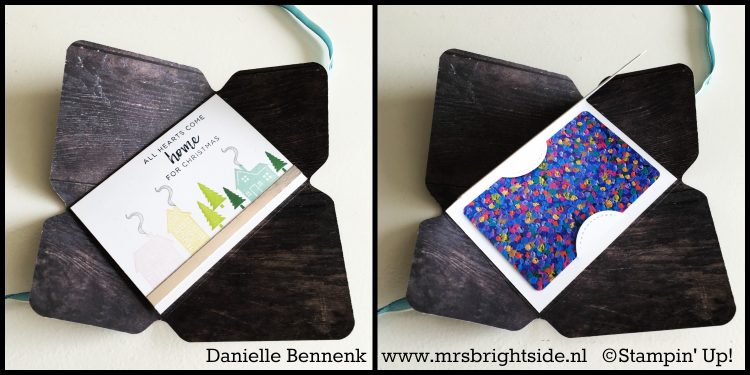 On the inside I've put a stamped card with a strip of the Champagne foil. When you open the card, you can write a message and the recipient will find their gift card.
Aan de binnenkant zit nog een gestempeld kaartje met een strookje Champagne foil. Wanneer je het kaartje opent kun je er nog een berichtje in schrijven en de ontvanger vindt zijn/haar geschenkkaart.
More inspiration to come…
You must be very curious now to see the projects of the other designers! Just click on the name below mine (I'm Danielle Bennenk) to keep on hopping and see all the inspiring creations of the other Stamping Sunday blog hop designers.
Je bent nu vast heel nieuwsgierig naar de projecten van de andere deelnemers! Klik gewoon op de naam onder die van mij (ik ben Danielle Bennenk) om door te hoppen en de  inspirerende creaties van de andere Stamping Sunday deelnemers te zien.
Product List