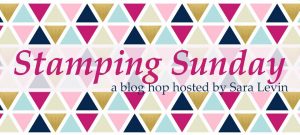 WELCOME TO ANOTHER STAMPING SUNDAY!
Welcome, thank you so much for visiting my blog today. Are you ready for a totally eclectic blog hop?  This month we're featuring the wonderful Naturally Eclectic product suite and it's really amazing. I can't wait to see what my fellow designers have created, but let us first look at my own projects 🙂
Welkom, wat leuk dat je vandaag mijn blog bezoekt. Ben je klaar voor een fantastische eclectische bloghop? Deze maand staat de prachtige Naturally Eclectic product suite in het middelpunt en echt het is een geweldige product suite! Ik kan niet wachten om te zien wat mijn mededesigners gecreëerd hebben, maar laten we eerst een kijkje nemen bij mijn eigen projecten 🙂
notecard set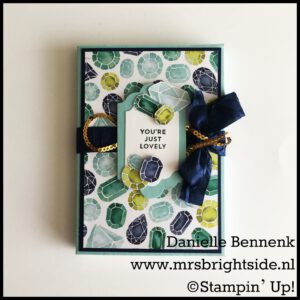 I'm really fond of making notecard sets (look for examples here, here and here) and for this one I decided to use the luscious gem design of the Naturally Eclectic DSP.  The custom made notecardholder holds 4 notecards with envelopes.
Ik ben echt gek op het maken van notecard sets (kijk bijv. hier, hier en hier) en voor deze versie heb ik het 'rijke' edelstenen motief van het Naturally Eclectic DSP gebruikt. Het kaartenmapje bevat 4 notecards met enveloppen.
festive card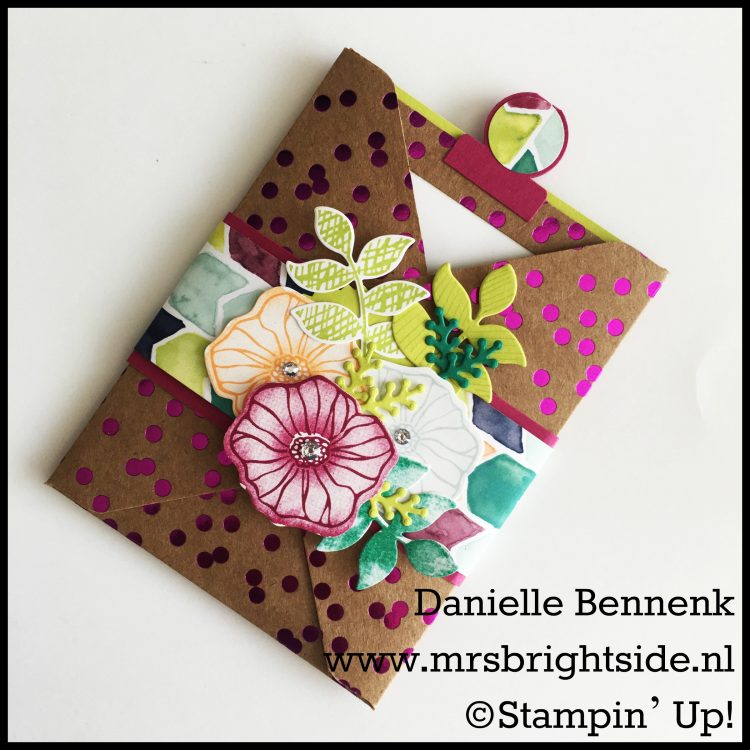 I used the festive Foil Frenzy specialty DSP and my envelope punch board to make this card. The combination of the Naturally Eclectic DSP, the stamped/die cut images and the Berry Burst metallic dots on the Foil Frenzy cardstock works very well, at least that's what I think 🙂
Voor deze kaart heb ik het feestelijke Foil Frenzy specialty DSP en m'n envelope punch board gebruikt. De combinatie van het Naturally Eclectic DSP, de gestempelde en gestanste afbeeldingen en de metallic Berry Burst stippen op het Foil Frenzy DSP is super, al zeg ik het zelf 🙂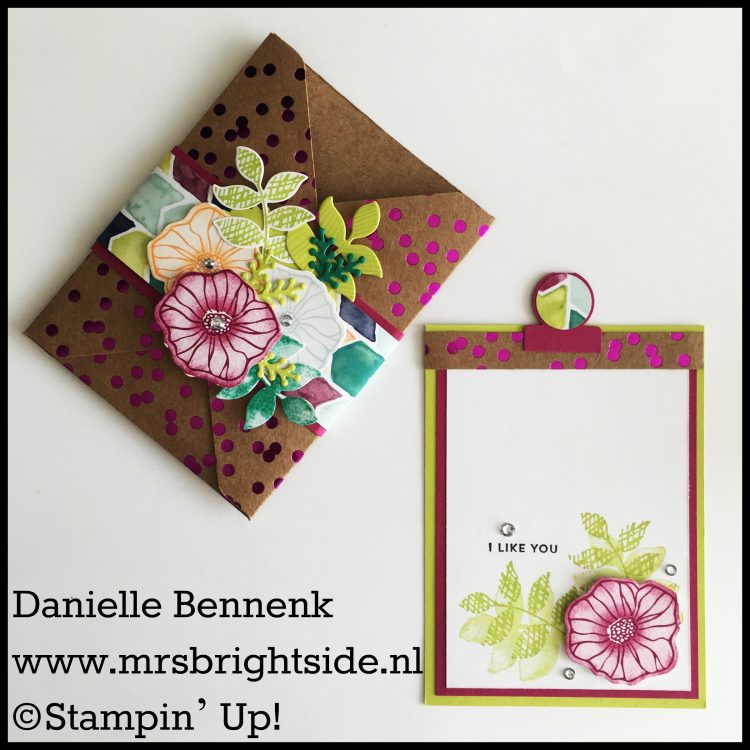 bonus project
I just couldn't stop playing with this colorful, eclectic and very versatile product suite. The other day I bought a perfumed candle in a beautiful Pool Party colored glass and decided to add a little pizzazz. By the way, it's just so weird that I hardly think in regular colors anymore, but just in Stampin' Up! colors, hahaha.
Ik kon gewoon niet stoppen met het maken van projecten met deze kleurrijke, eclectische en veelzijdige product suite. Een tijdje geleden kocht ik een geurkaars in een prachtig Pool Party gekleurd glas en besloot nog wat extra pizzazz aan het glas toe te voegen. Het is trouwens wel grappig dat ik bijna niet meer in gewone kleuren kan denken, maar alleen in Stampin' Up! kleuren, hahaha.
Online workshop
*Dutch text only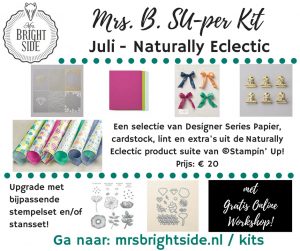 De Mrs. B SU-per Kit van juli stond helemaal in het teken van de Naturally Eclectic Product Suite. De eerste kits staan klaar om verstuurd te worden. Erbij zit ook een gratis Online Workshop t.w.v. 7,50 Euro! Ook als je geen Mrs. B SU-per Kit hebt besteld kun je vanaf 1 augustus de Online Workshop verkrijgen. In deze workshop vind je het eerste project (Notecardset + mapje) van deze bloghop ook terug! Klik hier voor meer informatie of om te bestellen!
Hop on!
Just like me, you must be very curious to see the projects of the other designers! Just click on the name below mine (I'm Danielle Bennenk) to keep on hopping and see all the inspiring creations of the other Stamping Sunday blog hop designers.
Je bent nu vast, net als ik, heel nieuwsgierig naar de projecten van de andere deelnemers! Klik gewoon op de naam onder die van mij (ik ben Danielle Bennenk) om door te hoppen en de  inspirerende creaties van de andere Stamping Sunday deelnemers te zien.
Have a nice day /
Geniet van de rest van je dag!
Product List