happy stamping Sunday!
A happy Stamping Sunday to you and thank you for visiting my blog. Today, it's time for another Stamping Sunday blog hop and this month we feature the Snowflake Sentiments or Beachy Little Christmas sets. Our guest hopper this month is Jana Trautmann from Germany and I'm really looking forward to see what she's made.
Happy Stamping Sunday en een dank je wel voor je bezoek aan mijn blog. Vandaag is het weer tijd voor een Stamping Sunday bloghop en deze maand staan de sets Snowflake Sentiments of Beachy Little Christmas centraal. Onze gast hopper is Jana Trautmann uit Duitsland en ik ben zeer benieuwd wat ze gemaakt heeft.
Snowflake sentiments
I chose to work with the Snowflake Sentiments bundle for this blog hop. A very pretty stampset with elegant framelits. Even though, these framelits can be used in many ways, I chose to focus my projects on the three styles of snowflakes that you cut with them. Two of them are cut on their own and the other, the large one, is cut as a border. Which I decided to cut up too 🙂
Ik heb gekozen om de Snowflake Sentiments bundel te gebruiken voor deze blog hop. Een hele mooie stempelset met een elegante stansset. Ook al kun je de framelits op veel verschillende manieren gebruiken, heb ik er voor gekozen om bij mijn projecten de 3 verschillende soorten sneeuwvlokken die je er mee kunt stansen centraal te zetten. Je kunt twee stuks los stansen en de derde, de grote sneeuwvlok, wordt als border gestanst. Maar ik heb besloten die van elkaar los te knippen 🙂
Snowflake scrap layout
My first project is a scrap layout. Lately, I've started to scrap more often and when I saw the bundle, I immediately thought of doing a wintery lay-out and now I finally made one.
Mijn eerste project is een scrap layout. Ik ben weer wat meer gaan scrappen de afgelopen tijd en toen ik deze bundel zag, dacht ik meteen aan een winterse layout. En die layout heb ik nu eindelijk gemaakt.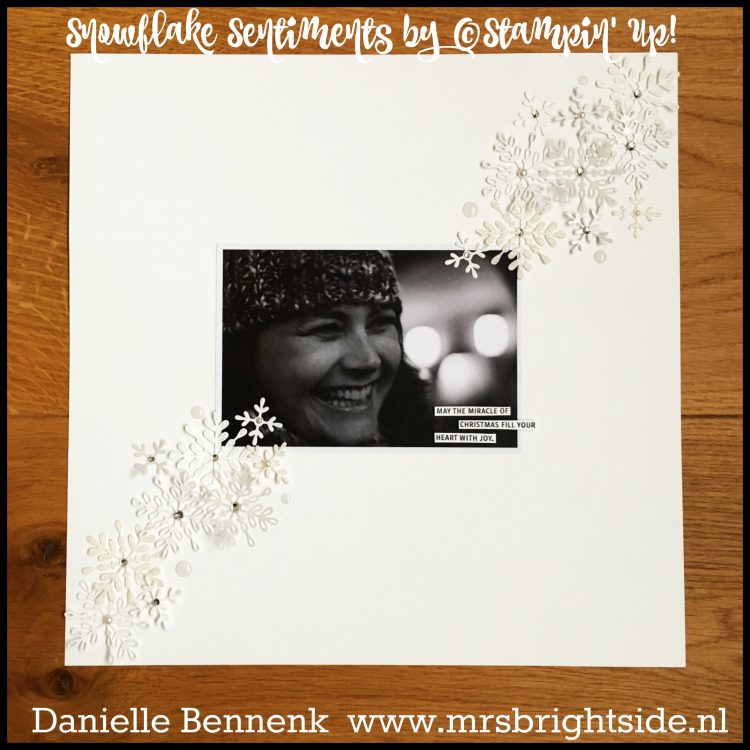 It's a white on white scrap layout. As a base I took a sheet of 12 x 12″ Whisper White cardstock. I then added a lot of snowflakes, cut from 5 different kinds of (semi) white cardstock:
Whisper White cardstock
Glossy cardstock
Watercolor paper
Vellum cardstock
Dazzling Diamond glimmer paper
By using the different kinds of paper, you create different structures and therefore even more dimension. I love the way this looks, unfortunately I wasn't able to photograph it well, but believe me in real life this is stunning.
In addition, I used different embellishments for the hearts of the snowflakes: Rhinestones, Pearls, Silver enamel dots and some White perfect accents on the paper around the snowflakes. The sentiment comes from the stamp set and I cut it up in individual pieces before adhering it to the layout.
Het is een wit op wit layout. De basis is een vel 12 x 12″ Whisper White cardstock. Daar heb ik veel sneeuwvlokken op geplakt, die ik gestanst heb uit 5 verschillende soorten (semi) wit cardstock:
Whisper White cardstock
Glossy cardstock
Watercolor paper
Vellum cardstock
Dazzling Diamond glimmer paper
Door de verschillende soorten papier te gebruiken, creëer je verschillende structuren en dus nog meer dimensie dan normaal. Ik vind het er fantastisch uit zien. Helaas, komt het op de foto niet zo tot z'n recht, maar in het echt is het geweldig.
Ook heb ik verschillende embellishments gebruikt voor de hartjes van de sneeuwvlokken: Rhinestones, Pearls, silver enamel dots en een paar White Perfect Accents op het papier rondom de sneeuwvlokken. De tekst komt uit de stempelset, deze heb ik in losse stukjes geknipt en toen op de layout geplakt.
snowflake sentiments card
The second project is a card. For this project I used the left-over snowflakes from the scrap layout. I created a rectangular card (21 x 21 cm, scored at 10,5 cm) with a watercolor background.
Het tweede project is een kaart. Voor dit project heb ik de sneeuwvlokken gebruikt die ik over had van de scrap layout. Ik heb een rechthoekige kaart (21 x 21 cm, rillijn 10,5 cm) gemaakt met een watercolor achtergrond.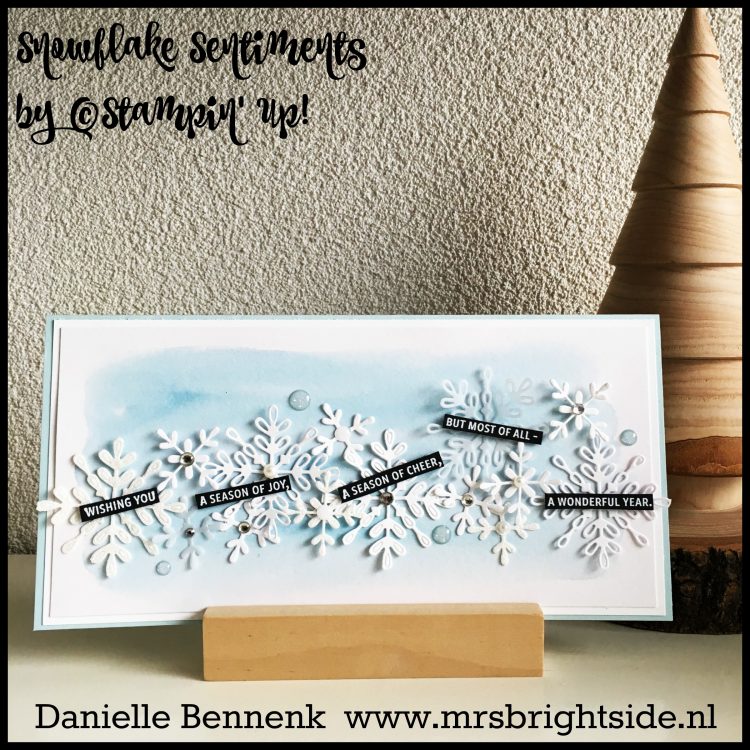 The different white snowflakes combined with the light blue background (Marine Mist and Soft Sky) and the sentiment on the Basic Black cardstock gives the card a nice and crisp look. Once again, I used different embellishments on the hearts of the snowflakes. The blue glitter enamel dots fit in perfectly.
De verschillende witte sneeuwvlokken gecombineerd met de lichtblauwe achtergrond (Marina Mist en Soft Sky) en de tekst op het Basic Black cardstock geeft een hele frisse uitstraling. Ook deze keer heb ik weer verschillende embellishments gebruikt voor de hartjes van de sneeuwvlokken. De blauwe glitter enamel dots passen er fantastisch bij.
More inspiration to come…
You must be very curious now to see the projects of the other designers! Just click on the name below mine (I'm Danielle Bennenk) to keep on hopping and see all the inspiring creations of the other Stamping Sunday blog hop designers.
Je bent nu vast heel nieuwsgierig naar de projecten van de andere deelnemers! Klik gewoon op de naam onder die van mij (ik ben Danielle Bennenk) om door te hoppen en de  inspirerende creaties van de andere Stamping Sunday deelnemers te zien.
P.S. Hieronder vind je alle door mij gebruikte materialen. Wil je hier iets van aanschaffen? Dan verzorg ik graag je bestelling (mail: danielle@mrsbrightside.nl)! Je kunt op de onderstaande afbeeldingen klikken om naar mijn webshop (Credit Card only) te gaan.
 Product List