Welcome!
Welkom bij de maandelijkse bloghop van de Creatieve Harten en dit keert draait alles om het thema 'Stempel & Scrap'. Een heerlijk thema om mee aan de slag te gaan en ik ben zeer benieuwd naar de creaties van iedereen. Natuurlijk, maken we ook deze maand gebruik van de prachtige producten van Stampin' Up!
Het is trouwens een speciale bloghop vandaag, want het is vandaag (National) Scrapbooking Day én er hopt een gast designer mee: Margriet Tournier van Bij Margriet. Ze maakt de leukste projectjes en de humor spat altijd van haar blog. Ik ben dan ook zeer vereerd dat ze vandaag met ons meedoet (haar eerste bloghop ooit!). Vergeet dus niet om bij haar langs te hoppen.
Welcome to another monthly blog hop of the Creatieve Harten (=Creative Hearts) and this time we focus on the theme 'Stempel & Scrap', which means 'Stamp & Scrap'. A real fun theme to get busy with and I'm thrilled to find out what everyone made. Of course, we're using the wonderful products from Stampin' Up! for our creations.
It's a very special blog hop today, because it's National Scrapbooking Day ànd we have a guest designer joining us: Margriet Tournier of Bij Margriet. She makes the coolest projects and her sense of humor always shows through in her blog posts. That's why I'm honored that she's joining us today (her first blog hop ever!), so don't forget to visit her blog!
6 x 6 inch mini-album
Mijn projecten van vandaag draaien voornamelijk om het mooie Serene Scenery papier. Helaas, gaat het met pensioen, maar gelukkig komt er heel veel moois voor terug. Ook heb ik de nieuwe In Colors Powder Pink, Fresh Fig, Tranquil Tide en Lemon Lime Twist gebruikt in combinatie met Basic Black en Crumb Cake.
My projects of today are based first of all on the beautiful Scenic Scenery paper. Unfortunately, it's retiring, but thankfully we'll get loads of nice new paper. I also used the new In Colors Powder Pink, Fresh Fig, Tranquil Tide and Lemon Lime Twist in combination with Basic Black and Crumb Cake.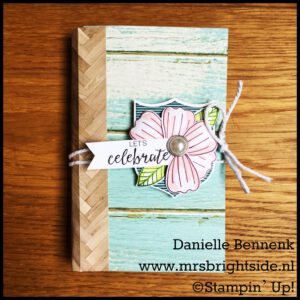 tutorial
Ik heb dit mini-album gemaakt door:
9 velletjes van 6 x 6″ te pakken. Van ieder vel heb ik 1 inch afgesneden (5 x 6″ blijft over)
Daarna heb ik 8 van velletjes gerild aan de lange kant gerild op 3″ en dubbelgevouwen
Alle dubbelgevouwen velletjes heb ik met de ruggen tegen elkaar geplakt
Het 9e velletje heb doorgesneden aan de lange kant op 3″. De twee velletjes van 3 x 5″ heb ik op de voor- en achterkant van het boekje beplakt
Vervolgens heb ik een strook DSP gebruikt om een rug voor het albumpje te creëren. Deze heb ik alleen vastgeplakt aan de voor- en achterkant en niet de rug van het boekje zelf, anders kun je het boekje niet goed openslaan. Let op: Je plakt de rug van het boekje pas op het boekje als je het gehele boekje versierd hebt, dan weet je namelijk pas hoe dik het boekje wordt en hoeveel centimeter je 'rug' moet zijn.
Echt een super makkelijk projectje!
I made this mini-album by:
Taking 9 sheets of 6 x 6″paper. I cut off 1 inch of each sheet (left-over 5 x 6″ piece of paper)
After that I scored 8 sheets on the long side at 3″ and folded them
I glued all folded sheets back-to-back
The 9th sheet is cut on the long side at 3″. I glued the two pieces of 3 x 5″ on the front and back side of the album
I then took a strip of DSP to create the spine for the album. I just glued this on the front and back side and not on the spine of the mini-album, otherwise you can't open the mini-album well. Beware: You only add the spine to the book when you've embellished everything. Only then you'll know how wide your spine should be.
A super easy project!
on stage live
Dit mini-album is een kleine herinnering aan On Stage Live. Want wat was dat een fantastische tijd. In deze galerie zie je de verschillende pagina's uit het boekje langskomen. By the way, al die leuke kleine Nederlandse tekstjes komen uit de nieuwe stempelset: Voor elke gelegenheid. Verkrijgbaar vanaf 1 juni 🙂
This mini-album is small memory of On Stage Live. Because that was an awesome time. In this galery you'll see the pages of this mini-album pass by.
scrap lay-out
Uiteindelijk is een 'Stempel & Scrap' thema is niet compleet zonder een scrap lay-out. Nu ik wat vaker scrap merk ik dat ik nog echt op zoek ben naar mijn eigen stijl. Over deze lay-out ben ik zeer te spreken: Clean & Simple.
Eventually a 'Stamp & Scrap' theme isn't complete without a scrap layout. As I'm scrapping more often now, I realise I'm still looking to find my own style. I'm really content with this layout: Clean & Simple.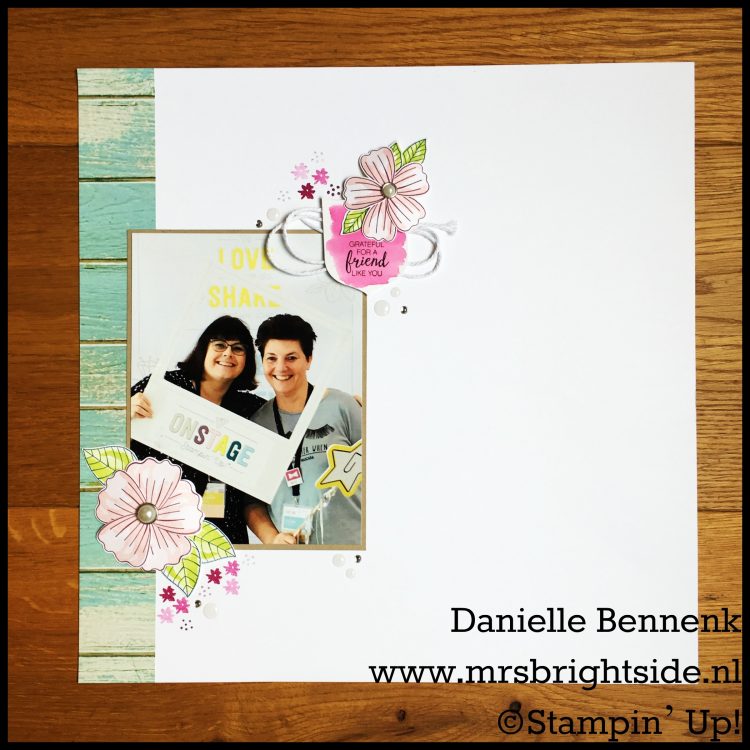 Ik heb besloten om de bloem van de kaft van mijn mini-album ook terug te laten komen bij mijn lay-out. Net als de stempels van de bijbehorende stempelset. Weet je trouwens dat je de Bunch of Blossoms bundel maar tot 1 juni als bundel verkrijgbaar is? Na 1 juni kun je de stempelset en pons alleen nog maar los verkrijgen. Dus vind je het een leuke bundel, schaf hem dan voor 1 juni aan want dan geldt de 10% bundelkorting nog! Stuur mij gewoon een mail en ik bestel hem voor je 🙂
I decided to use the flower of the front of my mini-album in my lay-out also. Just like the stamps of the corresponding stamp set. Did you know that you can only get this bundle until June 1st? After June 1st you can only buy them seperately. So, if you like this bundle, buy it before the 1st of June from your local demonstrator to receive the 10% bundle discount!
keep on hopping, please!
Ik hoop dat ik je heb kunnen inspireren met mijn 'Stempel & Scrap' projecten en zou het erg leuk vinden als je een reactie achter laat. Je bent nu vast ook heel nieuwsgierig naar de mooie creaties van mijn lieve Stampin' Up! vriendinnen, dus wacht niet langer en klik op de 'Volgende' knop om naar het blog van de fantastische Sandra Korten te hoppen!
Onder aan het bericht vind je ook de complete lijst met deelnemers. Ik ben er morgen weer met een Scrap Sunday project, dus vergeet niet even langs te komen 🙂
I hope, I have been able to inspire you with my 'Stamp & Scrap' projects and would love it, if you would leave a comment. You must be curious right about now about the wonderful projects of my dear Stampin' Up! friends. So, don't wait any longer and click on the 'Volgende' (=Next) button to hop to the blog of the fabulous Sandra Korten!
On the bottom of this message you'll find a complete list of participants. I'll be back tomorrow with another Scrap Sunday project, so don't forget to drop by 🙂
Bedankt voor je bezoek en hopelijk tot snel :)/ Thank you for visiting and hopefully see you back soon 🙂
LInkenlijst
Caroline van der Straaten
Margriet Tournier
Leoni Geertsema
Dominique Bergen
Eveline van Heijst
Monique de Kok
Danielle Bennenk
Sandra Korten
Corliene van de Hoef
Carola Gillich
Angélique Nederpel
Henrike Heikoop
Carolien Boone
Diana van Otterlo
Rian van Middelkoop
Anne-Marie Breurkes
Nina Janssen
 Product List