On Stage Utrecht
Wow, wow en wow…. Ik ben nog steeds onder de indruk van al het moois wat ik afgelopen zaterdag, 11 november '17, heb gezien tijdens On Stage in Utrecht. On Stage is een evenement wat twee maal per jaar georganiseerd wordt door Stampin' Up! voor alle demonstrators.
Dit was al weer mijn  4e On Stage, de tijd vliegt als je plezier hebt. Dit keer (als je wilt zien wat ik de laatste 2 On Stage events mocht doen, klik dan hier en hier) mocht ik display samples maken met diverse producten uit de nieuwe Voorjaars/Zomercatalogus en Sale-A-Bration folder! Hoe gaaf is dat? In september arriveerde een doos met goodies en hiermee moest ik tussen de 15 en 20 voorbeelden maken om de andere demonstrators mee te inspireren. Deze week en volgende week (Display Stampers Bloghop) zal ik al mijn samples op mijn blog tonen, dus houd mijn site in de gaten 🙂
Wow, wow and wow… I'm still over the moon of all the beauty I've seen last Saturday, November 11th '17, during On Stage in Utrecht, the Netherlands. On Stage is an event that's organised twice a year by Stampin' Up! for all their demonstrators.
This was my fourth On Stage, time flies when you're having fun. This time (if you would like to see what I did during the last 2 On Stage events, click here and here) I was asked to make display samples with several products from the new Spring/Summer catalog and Sale-A-Bration folder! How cool is that? In September a box with goodies arrived and with them I needed to make 15 – 20 samples to inspire the other demonstrators with. This week and next week (Display Stampers Blog Hop), I'll show my samples on my blog, so check out my site from time to time 🙂
Sweet little something
De eerste voorbeelden die ik jullie wil laten zien zijn gemaakt met de Sweet Little Something stempelset. Een echte uitdaging voor mij, want ik ben niet echt een fan van een dergelijke 'foto-realistische' stempelset. De Baby Bear stempelset uit de jaarcatalogus is ook zo'n set, die mij niet echt heeft kunnen bekoren.
Omdat het zo'n uitdaging was, ben ik maar begonnen met die stempelset en ik moet zeggen op een gegeven moment kreeg ik toch wel een 'sweet' gevoel voor het lieve konijntje. Hieronder laat ik jullie zien wat ik er allemaal meegemaakt heb.
The first samples I would like to show you are made with the Sweet Little Something stamp set. A real challenge for me, because I'm not much of a 'foto-realistic' stamp fan. The Baby Bear stamp set from the annual catalog is another one of those sets, that hasn't really interested me.
Because it was such a challenge, I started with that stamp set and I have to say that I did muster up some 'sweet' feelings for the little bunny while crafting. Below, I'll show you what I've made with it.
MEMORIES & MORE LAY-OUT
Het was verplicht om memory keeping te gebruiken bij het maken van de voorbeelden. Ik heb gebruik gemaakt van de Bundle of Love Memories & More card pack om een pocket page lay-out te maken voor in mijn 6″x8″ Kraft Album. Normaal gesproken zou ik de kaartjes in een pocket page hebben gestopt, maar dat is moeilijk te fotograferen vanwege het plastic, dus vandaar dat ik de kaartjes op cardstock heb geplakt.
It was mandatory to include memory keeping in your samples. For this one, I used the Bundle of Love Memories & More card pack to make a pocket page lay-out for my 6″x8″ Kraft Album. Usually, I would have just put the cards in a pocket page, but that one is hard to photograph due to the glare. Therefore, I adhered the cards to a cardstock background.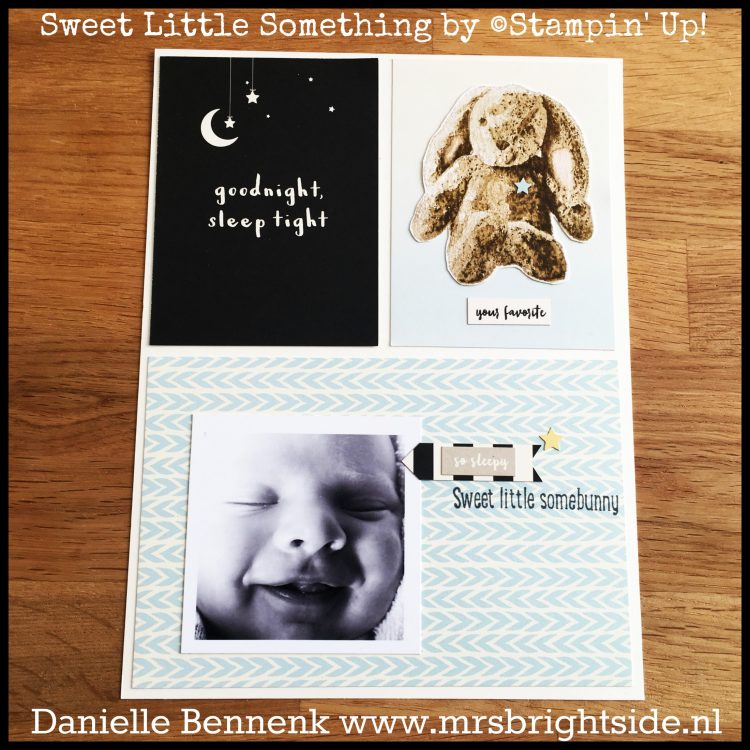 Het lieve konijntje heb ik gestempeld op watercolor papier en na iedere laag, het konijn wordt namelijk in 3 stappen gestempeld, bewerkt met m'n aqua painter. Hierdoor lijkt het net alsof ik het konijn geschilderd heb i.p.v. gestempeld. De basis is Crumb Cake 1x afgestempeld, de 2e laag Crumb Cake zonder afstempelen en de 3e laag is Soft Suede. De binnenkant van de oren heb ik later nog bewerkt met wat Powder Pink. Ik vind het resultaat zeer geslaagd en ga dit zeker nogmaals doen voor een kaart.
The sweet bunny is stamped on water color papaer and after each layer, the rabbit is stamped in 3 steps, I 'worked' that layer with my aqua painter. That's why it looks like the bunny was painted by me instead of stamped. The base is 2nd generation Crumb Cake, the 2nd layer is 1st generation Crumb Cake and the 3rd layer is Soft Suede. I used Powder Pink on the inside of the ears. I really like this outcome and will definitely repeat it on a card.
Gift envelope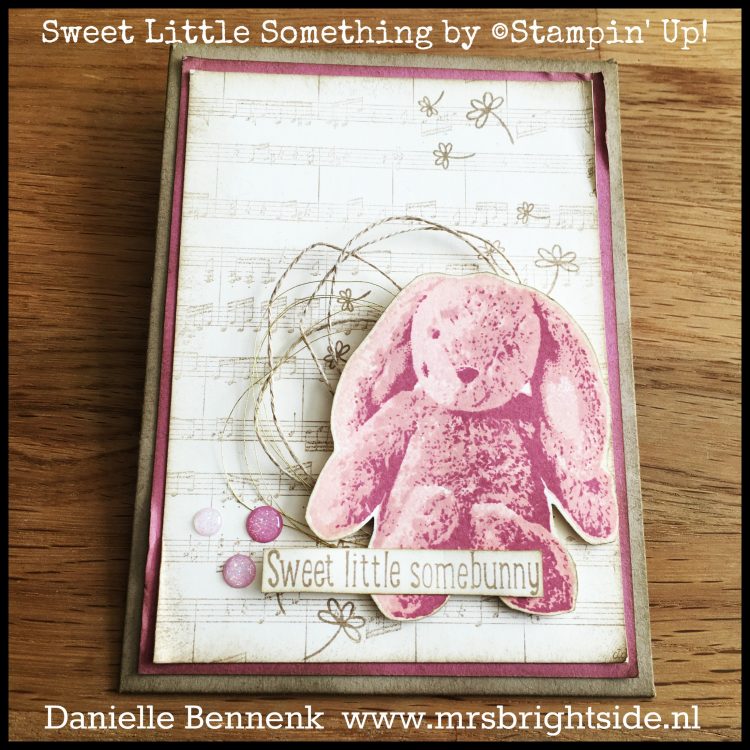 Sweet Little Something is wat mij betreft zeer geschikt om een vintage stijl project mee te maken. De bovenstaande geschenkenvelop (gemaakt met de gift bag punchboard) is daarvan een voorbeeld. Het konijn is in 3 kleuren gestempeld, van licht naar donker: Powder Pink, Blushing Bride en Sweet Sugarplum. De combinatie met Very Vanilla en Crumb Cake geeft het geheel een zachte romantische uitstraling.
In my opinion, Sweet Little Something is very suitable to create a vintage style project. The gift envelope  (made with the gift bag punchboard) above is a prime example of that. The rabbit is stamped in 3 colors, from light to dark: Powder Pink, Blushing Bride and Sweet Sugarplum. The combination with Very Vanilla and Crumb Cake gives the entire project a soft romantic feel.
sympathy card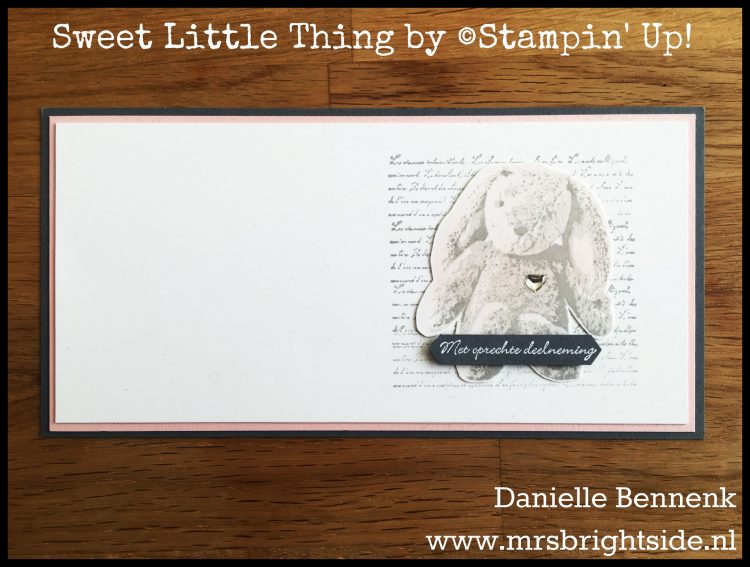 Het zijn niet de leukste kaarten om te maken, toch dacht ik eraan om een condoleancekaart te maken toen ik Sweet Little Something voor 't eerst zag. In dit geval voor een kindje, maar het kan natuurlijk ook voor het verlies van een huisdier. Het kleurpalet is: Whisper White, Basic Gray, Smoky Slate en Powder Pink.
These aren't the most fun cards to make, but I still thought about making a sympathy card when I saw Sweet Little Something for the first time. In this case for a child, but of course it can also be used for the loss of a pet. The color palette is: Whisper White, Basic Gray, Smoky Slate and Powder Pink.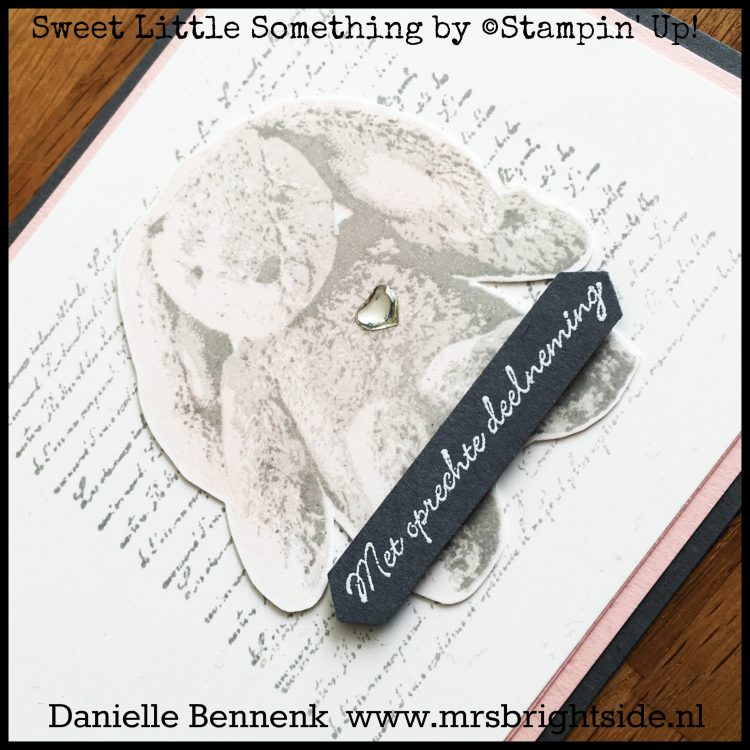 Background Bits in de achtergrond en een konijn met een basis van Powder Pink (1x afgestempeld), Smoky Slate (1x afgestempeld) en Smoky Slate (niet afgestempeld).
Background Bits in the background and a bunny with a base of Powder Pink (2nd generation), Smoky Slate (2nd generation) and Smoky Slate (1st generation).
birthday card
Nu, naar leukere gelegenheden. Een verjaardagskaart voor een jongen met een Pool Party en Dapper Denim watercolor achtergrond. Het konijn is op een stuk cardstock gestempeld met Crumb Cake (2x afgestempeld, 1x afgestempeld en niet afgestempeld). Door de hoeken er af te knippen heb ik een soort van label gecreëerd. Het stukje washi tape komt van een nieuw setje glitter tapes, meer van dat later 🙂
On to happier ocassions. A birthday card for a boy with a Pool Party and Dapper Denim watercolor background. The bunny is stamped on a piece of cardstcok with Crumb Cake (3rd, 2nd and 1st generation stamping). By cutting of the corners I created a kind of label. The piece of washi tape comes from a new set of glitter tapes, more of that later 🙂
3D PROJECTS
Met Sweet Little Something heb ik ook nog 3 3D projecten gemaakt:
Pizzadoosje voor Paaslekkernijen
Treat tube met snoepjes en label
Mini canvas (10x10cm) voor Paasdecoratie
With Sweet Little Something I also made 3 3D-projects:
Pizzabox for Easter candy
Treat tube with candy and label
Mini canvas (10×10 cm/4×4″) for Easter decoration
more to come…
Woensdag en volgende week van maandag t/m zondag zal ik nog meer voorbeelden plaatsen, kom je dan ook weer kijken?
Wednesday and next week from Monday up until Sunday, I'll post more samples, will you come and have a look?
Hieronder vind je alle door mij gebruikte materialen m.u.v. de nieuwe producten. Wil je hier iets van aanschaffen? Dan verzorg ik graag je bestelling (mail: danielle@mrsbrightside.nl)! Je kunt op de onderstaande afbeeldingen klikken om naar mijn webshop te gaan (Betaling alleen via credit card).
Product List