Sweet Soirée Embellishment Kit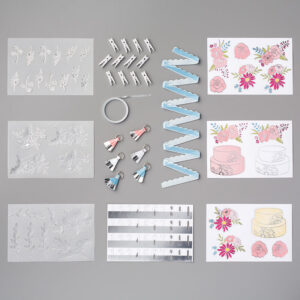 De hele week staat de Sweet Soirée product suite al in de Spotlight op mijn blog. In de gallery onderaan het bericht kun je op de fotootjes klikken om naar de projecten te gaan.
Onderdeel van de Sweet Soirée product suite is de Embellishment Kit. Een leuke verzameling embellishments om je projecten mee op te leuken. Ik heb er vandaag een kaart mee gemaakt.
The entire week I've put the Sweet Soirée product suite in the Spotlight on my blog. In the gallery at the bottom of this post, you can click on the thumbnails to go to the projects. 
Part of the Sweet Soirée product suite is the Embellishment Kit. A fun assortment of embellishments to brighten up your projects. Today, I made a fun card with it.
SWIPE TUTORIAL
Om je te laten zien hoe makkelijk het is om een kaart te maken met deze Sweet Soirée Embellishment Kit heb ik een swipe tutorial gemaakt voor mijn Instagram account @mrsbgoesstamping en je kunt deze hieronder zien.
To show you how easy it is to make a card with this Sweet Soirée Embellishment kit I made a swipe tutorial vor my instagram account @mrsbgoesstamping and you can also see it here below.
Stamping Sunday Blog Hop
Aankomende zondag ben ik er weer met een blogbericht voor de Stamping Sunday Bloghop. Ons thema: Brusho. Met het Stamping Sunday design team hebben we ook een Tutorial Bundel samengesteld en deze kun jij gratis verdienen bij een aankoop van 30 Euro of meer aan Stampin' Up! producten. Klik op de onderstaande knop om er meer te weten over te komen.
Coming Sunday I'll be back with a blog post for the Stamping Sunday Bloghop. Our theme: Brusho. With the Stamping Sunday design team we also made a Tutorial Bundle and you can earn this with a purchase of Stampin' Up! products from one of the design team members. Click on the bottom below to learn more about it.
Alvast een fijn weekend gewenst en tot zondag 🙂 / Wishing you a nice weekend and see you Sunday 🙂
I'll be back on Friday with another swipe tutorial for you, so will you come and have a look?
gaLlery
If you missed some of the other projects I made with Sweet Soirée, just click on the small pictures below to go to the original posts for those projects! / Als je een aantal van mijn andere projecten met Feesttaart gemist hebt, klik dan op de fotootjes hieronder om naar de originele berichten te gaan!
P.S. Hieronder vind je alle door mij gebruikte materialen. Wil je hier iets van aanschaffen? Dan verzorg ik graag je bestelling (mail: danielle@mrsbrightside.nl)! Je kunt op de onderstaande afbeeldingen klikken om naar mijn webshop (Credit Card only) te gaan.
Product LisT