Thema: Summer Sunshine
Het thema is deze maand Summer Sunshine, ofwel projecten waarbij de zomer en/of zonneschijn centraal staat in de breedste zin van het thema. Ik ben aan de slag gegaan met het Sweetest Cherries Voordeelpakket uit de Stampin' Up! Jaarcatalogus!
*Dear international readers, please use the translate button on the right (see side bar) to translate this message to your preferred language.
Sweetest Cherries Kaart
Bij de zomer denk ik altijd aan kersen. Een echt zomers fruit. Onze directe buurman is een grote kersenteler (https://www.schouwsekers.nl/) en hier halen wij tijdens de zomerdag vaak verse kersen om te snoepen, te koken of om jam mee te maken.
Daarom heb de kersen van de Sweetest Cherries stempelset de hoofdrol laten spelen op dit frisse kaartje. Als basiskaart (14,5 x 21 cm, rillen aan de lange kant op 10,5 cm) gebruikte ik Basic White Thick Cardstock met hierop een mat (10 x 14 cm) van Sweet Sorbet Cardstock en daarop zit een Basic White Cardstock mat (9,7 x 13,7 cm)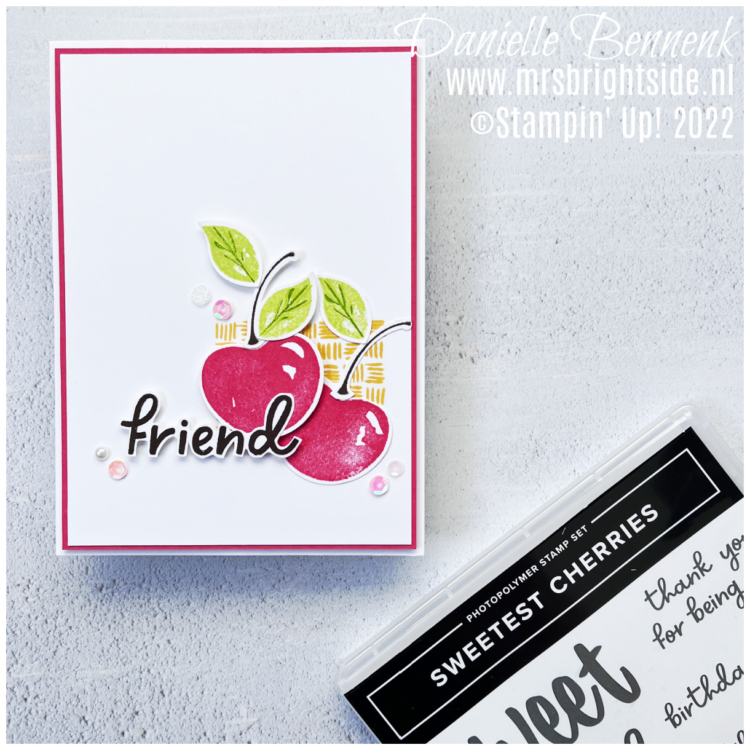 Het achtergrondje heb ik gestempeld met Daffodil Delight Classic Stampin' Inkt. De overige afbeeldingen heb ik gestempeld met Sweet Sorbet, Granny Apple Green, Parakeet Party en Early Espresso Classic Stampin' Inkt.
De blaadjes, de steeltjes en de kersen heb ik geponst met de Kers Vormen Punch. En vervolgens met lijm en Dimensionals op de kaart geplakt.
De tekst, gestempeld met Early Espresso Classic Stampin' Inkt, heb ik uitgeknipt met mijn Paper Snips en met Dimensionals op de kaart geplakt.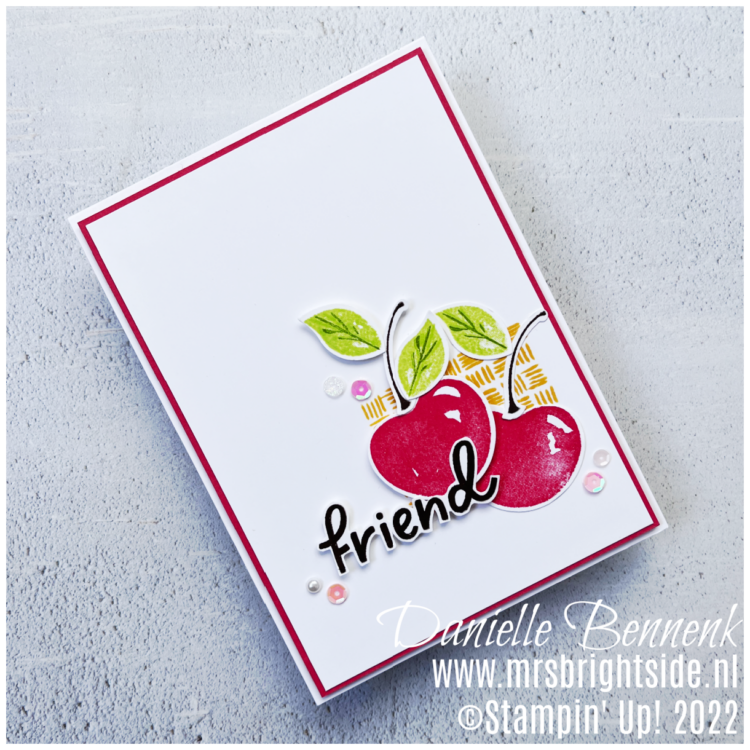 Op het laatst heb ik kleine elementjes uit de Pracht & Praal Pailletten op de kaart geplakt met mijn Fine Tip Glue Pen.
Meer inspiratie van het Stampin' Creative Design Team
Ik hoop dat je mijn interpretatie van het thema kan waarderen en ik hoop dat ik je met mijn project geïnspireerd heb. Ben je net als ik ook benieuwd naar de creaties van de andere Stampin' Creative Design Teamleden? Dan kun je eenvoudig door hoppen door op de naam onder die van mij (ik ben Danielle Bennenk) te klikken.
Ik wil je hartelijk danken voor je bezoek en wens je nog veel plezier bij het hoppen.

Gebruikte materialen
Ik verzorg graag je bestelling. Klik op de 'Stampin' Up! bestelling'-knop of de 'Webshop Stampin' Up!'-knop (PayPal en credit card betaling) in de zijbalk om deze te plaatsen.