Focusproduct maart: Tasteful Textures bundel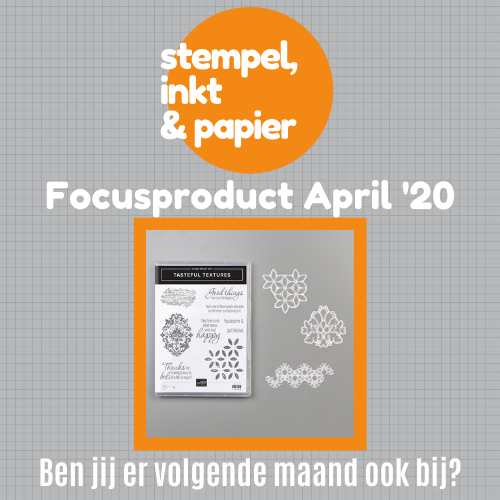 Hallo en welkom bij de Stempel, inkt & papier bloghop! Vandaag hoppen we met het focusproduct van de maand april! Want in april staat de Tasteful Textures bundel van Stampin' Up! centraal. Deze bundel bestaat uit de Tasteful Textures stempelset en de bijpassende stansset: Tasteful Backgrounds dies.
Ik vind het een geweldige bundel. De stempelset bevat namelijk prachtige teksten met een positief gevoel en sjieke achtergrond stempels.
De bijpassende stansset maakt het geheel af en je kunt er echt hele mooie dingen mee maken.
Ik ben super enthousiast dat dit de bundel is waar we volgende maand mee aan de slag gaan bij ons Online 'Live' Workshop Programma.
Wat is Stempel, Inkt & Papier?
Nog even ter informatie: Stempel, Inkt & Papier is een creatief initiatief van vier Nederlandse Stampin'Up! Demonstratrices – Janneke Dijkstra-De Jong, Sandra Korten, Lotte Noordzij-Walther en ikzelf – die elke maand een specifiek Stampin'Up! Product centraal zetten in een "Live" workshop programma.
In dit programma bieden we tenminste 4 online workshops aan via Facebook Live uitzendingen in een besloten Facebook groep. Dit zijn dus "Live" workshops waarbij jij als kijker meteen met ons mee kan doen of later aan de slag kan gaan. Wil je weten hoe je aan dit "Live" workshop programma kunt mee doen bekijk dan deze video of ga naar deze pagina voor meer informatie.
Makkelijke Tasteful Textures Fun Fold
Om de Tasteful Textures stempelset en de bijpassende Tasteful Background dies goed tot hun recht te laten komen heb ik een Fun Fold gemaakt, de zogenaamde Easel Card. Hierdoor kon ik niet alleen de achtergrond stempels gebruiken, maar ook de mooie teksten en natuurlijk die prachtige stansen.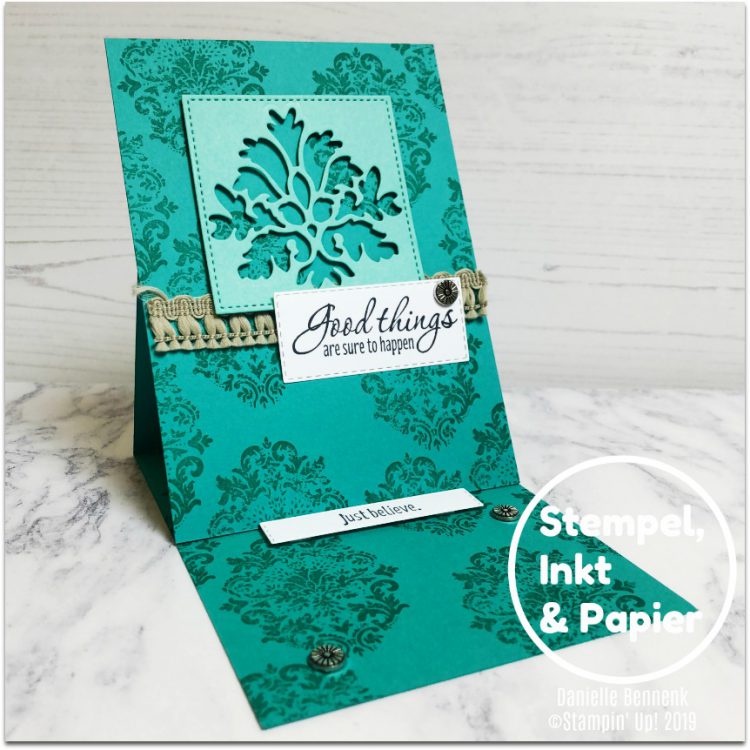 De basiskaart is 14,5 x 29,5 cm, rillen lange zijde op 14,5 en 22 cm. Hierop zit een mat (10,5 x 14,5 cm) geplakt. Het zogenaamde Easel gedeelte wordt op zijn plaats gehouden door een tekstlabel gestanst met de Stitched Rectangle dies. Op het opstaande paneel zie je een stuk gestanst cardstock (Stitched Shapes dies), tekst en het Woven Threads Trim. Een aantal Designer Elements maken het geheel af.
Ik heb deze kaart gemaakt in drie kleurige versies om zo alle achtergrondstempels en dies te showcasen. Hieronder zie je deze drie versies. Versie 1: Coastal Cabana en Bermuda Bay cardstock, versie 2: Calypso Coral en Petal Pink cardstock en versie 3: Mango Melody en Daffodil Delight cardstock. Voor de teksten gebruikte ik, v.l.n.r. Tuxedo Black Memento, Early Espresso en Cajun Craze inkt.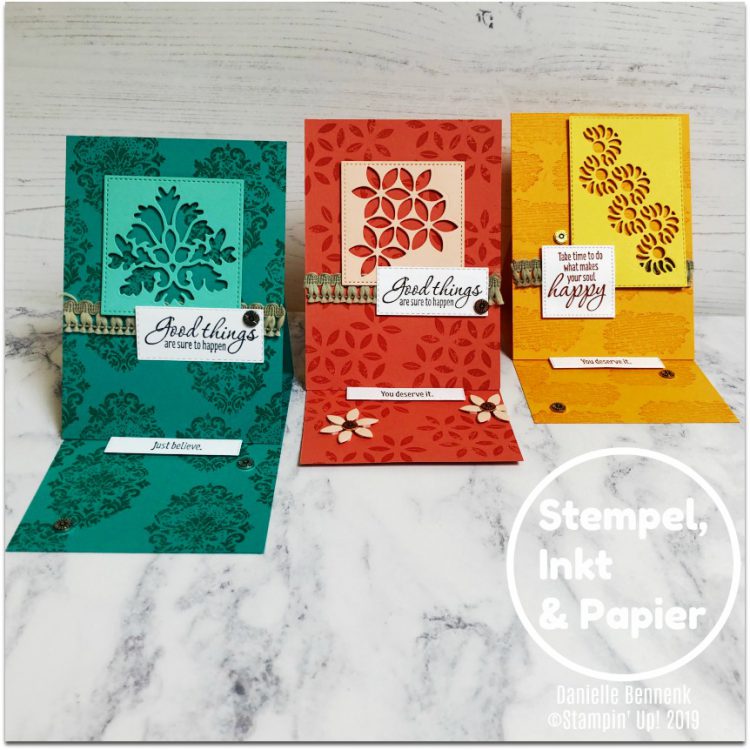 Tasteful Textures Easel Card Video Tutorial
Wil je weten hoe ik deze kaart gemaakt heb? Klik dan op de onderstaande afbeelding om naar mijn video tutorial te gaan. Hierin laat ik stap voor stap zien hoe ik de kaart gemaakt heb.
Meer inspiratie met Tasteful Textures
Door op de naam onder die van mij (ik ben Danielle Bennenk) te klikken ga je naar het blog van Lotte. Ik weet zeker dat ze er weer wat moois van gemaakt heeft.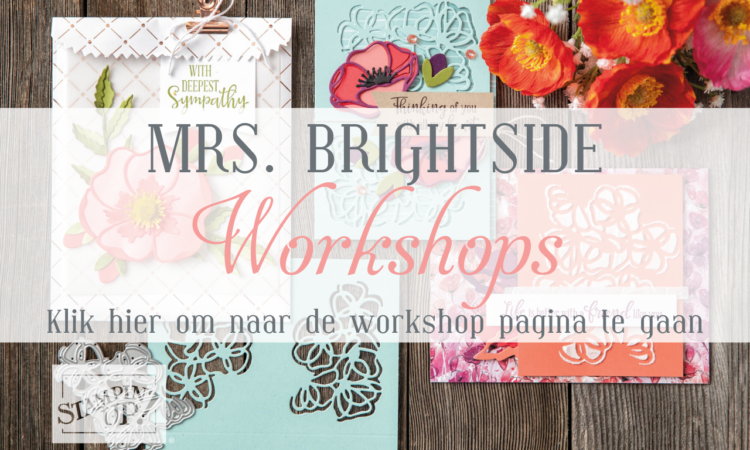 Gebruikte materialen
Ik verzorg graag je bestelling. Klik op de 'Stampin' Up! bestelling'-knop of de 'Webshop Stampin' Up!'-knop (PayPal, Ideal en credit card betaling) in de zijbalk om deze te plaatsen.