Thema: Sale-A-Bration
Het thema is deze maand Sale-A-Bration en dit is tevens de laatste bloghop van dit designteam. Vandaar dat mijn keuze op de Thanks A Bunch Stempelset uit de nieuwe Stampin' Up! Sale-A-Bration folder. Ik wil namelijk alle design teamleden bedanken voor de creatieve tijden die we de afgelopen jaren met elkaar beleefd hebben.
*Dear international readers, please use the translate button on the right (see side bar) to translate this message to your preferred language.
Thanks A Bunch Kaart
Voor mijn kaart wilde ik niet alleen die leuke Thanks A Bunch Stempelset gebruiken, maar ook het toffe Dandy Designs Designer Series Paper uit de Sale-A-Bration Folder. De Thanks A Bunch Stempelset is vanaf 5 januari gratis uit te kiezen bij een bestelling van € 60 of meer en het papier – wel 48 vellen van 12″ x 12″/30,5 x 30,5 cm – bij een bestelling van €120 of meer!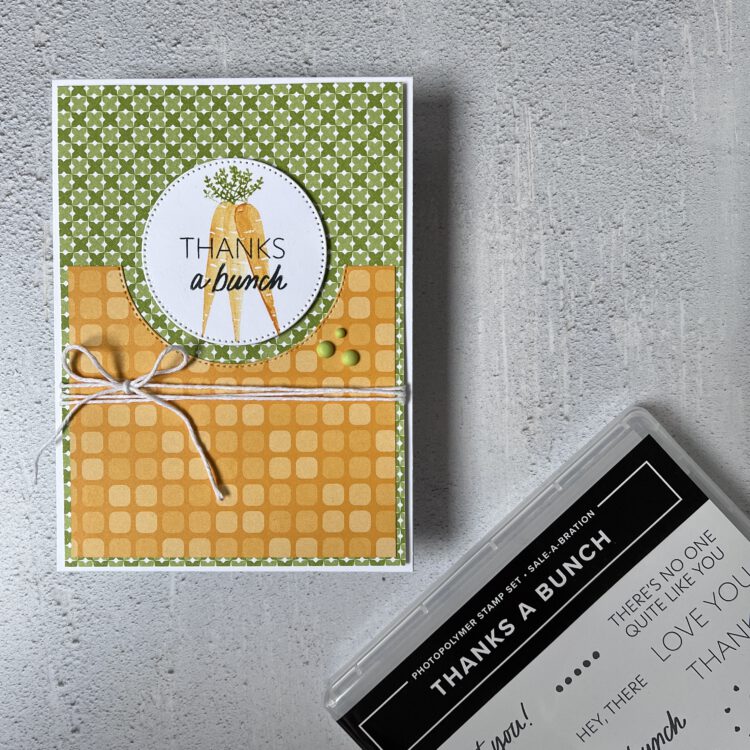 De basiskaart (10,5 x 29 cm, gerild aan de lange kant op 14,5 cm) is van Basic White Thick Cardstock. Hierop zit een mat (10 x 14 cm) van Dandy Designs Designpapier. Daarop heb ik een stuk (9,5 x 8,5 cm) Dandy Designs Designpapier geplakt waar ik met de een-na-grootste cirkel stans van de Stylish Shapes Dies/Frisse Figuren Stansen een halve cirkel heb uit gestanst.
Op een Basic White Cardstock cirkel, gestanst met de twee-na-grootste cirkel stans van de Stylish Shapes Dies/Frisse Figuren Stansen heb ik drie kleine wortels met loof gestempeld met Mango Melody en Granny Apple Green Classic Stampin' Ink.
De tekst 'Thanks a bunch' heb ik eroverheen gestempeld met Tuxedo Black Memento Ink. Daarna heb ik de cirkel in de uitkeping geplakt met Stampin' Dimensionals.
Rondom de mat heb ik wat White Baker's Twine gestrikt en daarna heb ik het geheel met Stampin' Dimensionals op de basiskaart geplakt. Een drietal Parakeet Party In Colors Matte Decorative Dots maken het kaartje af.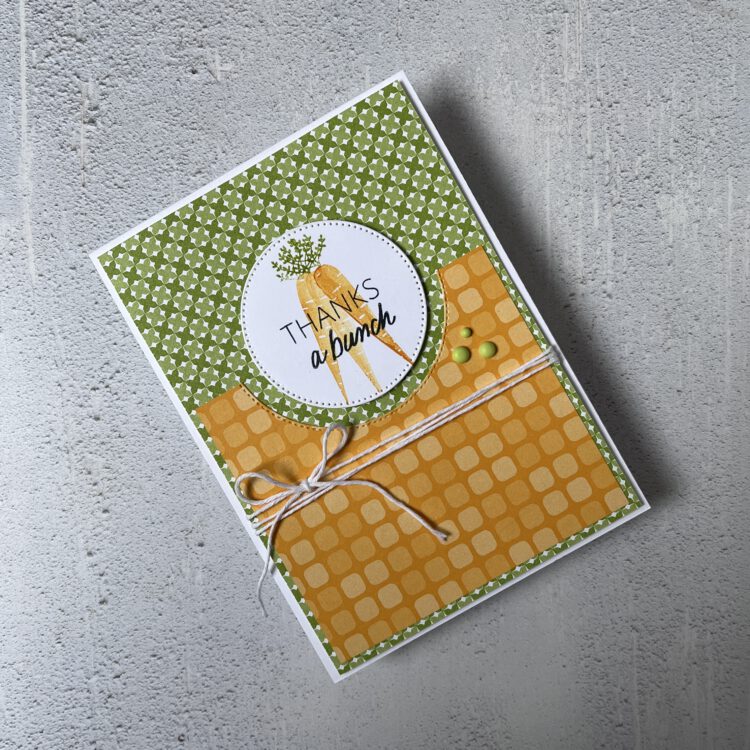 Meer inspiratie van het Stampin' Creative Design Team
Ik hoop dat je mijn interpretatie van het thema kan waarderen en ik hoop dat ik je met mijn project geïnspireerd heb. Ben je net als ik ook benieuwd naar de creaties van de andere Stampin' Creative Design Teamleden? Dan kun je eenvoudig door hoppen door op de naam onder die van mij (ik ben Danielle Bennenk) te klikken.
Ik wil je hartelijk danken voor je bezoek en wens je nog veel plezier bij het hoppen.

Gebruikte materialen
Ik verzorg graag je bestelling. Klik op de 'Stampin' Up! bestelling'-knop of de 'Webshop Stampin' Up!'-knop (PayPal, Ideal en credit card betaling) in de zijbalk om deze te plaatsen.