Spotlight: Tin of tags
In plaats van het ontwerpen van eigen tags & labels voor dit tweede Spotlight project heb ik gekozen om de Spotlight te laten schijnen op een hele coole project kit uit de Herfst-Winter catalogus: De Tin of Tags Project Kit!
Wanneer je deze kit aanschaft krijg je niet alleen alle benodigdheden om 30 tags te maken, maar ook een heel cool blikje. Het blikje kan gebruikt worden om de tags te bewaren, maar het is ook heel leuk om een cadeautje in te verpakken.
Instead of designing my own tags & labels for this second Spotlight project I've chosen to aim the spotlight on a very cool project kit from the Autumn-Winter catalog: The Tin of Tags Project Kit!
When you order this kit you don't only get materials to make 30 tags, but also a very cool tin. The tin can be used to keep your finished tags and labels, but is also a fun gift container.
Tags & labels
De basiskleuren van de kit zijn Whisper White, Old Olive, Crushed Curry, Real Red en Island Indigo. Ik vind het super dat het niet specifiek typische kerstkleuren zijn. Want veel van de teksten uit de bijbehorende Tin of Tags stempelset zijn ook heel goed het hele jaar door te gebruiken. Denk aan de teksten: All wrapped up, With love, Surprise, This is for you, Go ahead and tear it opn en Special delivery. En zijn die Real Red kwastjes en houten ornamenten niet fantastisch?
The base colors of the kit are Whisper White, Old Olive, Crushed Curry, Real Red and Island Indigo. I love it that these aren't specific Christmas colors. Because a lot of the sentiments from the accompanying Tin of Tags stamp set are good to be used all year round. Like: All wrapped up, With love, Surprise, This is for you, Go ahead and tear it opn and Special delivery. And aren't those Real Red tassles and wood ornaments amazing?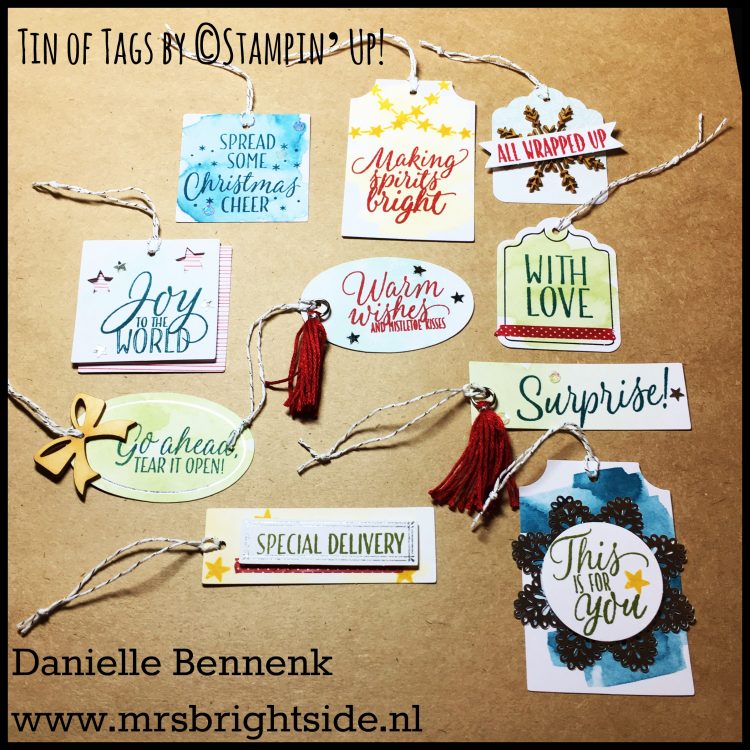 Lijkt het je ook leuk om deze tags te maken? Dan kun je bij mij zo'n leuke project kit met een bijbehorende stempelset bestellen. Stuur een mail naar danielle@mrsbrightside.nl. Ook wanneer je tijdens een Stampin' Up! party met deze kit aan de slag wil ben je bij mij aan het goede adres! Ik bestel dan voor jou en al je gasten een kit, neem alle benodigdheden mee om deze tags & labels te maken en kom naar jouw huis. Het enige wat jij verzorgt is de locatie, wat te drinken en leuke mensen om een avond mee te stempelen.
dry embossing
Volgende week staat er een techniek in de Spotlight: Dry Embossing. Wij (Eveline, Sandra en ik, Hilde is namelijk aan het genieten van een welverdiende vakantie!) hopen je te kunnen inspireren met leuke embossing technieken, dus kom je een kijkje nemen op onze blogs?
Next week, we're shining our spotlight on a technique: Dry Embossing. We (Eveline, Sandra and myself. Hilde is enjoying a well deserved vacation) hope to inspire you with some fun embossing techniques, so come and have a look at our blogs!
Product List