welcome!
Welkom bij de maandelijkse bloghop van de Creatieve Harten. Deze maand staat het thema Trick or Treat centraal. We hopen je te inspireren met onze projecten rondom Halloween, of juist projecten met een 'Trick', of wel truc, en/of  een 'Treat', of wel traktatie. Natuurlijk zijn al onze projecten gemaakt met de mooie producten van Stampin' Up! 
Geniet van je hop langs onze projecten! En… We vinden het altijd hartstikke leuk als je een berichtje achterlaat om ons te laten weten wat je vindt 🙂
Welcome to the monthly Creatieve Harten (=Creative Hearts) blog hop. This month our theme is Trick or Treat. We hope to inspire you with our Halloween, Trick and/or Treat projects made with the beautiful products of Stampin' Up!
Enjoy hopping along our projects! And… We really love it if you leave a comment to let us know what you think 🙂
world card making day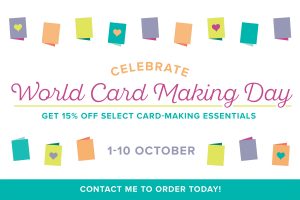 Het is vandaag 'World Card Making Day', dus een kaart kan niet ontbreken in mijn blogbericht. Wist je trouwens dat Stampin' Up! een fantastische actie heeft georganiseerd ter ere van World Card Making Day? Klik op de bovenstaande afbeelding en lees er alles over!
Today, it's World Card Making Day, so I just had to add a card to this blog message. By the way, did you know that Stampin' Up! has put together a wonderful offer to celebrate? Ask your local demonstrator for more information!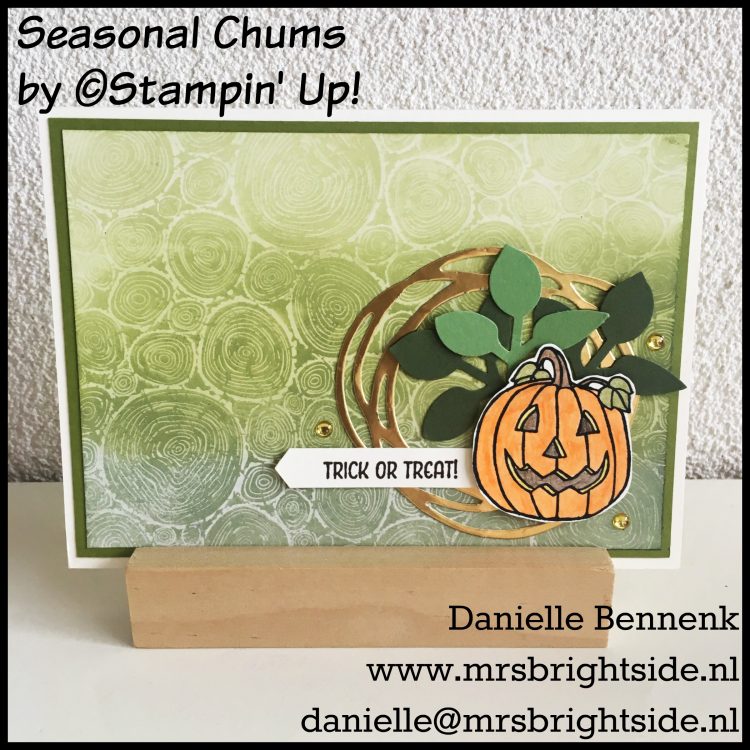 This Halloween card is made with a 'Trick' as I used the ghosting technique to create the background. You stamp an image, in this case the Tree Case stamp, with Versamark on glossy cardstock. You let it dry and then you sponge the background. I used Pear Pizzazz, Old Olive and Always Artichoke. The happy pumpkin from Seasonal Chums is colored with watercolor pencils and a blender pen.
Treats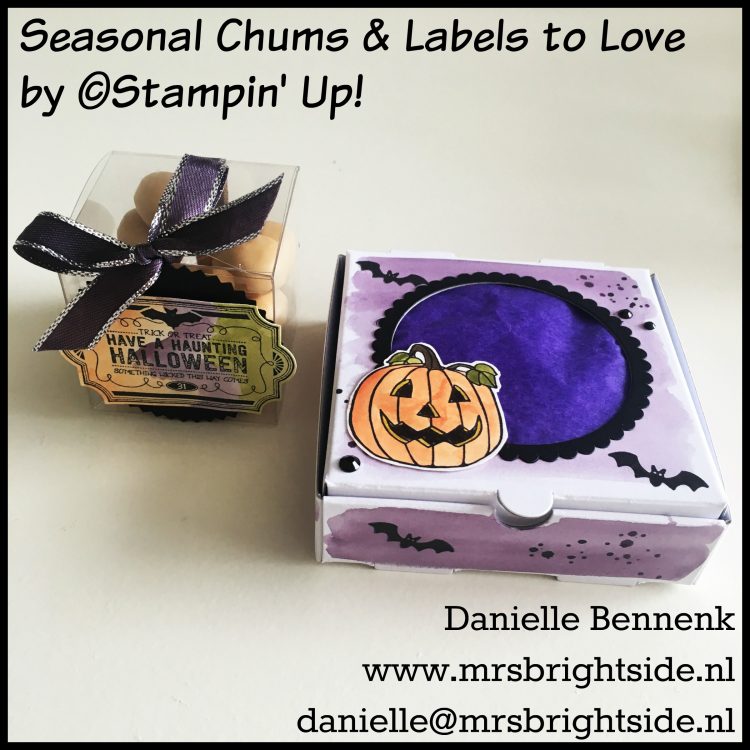 Na de 'Trick' heb ik ook nog twee 'Treats' gemaakt. Bij het eerste project heb ik een mini pizzabox gekleurd met de aqua painter en Perfect Plum. Daarna heb ik een venster gestanst met de Layering Circles framelits en wat spetters (Timeless Textures), vleermuizen (Sweet Home) en natuurlijk wederom het grappige pompoentje van Seasonal Chums, dat ik deze keer ingekleurd heb met mijn aqua painter in de kleuren Tangerine Tango, Old Olive en Soft Suede.
After the 'Trick', I've also made two 'Treats'. For the first project I colored a mini pizza box with the aqua painter and Perfect Plum. Then I made a window with the Layering Circles framelits and added some ink splashes (Timeless Textures), bats (Sweet Home) and of course the fun pumpkin from the Seasonal Chums. Which I colored with my aqua painter this time and the colors Tangerine Tango, Old Olive and Soft Suede.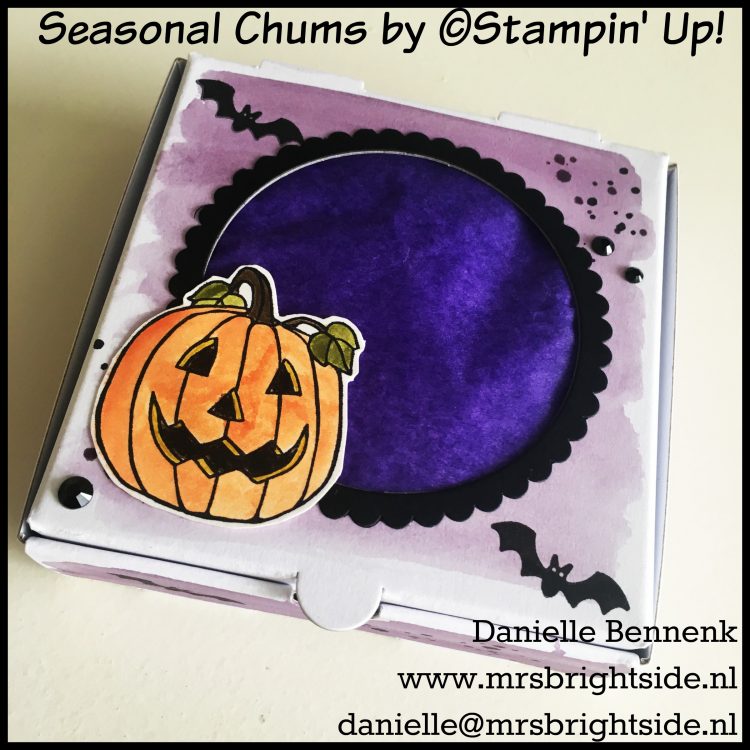 Trick and treat
Mijn laatste projectje is een Clear Tiny Treat box met wat heerlijke caramelsnoepjes. Het label is afkomstig uit de veelzijdige Labels to Love stempelset en de achtergrond heb ik gemaakt met de aqua painter en de kleuren: Tangerine Tango, Perfect Plum en Old Olive. Verder zie je hier ook meteen mijn tweede 'Trick' van vandaag… Ik heb namelijk Perfect Plum lint gemaakt door het Silver Metallic Edge ribbon met een sponge dauber en Perfect Plum inkt te kleuren. Zo kun je altijd, heel eenvoudig, een lintje creëren in de kleur die je nodig hebt.
My last project is a Clear Tiny Treat box with some yummy caramel candy. The label comes from the versatile Labels to Love stamp set and the background is made with my aqua painter and the colors: Tangerine Tango, Perfect Plum and Old Olive. In addition, you'll also see my second 'Trick' of today… I made some Perfect Plum ribbon by coloring some Silver Metallic Edge ribbon with a sponge dauber with Perfect Plum ink. This way, you can easily create your own color ribbon any time you want.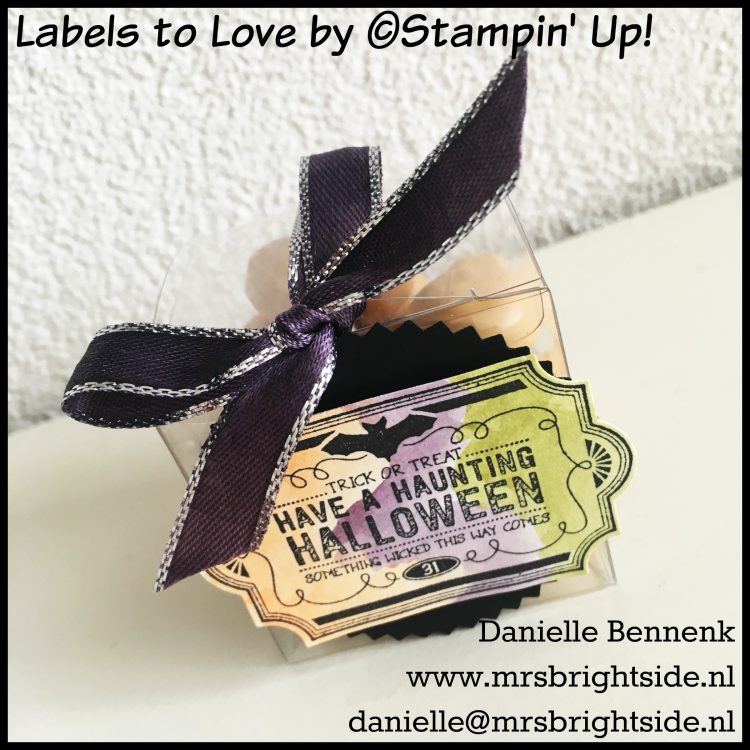 keep on hopping
Ik hoop dat je happy bent geworden van mijn Trick or Treat projecten. Onderaan dit blogbericht vind je een lijst met alle gebruikte Stampin' Up! materialen. Wil je ook een van deze materialen bestellen, of gebruik maken van de fantastische World Card Making Day actie? Stuur mij dan een mail (danielle@mrsbrightside.nl), ik verzorg graag je bestelling.
I hope these Trick or Treat projects gave you a happy feeling. Underneath this blog message you'll find a list with all Stampin' Up! materials that I've used for this project.
Je kunt nu verder 'hoppen' naar de blog van Caro en genieten van haar prachtige project voor deze bloghop door op 'Volgende'  te klikken.
You can keep on hopping to the blog of Caro and enjoy her beautiful project for this blog hop by clicking 'Volgende'.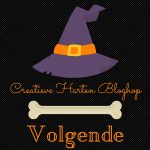 Geniet van de rest van je weekend! / Enjoy the rest of your weekend!
Linkenlijst
Product List