*Dear international readers, please use the translate button on the right (see side bar) to translate this message to your preferred language.
Watercolor Pencil Projecten
Watercolor Pencil projecten staan deze maand centraal bij de Creating Kindness Blog & Video Hop. Ons Design Team kennende zullen er veel kleurrijke en veelzijdige projecten ontstaan zijn. Vandaag worden we vergezeld door de getalenteerde Liz Yuille uit de UK, ik ben zeer benieuwd wat zij gemaakt heeft.
Watercolor Pencil Daisies!
De onderstaande kaart was eigenlijk een project van de Lente Workshop die aankomende zaterdag plaats zou vinden in Nispen, maar die ik omgezet heb naar een brievenbus workshop vanwege de Corona situatie. De deelnemers gaan nu aan de slag met het materiaalpakket voor 4 lente projecten met duidelijke video tutorials.
Als uitgangspunt voor dit project heb ik een prachtige Bird Ballad Laser Cut Card genomen. Hierop zit een tekstlabel dat ik gestanst heb met de Stitched Shapes Dies, erom heen zit wat Linen Thread en een Bird Ballad Trinket. De tekst is gestempeld met Early Espresso Classic Ink en de Pluk De Dag stempelset.
De bloem met blaadjes heb ik gemaakt van Shimmery White Cardstock en m.b.v. diverse punches: Daisy, Medium Daisy, Leaf en Sprig. Eerst heb ik de vormen gekleurd met een watercolor pencil (Calypso Coral, Old Olive en Early Espresso) en Aqua Painter. Vervolgens heb ik er extra details opgetekend met de potloden.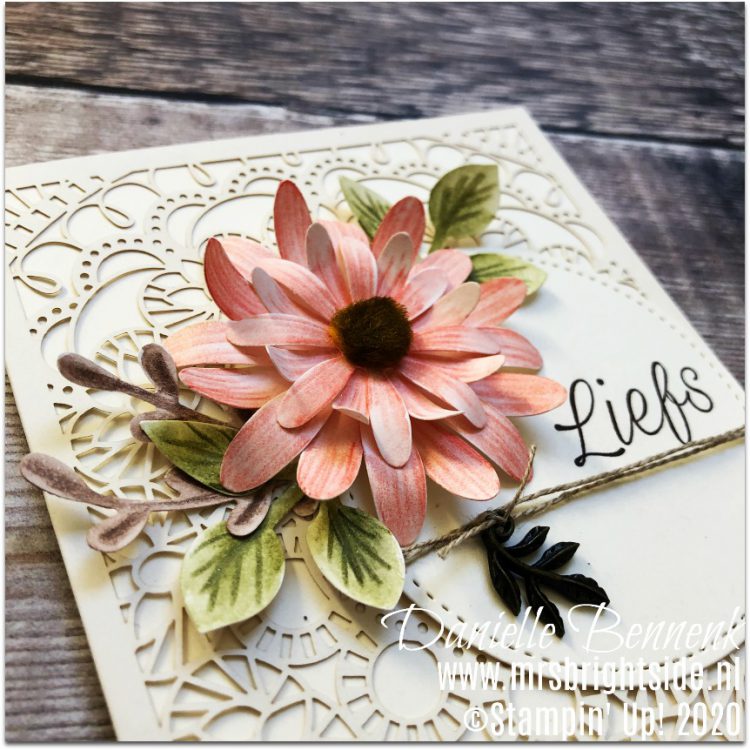 De bloemblaadjes heb ik gekruld met mijn Bone Folder. Het hartje is een bruine gekleurde (Early Espresso Stampin' Write Marker) Perennial Essence Floral Center. Alle verschillende texturen geven deze kaart een prachtige uitstraling.
Stap-voor-Stap Video Tutorial
Om je precies te laten zien hoe ik deze kaart gemaakt heb, heb ik een stap-voor-stap video tutorial opgenomen. Klik op de afbeelding hieronder om naar de video te gaan.
Meer watercolor pencil projecten…
Ook de overige Design Teamleden zijn aan de slag gegaan met hun watercolor pencils en aan de sneak peeks te zien zijn het echt prachtige projecten! Dus hop snel door naar het blog van de geweldig getalenteerde Tanya door op de onderstaande knop te klikken!
Heel erg bedankt voor je bezoek en ik zou het leuk vinden als je een reactie achter laat.

Bloghop Deelnemers
Video Deelnemers
1. Danielle Bennenk – https://youtu.be/BIdyMkEAzKU
2. Lou Kitzelman – https://youtu.be/TkmNLCr8Ibs
3. Marcy Denning – https://www.youtube.com/watch?v=PGPodIHeNsM…
4. Jay Soriano – to come
5. Sara Levin – https://youtu.be/WiqsYJS1k1Y
GEBRUIKTE MATERIALEN
Ik verzorg graag je bestelling. Klik op de 'Stampin' Up! bestelling'-knop of de 'Webshop Stampin' Up!'-knop (credit card only) in de zijbalk om deze te plaatsen.