Catalog Favorite
Welkom bij de sneak peek weken! De aankomende twee weken laat ik diverse sneak peeks zien gemaakt met de producten uit de nieuwe voorjaars/zomercatalogus die 3 januari van start gaat. Er staat weer zoveel moois in… Echt om te watertanden.
Eén van mijn catalogus favorieten is de Waterfront stempelset. Deze stempelset is ontworpen i.s.m. Connie Heisey, een van de 1 Million Sales Achievers van Stampin' Up! Het is echt, naar mijn idee, een fantastische stempelset met geweldige teksten en afbeeldingen om ontelbare natuurscènes te creëren.
Welcome to the Sneak Peek weeks! The coming two weeks I'm showing several sneak peeks made with products from the upcoming spring/summer catalog that will launch on January 3rd. It's filled with so much beauty… Really mouth watering stuff.
One of my catalog favorites is the Waterfront stamp set. This set is designed with one of Stampin' Up!'s 1 Million Sales Achievers Connie Heisey. It's really, in my opinion, an amazing stamp set with great sentiments and images to create countless nature scenes.
'case the catty' card
De eerste kaart heb ik nagemaakt, geCASE'd, uit de catalogus. Mijn oog viel meteen op deze kaart en ik wilde hem graag maken.
The first card is CASE'd from the catalog. My eye was drawn to this card and I really wanted to make it.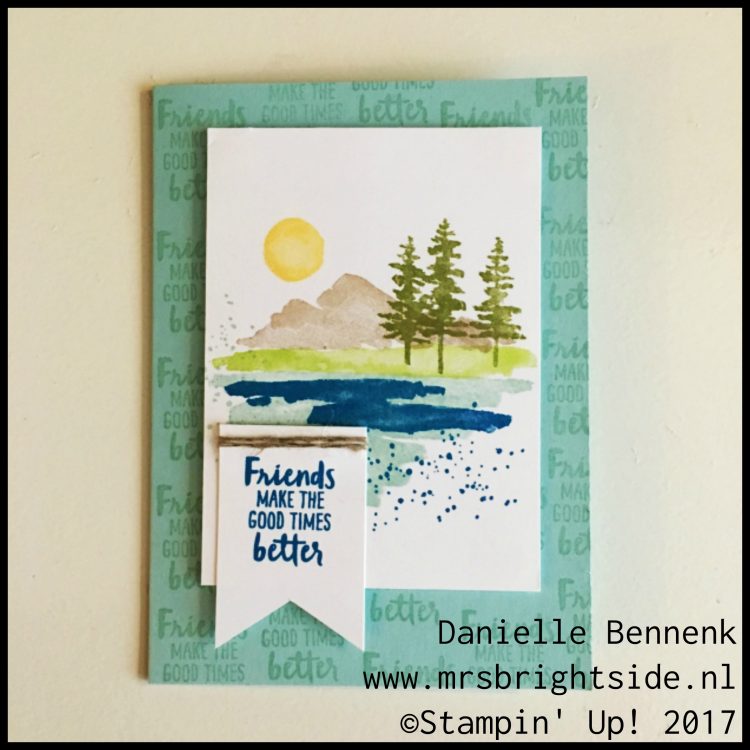 De basiskaart is Pool Party en de voorzijde is bestempeld met dezelfde tekst als die van de banner. Je ziet dit bij meer kaarten in de catalogus, ik zie een nieuwe trend aankomen 😉
De Waterfront stempelset maakt het vervolgens zo makkelijk om de natuurscène te creëren. De afbeeldingen hebben een watercolor look en ik heb nog veel ideeën met deze set, dus geloof me je zal hem nog vaak voorbij zien komen.
The base cards is Pool Party and the front is stamped with the same text as the one from the banner. You see this on more cards in the catalog, I'm spotting a new trend here 😉
The Waterfront stamp set makes it so easy to create a nature scene. The images have a watercolor look and I have so many ideas with this set, believe me you'll see a lot more samples coming by.
Waterfront notecard set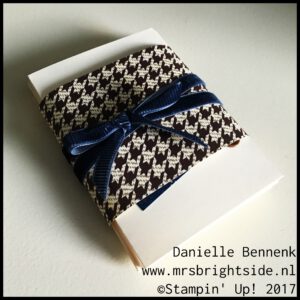 Mijn tweede sneak peek  is een setje Notecards. Ik heb Waterfront gecombineerd met het True Gentleman Designer Series Papier. De hoofdkleuren van het papier (Chocolate Chip, Crumb Cake, Crushed Curry, Night of Navy en Tranquil Tide) heb ik vervolgens gebruikt om  te stempelen.
My second sneak peek  is a notecardset. I combined Waterfront with the True Gentleman Designer Series Paper. I used the main colors of the paper (Chocolate Chip, Crumb Cake, Crushed Curry, Night of Navy and Tranquil Tide) to stamp.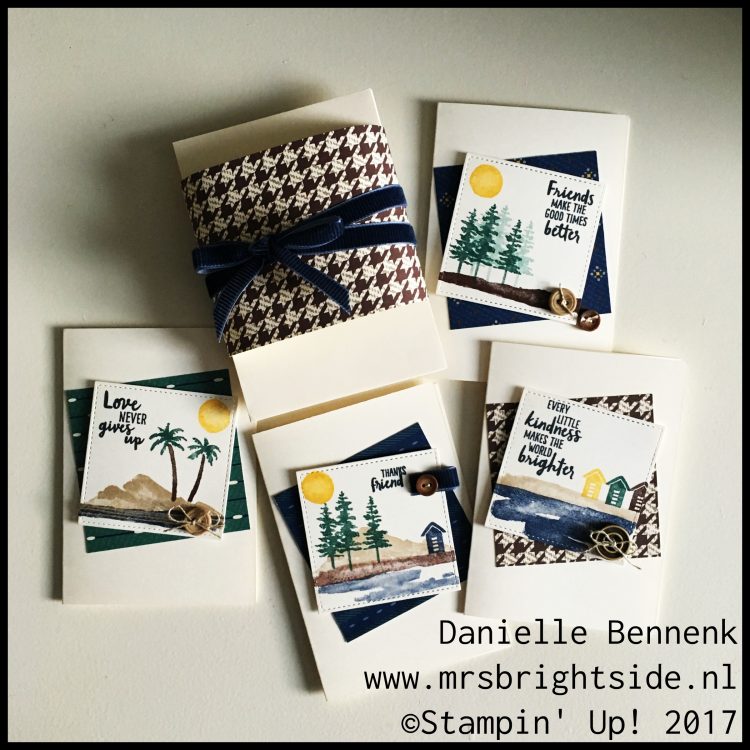 Alle vier de kaarten hebben dezelfde lay-out, maar de gestempelde vierkanten en het onderliggende design papier zijn allemaal anders. Ook heb ik op ieder kaartje een True Gentleman button gebruikt met wat linen thread of het geweldige nieuwe Night of Navy Corduroy Ribbon.
All four cards have the same lay-out, but the stamped squares and the design paper underneath are different. In addition, I used some True Gentleman buttons with some linen thread and/or the amazing Night of Navy Corduroy Ribbon on each card.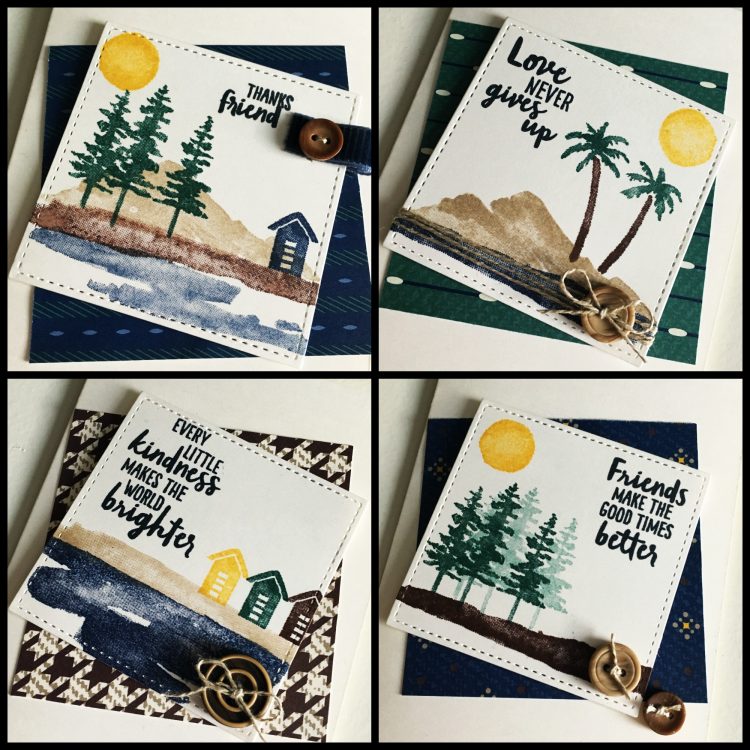 More sneak peeks
Deze week en volgende week volgen er meer sneak peeks, dus houd mijn blog in de gaten 🙂 Ik wens je nog fijne feestdagen toe en tot snel!
This week and next week, more sneak peeks will follow. So, keep an eye on my blog 🙂 Keep enjoying the holidays and see you soon!
P.S. Hieronder vind je alle door mij gebruikte materialen. Wil je hier iets van aanschaffen? Dan verzorg ik graag je bestelling (mail: danielle@mrsbrightside.nl)! Je kunt op de onderstaande afbeeldingen klikken om naar mijn webshop (Credit Card only) te gaan.
Product List