*Dear international readers, please use the translate button on the right (see side bar) to translate this message to your preferred language.

Feel Good Stampin' thema: Well Wishes
Well Wishes! Een thema met projecten rondom beterschapswensen. Niets is zo fijn als een kaartje ontvangen wanneer je jezelf niet goed voelt. Of het nu fysiek of mentaal is, een kaartje om iemand een hart onder de riem te steken is altijd welkom, niet waar? Ik ben voor dit thema aan de slag gegaan met de mooie Healing Hugs stempelset van Stampin' Up!. Tevens heb ik twee leuke technieken toegepast: De Split Card Trick techniek en het sponsen.
Over de Feel Good Stampin' Bloghop…
Ter informatie: Het Feel Good Stampin' Design Team bestaat uit een groep Nederlandse Stampin' Up! Demonstrators die samenwerken om de lezers/bezoekers van onze blogs te inspireren en hen met onze Stampin' Up! projecten een goed (Feel Good) gevoel te geven. Dat Feel Good gevoel is met name nu, in tijden van onzekerheid, zeer welkom.
Iedere 2e donderdag van de maand hoppen we met thema's die een 'Feel Good vibe' hebben, zoals het thema van vandaag: Well Wishes.
Tevens geven we onze lezers/bezoekers uitleg (via beschrijving, foto tutorial of instructie video) over het door ons gemaakte project. Zo willen we proberen om het Feel Good gevoel dat wij hebben bij het maken van projecten en het werken met Stampin' Up! producten zoveel mogelijk door te geven.
Healing Hugs Well Wishes Kaartenset
Met de Split Card Trick techniek heb ik maar liefst 4 kaarten gemaakt met het thema Well Wishes. De Healing Hugs stempelset was daarbij onmisbaar, wat mij betreft, vanwege de prachtige afbeeldingen en natuurlijk de Feel Good teksten uit deze stempelset. De spetters zijn trouwens gestempeld met een stempeltje uit de Natuurlijk Voor Altijd stempelset.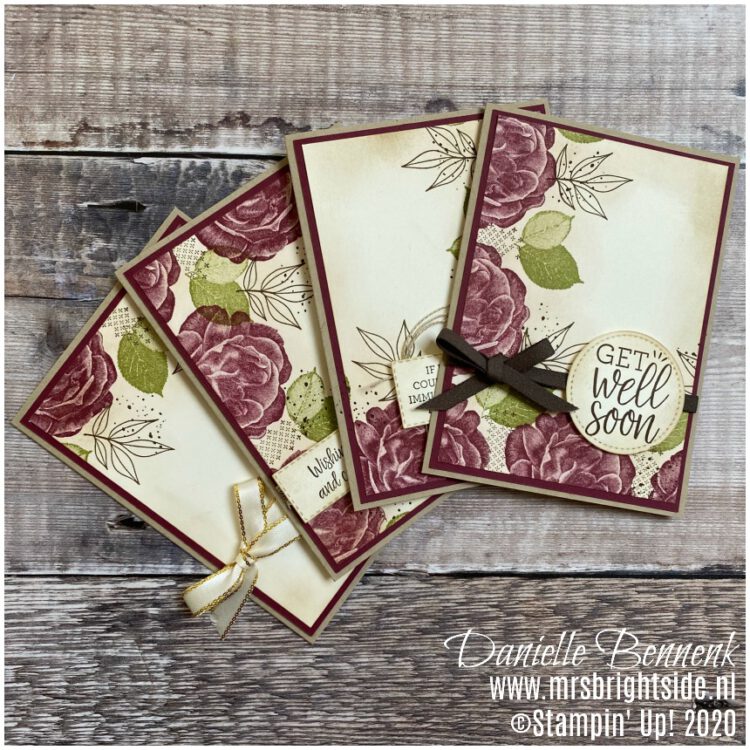 Voor alle vier de kaarten heb ik dezelfde basiskaart (14,5 x 21 cm, rillen 10,5 cm aan de lange kant) van Crumb Cake Cardstock gebruikt. Iedere kaart heeft aan de voorzijde en aan de binnenkant twee matten. Een mat van 10 x 14 cm in Merry Merlot cardstock (bloghop project) of Bumblebee cardstock (video project) met daarop een bestempelde Very Vanilla cardstock mat van 9,5 x 13,4 cm.
De gebruikte inktkleuren zijn: Merry Merlot/Bumblebee, Pear Pizzazz, Crumb Cake, Soft Suede en Early Espresso. De tekstlabels, gestanst met de Stitched Shapes Dies en de Stitched Rectangles Dies, zijn net als de Very Vanilla matten gesponst m.b.v. een Stampin' Sponge. Diverse soorten lint – Linen Thread, Gold Metallic Edge Ribbon, Very Vanilla Scalloped Lace Trim en Early Espresso Faux Suede Trim – geven iedere kaart een eigen uitstraling ook al is de basis gelijk.
Op de foto hieronder zie je heel duidelijk wat het resultaat van de Split Card Trick techniek is, ik had deze techniek al vaker voorbij zien komen, en vond het tijd om de techniek een keer uit te proberen.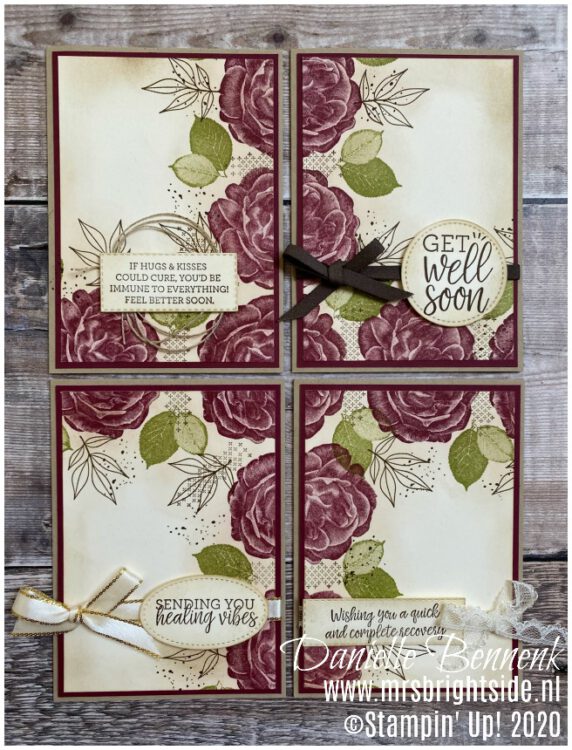 Gratis Video Tutorial
Zoals ik bij de inleiding al schreef, geeft ieder Feel Good Stampin' Design Teamlid een projectbeschrijving. Dit doen we via een PDF-bestand dat je kunt downloaden.
In deze PDF vind je de beschrijving of de link naar de instructie video en de gebruikte materialen. Je kunt vervolgens de PDF opslaan zodat je het project later kunt maken. Hieronder vind je mijn projectbeschrijving (klik op de afbeelding hieronder) met daarin de link naar de instructievideo van deze mooie kaartenset.

Meer inspirerende projecten
Wil je zien wat de andere Design Teamleden deze maand gemaakt hebben? Klik dan snel op de naam onder die van mij op de lijst en het wonder van het internet brengt je waar je moet zijn!
Heel erg bedankt voor je bezoek en nog veel plezier gewenst.

GEBRUIKTE MATERIALEN
Ik verzorg graag je bestelling. Klik op de 'Stampin' Up! bestelling'-knop of de 'Webshop Stampin' Up!'-knop (credit card only) in de zijbalk om deze te plaatsen.