Sneak peek Year of Cheer product suite
Mijn tweede Spotlight project met de Year of Cheer product suite is een mini-cardset. In deze Sneak Peek zie je niet alleen het prachtige Year of Cheer papier en washi tape maar ook de Cheers to the Year stempelset én de prachtige nieuwe Foil Snowflakes!
My second Spotlight project with the Year of Cheer product suite is a mini-cardset. In this Sneak Peek you'll not only see the beautiful Year of Cheer paper and washi tape, but also the Cheers to the Year stamp set and the gorgeous new Foil Snowflakes!

mini cardset
Wat was ik blij om te zien dat de mini 3×3″/7,6×7,6cm envelopjes weer in de catalogus staan. Ik ben, zoals je vast al wel weet, gek op kaartensetjes en ook de mini-variant vind ik super om te maken (zie o.a. hier en hier), dus vandaag ook nog een mini kaartensetje met de Year of Cheer product suite in de spotlight.
I was so happy to see that the mini 3×3″/7,6×7,6cm envelopes are back in the catalog again. I'm, as you might already know, crazy about card sets and the mini version is also super to make (look, among others, here and here), so today I'm showing you also a mini card set with the Year of Cheer product suite in the spotlight.
envelope punch board
Het doosje waar de drie kaartjes met enveloppen in zitten heb ik gemaakt met de envelope punch board. Door de afmetingen (breedte, hoogte en diepte) in te geven bij de Box Buster van Crafty Owl is het doosje precies op maat gemaakt.
Als je precies dezelfde kaartjes met bijpassend doosje wilt maken dan gebruik je deze gegevens:
Papier: 16,3 x 16,3 cm
Eerste punch: 7,1 cm
Tweede punch: 9,2 cm
The gift box, which contains 3 cards with envelopes is made with the envelope punch board. By putting in the measurements (width, depth & length) in the Box Buster van Crafty Owl I've made the box to measure.
If you would like to make the exact same cards and box, then you'll need the following details:
Paper: 16,3 x 16,3 cm or
First punch: 7,1 cm
Second punch: 9,2 cm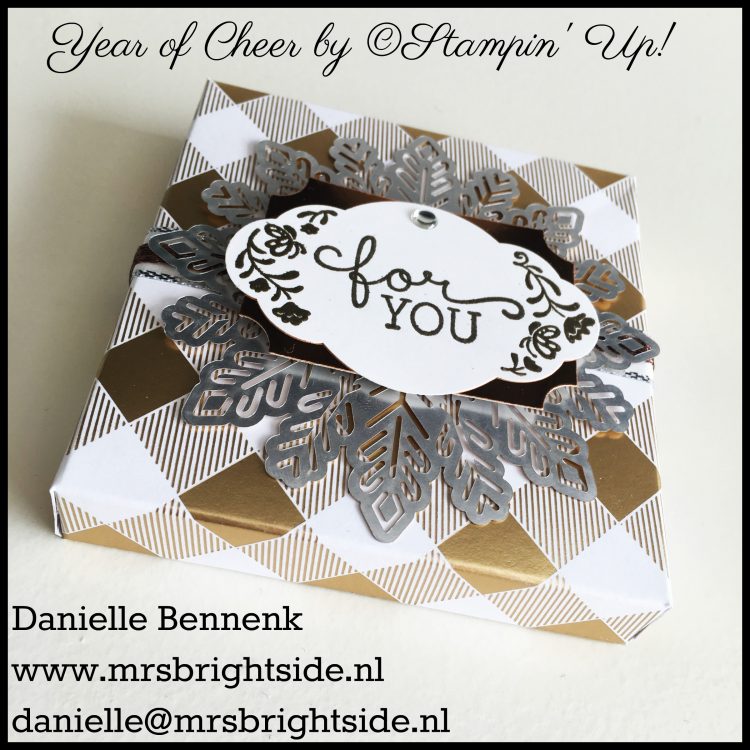 De flap om het doosje dicht te houden zit achter het zilver metallic edge ribbon en copper trim. Verder zie je een zilveren Foil Snowflake als blikvanger en ik heb de Everyday Label punch gebruikt achter het Pretty Label.
To keep the flap of the box closed I put it behind the silver metallic edge ribbon and copper trim. You also see the silver Foil Snowflake as focal point and I used the Everyday Label punch behind the Pretty Label.
september
De maand september zal ik wat minder op mijn blog te vinden zijn vanwege de voorbereidingen van het Creative Stampin' Weekend 'Herfst-editie'. Dus de spotlight projecten heb ik even gepauzeerd, maar als ik tussendoor tijd heb zal ik zeker wat nieuws posten!
The month September will be a bit more quiet on my blog due to the preparations for the Creative Stampin' Weekend. So, I've paused the spotlight projects a bit, but when I have the time I'll post something new!
Bedankt voor je bezoekje en volgende week ben ik er hoe dan ook weer voor de Creatieve Harten bloghop! / Thank you for your visit and I'll definitely be back next week for the Creatieve  Harten blog hop!
 Product List