Brilliant notecards
Toen de jaarcatalogus van Stampin' Up! uitkwam was ik meteen verliefd op de 'You're priceless' stempelset, ik hou namelijk wel van een beetje bling-bling 🙂 Voor dit Spotlight project heb ik deze set weer eens tevoorschijn gehaald.
When the annual Stampin' Up! catalog launched, I immediately fell in love with the 'You're priceless' stamp set. I do love some bling-bling 🙂 For this Spotlight project I used this set once again. 
YOU'RE PRICELESS
Op iedere Whisper White notecard heb ik diverse edelstenen embossed met White Embossin' Powder. Daarna heb ik er kleur overheen gestempeld en de tekst toegevoegd. De kleuren die ik gebruikt heb zijn Tempting Turquoise, Lemon Lime Twist en Flirty Flamingo.
I heat embossed several gem stones on each Whisper White notecard with White Embossin' Powder. Then I stamped with color on top of it and added the sentiment. The colors I used are Tempting Turquoise, Lemon Lime Twist and Flirty Flamingo.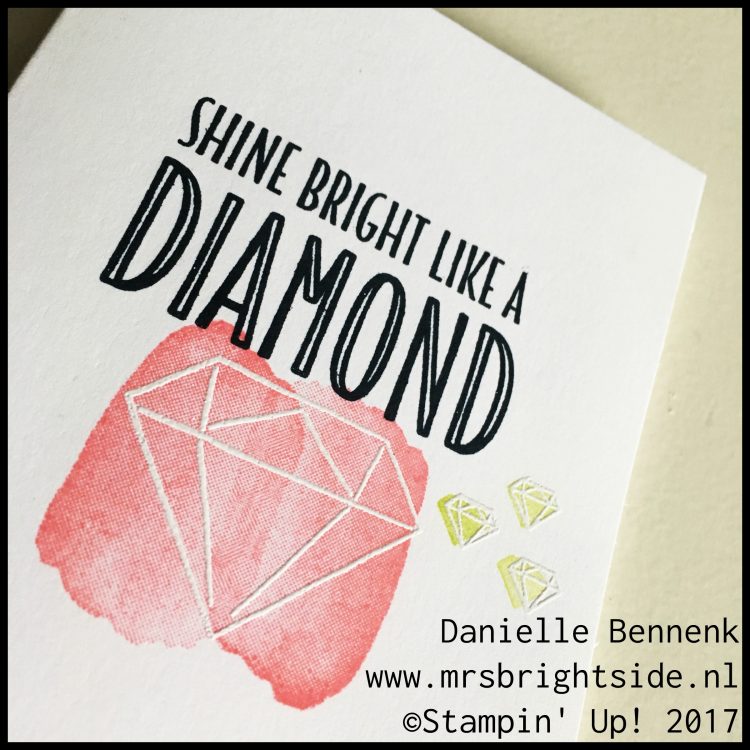 Het resultaat is een fris en vrolijk notecardsetje waarbij de stempelset echt centraal staat.
The result is a bright and cheery notecard set where the stamp set is really in the spotlight.
sneak peeks
Mijn kerstvakantie is net begonnen en de aankomende weken staan bij ons thuis in het teken van het 'verkoop klaar' maken van het huis, want… We hebben een ander huis gekocht! Het is echt ons droomhuis en ik zal jullie t.z.t. zeker op de hoogte houden 🙂
Tussen alle werkzaamheden door laat ik jullie tijdens mijn kerstvakantie wel een aantal sneak peeks zien uit de nieuwe voorjaars/zomer catalogus die 3 januari van start gaat.
My Christmas vacation has started and the coming weeks are totally focused on getting our house ready to be sold as… We've bought another house! It's really our dream home and I will definitely keep you posted on it when the time comes 🙂
In between all the activities I will post several sneak peeks during my vacation all featuring products from the new spring/summer catalog, which will launch on January 3rd.
gaLlery
If you missed some of my other notecard sets, just click on the small pictures below to go to the original post for each project! / Als je andere notecardssetjes die ik gemaakt heb gemist hebt, klik dan op de fotootjes hieronder om naar het originele bericht te gaan!
P.S. Hieronder vind je alle door mij gebruikte materialen. Wil je hier iets van aanschaffen? Dan verzorg ik graag je bestelling (mail: danielle@mrsbrightside.nl)! Je kunt op de onderstaande afbeeldingen klikken om naar mijn webshop (Credit Card only) te gaan.
Product List