Thema: Sending Thanks
Het thema is deze maand Sending Thanks, ofwel projecten met een dankbaar thema. Ik ben aan de slag gegaan met de zeer stijlvolle Blackberry Beauty productcollectie uit de Stampin' Up! Mini Catalogus! Het is een prachtige productcollectie met stijlvol specialty designer series papier met goud accenten, metallic lint en een toffe Ephemera Pack.
Voor een online workshop vorige week zaterdag maakte ik een stationery set naar een idee van Sallystampers.com, hierin zaten 3 kaarten, 3 mini kaarten en 3 geschenklabels. De gehele set gaf ik kado aan een vriendin om haar te bedanken voor haar steun.
*Dear international readers, please use the translate button on the right (see side bar) to translate this message to your preferred language.
Blackberry Beauty Stationery Set
Zoals gezegd heb ik als uitgangspunt voor dit project de Blackberry Beauty productselectie gebruikt. Ik ben namelijk helemaal verliefd op het papier en de bijpassende Blackberry Beauty Ephemera Pack.
De verpakking ziet er door het gebruik van het Blackberry Beauty Specialty Designer Series Paper meteen super sjiek uit. Het label komt uit de Ephemera Pack en de dankbare teksten: "Voor jou. Voor alles wat je doet" komen uit de Hemelse Hortensia stempelset en zijn gestempeld met Early Espresso Classic Stampin' Inkt.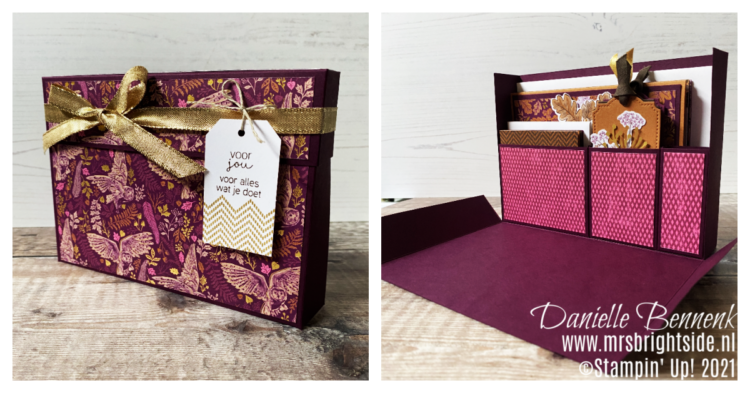 Rondom de deksel heb ik het gave Gold Metallic Ribbon gestrikt. Wanneer het doosje open is, zie je de opbergvakjes voor de mini kaarten met envelopjes, de tags en een leeg vakje voor een pen of potlood.
De inhoud van de Blackberry Beauty Stationery Set
In de stationery set zitten maar liefst 9 losse projecten: 3 Reguliere kaarten (14,5 x 21 cm, rillen lange kant op 10,5 cm) met C6 enveloppen, 3 mini kaarten (7,5 x 15 cm, rillen lange kant op 7,5 cm) met mini enveloppen en 3 tags gestanst met de Tailor Made Tags Dies.
Bij mij kaarten combineerde ik het Blackberry Beauty Designpapier en de Ephemera Pack met teksten uit de Nederlandse stempelsets Hemelse Hortensia en Samen Sterk. Ook voegde ik wat Polished Pink Open Weave Ribbon, Gold Shimmer Ribbon en Early Espresso Faux Suede Ribbon toe.

Ook bij de mini kaartjes speelt het designpapier de hoofdrol. Er is minimaal gestempeld, maar maximaal gebruik gemaakt van de onderdelen uit de Ephemera Pack.

De tags zijn allen op gepimpt met de gave die-cuts uit de Blackberry Beauty Ephemera Pack. De kleine tekstjes passen zo mooi bij het papier en de die-cuts, echt super tof en makkelijk te maken.

Meer inspiratie van het Stampin' Creative Design Team
Ik hoop dat je mijn interpretatie van het thema kan waarderen en ik hoop dat ik je met mijn project geïnspireerd heb. Ben je net als ik ook benieuwd naar de creaties van de andere Stampin' Creative Design Teamleden? Dan kun je eenvoudig door hoppen door op de naam onder die van mij (ik ben Danielle Bennenk) te klikken.
Ik wil je hartelijk danken voor je bezoek en wens je nog veel plezier bij het hoppen.

Gebruikte materialen
Ik verzorg graag je bestelling. Klik op de 'Stampin' Up! bestelling'-knop of de 'Webshop Stampin' Up!'-knop (PayPal en credit card betaling) in de zijbalk om deze te plaatsen.
| | | | | |
| --- | --- | --- | --- | --- |
| | | | | |
| | | | | |
| | | | | |
| | | | | |
| | | | | |