SNEAK PEEK: CIRCLE CELEBRATION STEMPELSET
Welkom bij Mrs. Brightside! Vandaag hop ik met het Creatieve Harten Team met het thema: Favo Stempelset. Ik heb gekozen voor een stempelset uit de aankomende Stampin' Up! January – June Mini Catalogus: Circle Celebration omdat het gewoon een onmogelijke opgave is maar een favoriet te kiezen uit alle catalogi. Daarom heb ik mijn keuze beperkt tot de stempelsets uit mijn pre-order van de aankomende Mini 🙂
Deze stempelset viel mij meteen op omdat het zo'n anders dan anders stempelset is. Ik werd meteen getriggerd om met deze stempelset aan de slag te gaan. Vanaf 5 januari '21 is deze stempelset te verkrijgen. Dus je krijgt ook meteen een sneak peek te zien vandaag!
*Dear international readers, please use the translate button on the right (see side bar) to translate this message to your preferred language.
COOLE CIRCLE CELEBRATION STEMPELSET
Al die cirkelafbeeldingen van de Circle Celebration stempelset nodigen uit om een coole achtergrond te stempelen en dat heb ik dan ook gedaan. Ik had met deze donkere dagen een behoefte om een fel kleurenpalet te gebruiken: So Saffron, Bermuda Bay, Pretty Peacock, Magenta Madness en het stemmige Tuxedo Black Memento.
De Circle Celebration stempelset is een polymeer stempelset en dat maakt het makkelijk om de afbeeldingen goed te positioneren. Ik heb geprobeerd dimensie te creëren door de cirkels op bepaalde punten te laten overlappen.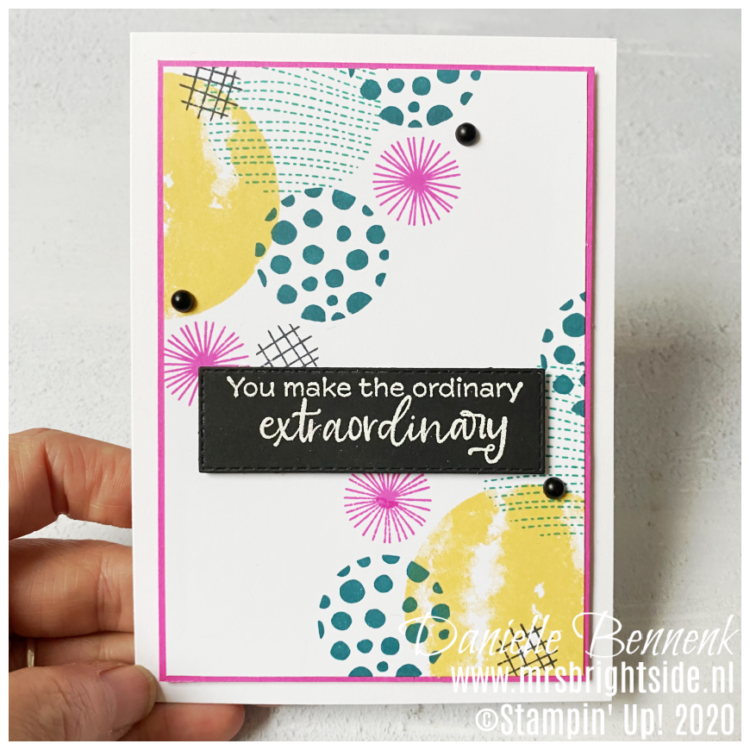 Het zwart komt ook terug in het tekstlabel van Basic Black Cardstock dat ik gestanst heb met de Stitched Rectangles dies én de gave Matte Black Dots embellishments. De toffe tekst is ook sneak peek, want deze komt uit de spiksplinternieuwe Simply Succulents stempelset.
AFMETINGEN
Basiskaart – Whisper White Thick Cardstock 14,5 x 21 cm, rillen lange kant op 10,5 cm
Mat – Magenta Madness Cardstock 9,3 x 13,3 cm
Mat – Whisper White Cardstock 9 x 13 cm
VIDEO TUTORIAL!
Wil je weten hoe ik deze toffe kaart heb gemaakt? Kom dan morgen om 10 uur terug naar deze site, want dan post ik een video tutorial waarin ik stap-voor-stap uitleg hoe je dit project zelf kunt maken!
NOG MEER FAVORIETE STEMPELSETS
Ben je net als ik ook benieuwd naar de favoriete stempelsets die de andere bloghop deelnemers hebben gebruikt? Dan kun je eenvoudig door hoppen door op de naam onder die van mij (ik ben Danielle Bennenk) te klikken.
Ik wil je hartelijk danken voor je bezoek en wens je nog veel plezier bij het hoppen.

Gebruikte materialen
Ik verzorg graag je bestelling. Klik op de 'Stampin' Up! bestelling'-knop of de 'Webshop Stampin' Up!'-knop (credit card only) in de zijbalk om deze te plaatsen.