Focus thema: 3-D projecten met Design A Treat Productpakket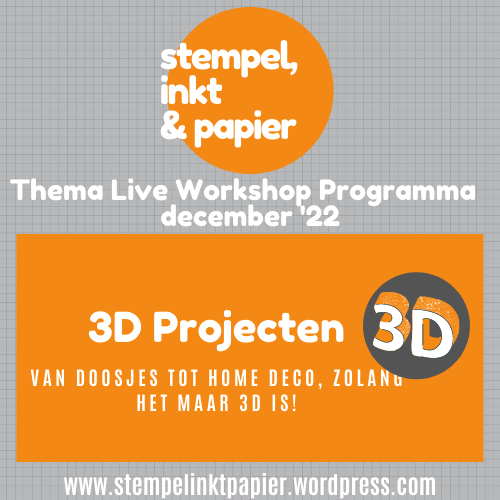 Hallo en welkom bij de Stempel, Inkt & Papier bloghop! In de maand December richt Stempel, Inkt & Papier zich op het thema: 3D Projecten. Het thema spreekt voor zich van doosjes tot Home Deco, zolang het maar 3D is.
We hebben allen gebruik gemaakt van producten uit de lopende Stampin' Up! catalogi.
Ik koos ervoor om aan de slag te gaan met het leuke Design A Treat Productpakket uit de Mini Catalogus. Je kunt met dit productpakket verschillende leuke, kleine doosjes maken die je kunt 'aankleden' met de bijpassende stansjes. Bijv. vleermuisvleugels en hazenoren, maar ook cijfers voor bijv. een adventkalender. Ik heb gebruik gemaakt van de rendier geweitjes.
Design a Treat Advent Combinatie
In plaats van een grote adventskalender heb ik een advent combinatie gemaakt met vier kleine rendieren een voor iedere week van advent. Hierin heb ik 4 lekkernijen gestopt. Het zijn echt kleine doosjes, ong. 3 x 3 x 3,5 cm, maar er passen o.a. een Ferrero Rocher, Werthers Echte, Lindt Chocolade Kugel, etc. in.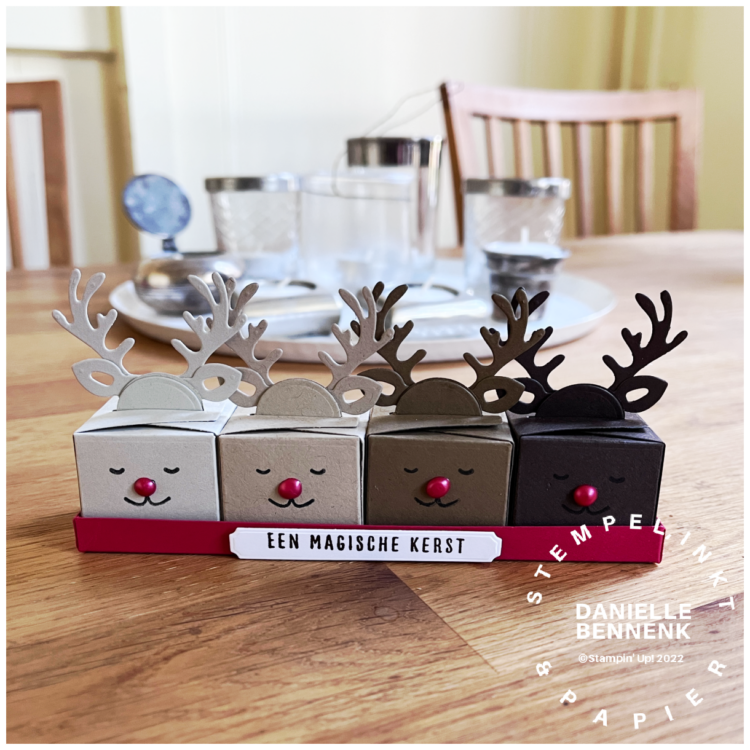 Eerst stanste ik de doosjes, oortjes en geweitjes met de Design A Treat Box Dies uit Sahara Sand, Crumb Cake, Soft Suede en Early Espresso Cardstock.
Daarna stempelde ik de snoetjes op de doosjes met de Design A Treat Stempelset en Tuxedo Black Memento Inkt. Het neusje maakte ik met de Real Red Pearlized Enamel Effects. Let op: Die moet je goed laten drogen voor je er verder mee werkt. Vervolgens plakte ik alle vier de doosjes in elkaar en gaf ieder rendiertje oortjes en een gewei.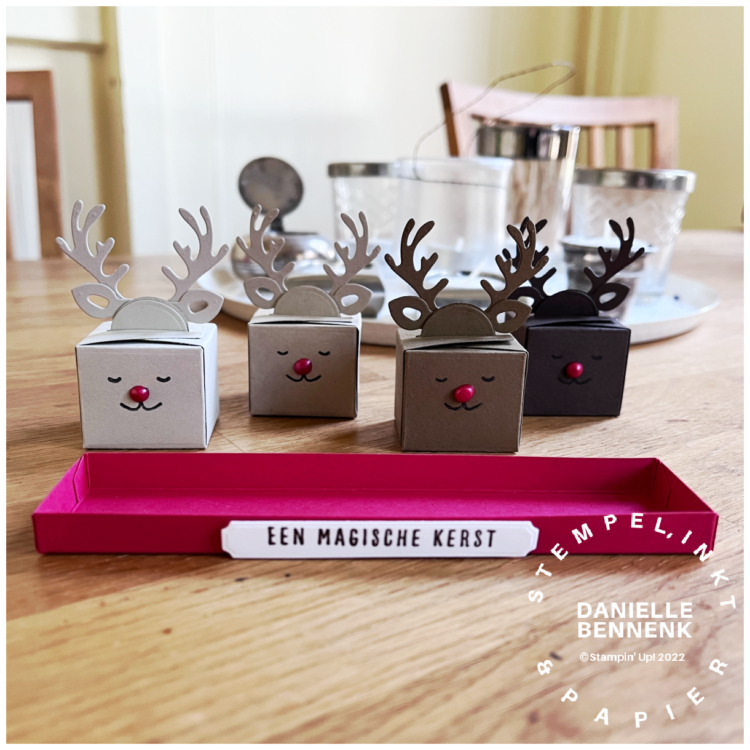 Ik wilde de doosjes heel graag als een project aanbieden, daarom maakte ik een kleine tray waar de doosjes in staan met Real Red Cardstock. Erop zit een tekst uit de Fantastische Feestdagen Stempelset, gestanst met de Floral Gallery Dies.
Afmetingen van de tray: 2″ x 6-1/4″, aan alle vier zijden gerild op 3/8″. Ik heb het in inches gedaan omdat de doosjes ook inch afmetingen hebben.
Wat is Stempel, Inkt & Papier?
Nog even ter informatie: Stempel, Inkt & Papier is een creatief initiatief van drie Nederlandse Stampin'Up! Demonstratrices – Sandra Korten, Lotte Noordzij-Walther en ikzelf – die elke maand een specifiek Stampin'Up! Product of specifiek thema centraal zetten in een exclusief workshop programma.
In dit programma bieden we exclusieve online workshops aan rondom thema's als techniek, step-it-up, alles behalve een kaart, Case The Catty of Memory Keeping, in een besloten Facebook groep. We doen ook altijd iedere maand een creatieve uitdaging met onze deelnemers.
Meer 3D inspiratie
Hieronder vind je de linkenlijst, klik gewoon op de naam van Lotte of Sandra om door te gaan naar het volgende blog.

Gebruikte materialen
Ik verzorg graag je bestelling. Klik op de 'Stampin' Up! bestelling'-knop of de 'Webshop Stampin' Up!'-knop (PayPal, Ideal en credit card betaling) in de zijbalk om deze te plaatsen.
| | | | | |
| --- | --- | --- | --- | --- |
| | | | | |
| | | | | |
| | | | | |