Good vibes project life card collection
Afgelopen zomer ben ik met mijn lief op vakantie geweest naar Canada. We hebben een geweldige tijd gehad en hebben ontzettend veel foto's gemaakt van de prachtige natuur, bezienswaardigheden en natuurlijk van elkaar.
Voordat we op vakantie gingen heb ik een reisdagboekje gemaakt om onze belevenissen in op te schrijven en om dingen in te bewaren die ik wilde verwerken in een Project Life album. Ook heb ik toen al de Project Life card collection 'Good Vibes' aangeschaft. Een fantastische set met krachtige kleuren en grafische elemenenten. Daarbij heb ik ook de superleuke accessory pack vol met stickers, speciale kaartjes, pailletten, paperclips en niet te vergeten stempels gekocht.
Last summer my love and I went on vacation to Canada. We had an amazing time and took loads of pictures of the beautiful nature, sigths and of course, each other.
Before we left, I made a travel journal to write down our adventures and keep things that I wanted to use in a Project Life album. At that time, I also purchased the Project Life card collection 'Good Vibes'. A fantastic set with bright colors and graphic elements. In addition, I bought the fun accessory pack loaded with stickers, special cards, sequins, paper clips and of course, stamps!
mini album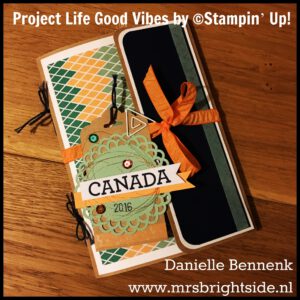 Voor een Stamp-On-Line evenement heb ik in september een mini-album gemaakt. Mijn collega demonstratrices hebben de basis van het mini-album gemaakt op basis van mijn aanwijzingen. In het album heb ik de Good Vibes card collection en foto's van onze vakantie verwerkt. Hieronder zie je een filmpje van het complete album.
For a Stamp-On-Line event in September I made a mini album. My fellow demonstrators made the base of this mini-album following my directions. In the album I used cards of the Good Vibes card collection and pictures of our vacation. Below you'll see a clip of the entire album.
Mocht je dit mini-album ook willen maken, klik dan op de onderstaande PDF-link!
If you would like to make this mini-album too, click on the PDF-link below! The text is in Dutch, but there are plenty of pictures, so I think you'll be able to figure it out. If not, shoot me a mail (danielle@mrsbrightside.nl).
Mini album def versie september 2016
project life lay-out
Buiten het mini-album ben in inmiddels ook gestart met het vullen van een Project Life album. Hieronder zie je mijn lay-out van onze dag in Whistler. Ik heb een aantal foto's gekozen, het kaartje van de Peak-2-Peak gondola en de wandelkaart van het gebied toegevoegd. Nu het echt herfst/winter weer is buiten, is het heerlijk om aan de slag te gaan met deze vakantie herinneringen.
In addition, to the mini album I've also started filling a Project Life album. Below is a lay-out of our day in Whistler. I chose a couple of pictures and added the entry ticket of the Peak-2-Peak gondola and a hiking map of the area. Now, that the fall/winter weather has arrived and it's cold outside, it's wonderful to sit inside and get going with these wonderful summer memories.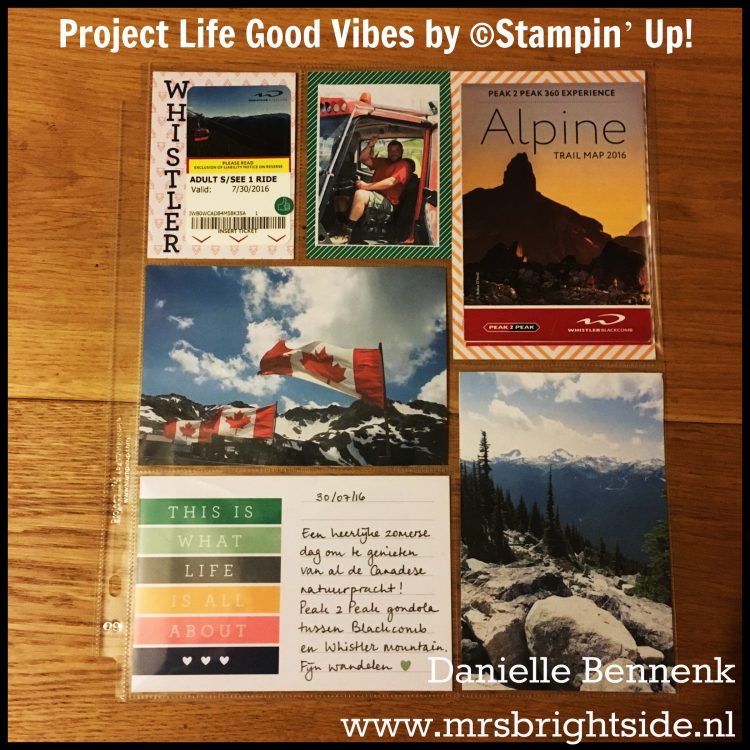 project life spotlight
Lijkt het je ook leuk om een keer kennis te maken met Project Life? Kijk dan hier. Ik bied een leuke kennismakingsworkshop aan voor maar 10 Euro per persoon. Neem voor meer informatie gerust contact op.
De rest van de week laten we nog meer leuke Project Life Spotlight voorbeelden zien. Morgen is Eveline er weer, vrijdag Sandra en ik ben er zaterdag weer. Mocht je de bijdragen van Eveline en Sandra van gisteren en eergisteren gemist hebben? Klik dan hier, hier en hier 🙂
The rest of the week, we'll show you more fun Project Life Spotlight samples. Tomorrow, Eveline will post her project, Sandra on Friday and I'm back on Saturday. If you have missed Eveline's and Sandra's projects from yesterday and the day before: Click here, here and here 🙂
Product List