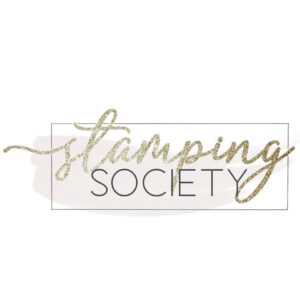 In the Spotlight: Gorgeous Leaves
Hallo! Welkom bij de Stamping Society bloghop. Deze maand staat tijdens onze bloghop en de tutorial bundel het productpakket Gorgeous Leaves centraal! Dit productpakket, bestaande uit de Gorgeous Leaves Stempelset en de Intricate Leaves Dies, vind je in de Stampin' Up! Mini Catalogus.
*Dear international readers, please use the translate button on the right (see side bar) to translate this message to your preferred language.
Zachte Pastel Gorgeous Leaves
De mooie Gorgeous Leaves stempelset heeft prachtige beetje grungy blad afbeeldingen en een aantal achtergrond stempels in de vorm van een hout- en vlek-achtergrond.
De Basic White Thick Cardstock basiskaart (14,5 x 21 cm, rillen lange kant op 10,5 cm) heeft een mat (10 x 14 cm) van Petal Pink Cardstock. Op de Basic White Cardstock mat (9,5 x 13,5 cm) heb ik een achtergrondje gestempeld met Petal Pink en Gray Granite Classic Stampin' Pads.
Vervolgens heb ik met een aantal die-cuts van de Intricate Leaves Dies een soort van arrangementje gemaakt met dezelfde kleuren: Basic White, Petal Pink en Gray Granite. De tekst uit de In Symmetry stempelset is gestempeld met Gray Granite inkt op Basic White cardstock en uitgeknipt.
Een aantal Elegant Faceted Gems maken het geheel af.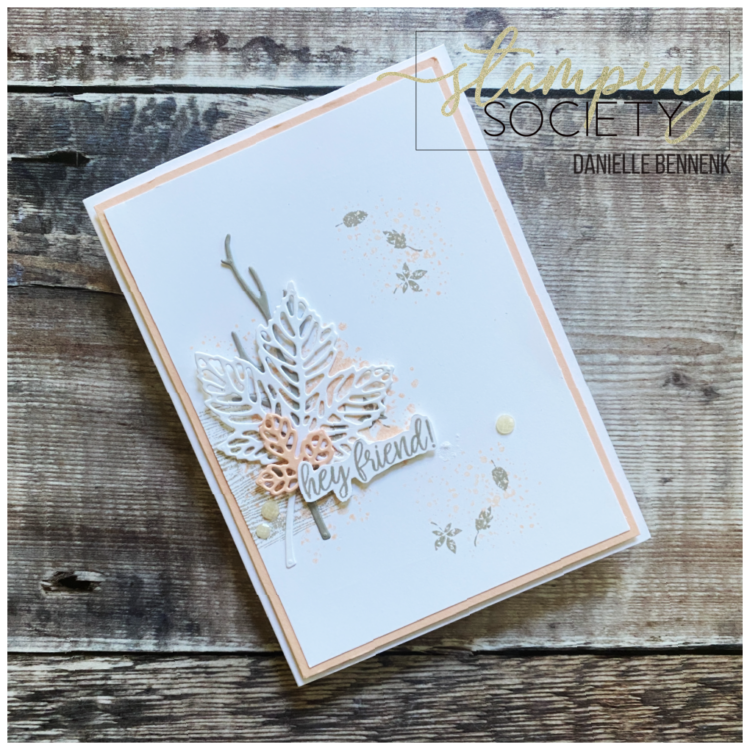 Het resultaat is een clean kaart met een zachte pastel uitstraling.
Hoe kun je de Stamping Society Tutorial bundel ontvangen/aanschaffen?
Er zijn drie manieren:
Je ontvangt de Stamping Society Video tutorial bundel gratis wanneer je een bestelling van 22 Euro of meer bij mij plaatst via mail of mijn webshop. De bundel wordt vervolgens aan het eind van de maand naar je gemaild!
Je ontvangt de Stamping Society Video tutorial bundel wanneer je lid bent van mijn team, hierover ontvang je maandelijks informatie. Wil je ook onderdeel uitmaken van Team Brightside en meer weten over het startpakket? Klik dan hier.
Je kunt de Stamping Society Video tutorial bundel ook los aanschaffen voor 6,15 Euro, zodra ik je betaling binnen heb wordt de bundel gemaild. Klik gewoon op de link hieronder om per mail je bestelling te plaatsen.
Klik hier om je bundel aan te schaffen!
Meer inspirerende projecten
Wil je nog meer inspirerende projecten met het Gorgeous Leaves productpakket zien? Klik dan snel op de volgende naam van de lijst en het wonder van het internet brengt je waar je moet zijn!
Heel erg bedankt voor je bezoek en nog veel plezier gewenst.

Gebruikte materialen
Ik verzorg graag je bestelling. Klik op de 'Stampin' Up! bestelling'-knop of de 'Webshop Stampin' Up!'-knop (PayPal, Ideal en credit card betaling) in de zijbalk om deze te plaatsen.