Thema: Grateful Gratitude met Hello Harvest
Het thema is deze maand Grateful Gratitude, ofwel projecten om dankbaarheid te tonen. Ik ben aan de slag gegaan met de mooie Hello Harvest bundel uit de Stampin' Up! Mini-catalogus!
*Dear international readers, please use the translate button on the right (see side bar) to translate this message to your preferred language.
Hello Harvest Kaart
Voor mijn Grateful Gratitude-kaart heb ik meteen de Hello Harvest bundel erbij gepakt. Deze bundel bestaat uit de mooie Hello Harvest Stempelset en de bijpassende Rustic Pumpkin Dies.
Ik gebruikte een de prachtige bloemenafbeelding uit de Hello Harvest Stempelset om een achtergrondje te creëren. Ik stempelde met Gray Granite Classic Stampin' Ink en kleurde de afbeelding in met Stampin' Blends, zie de gebruikte kleuren onderaan dit bericht. Met een Blending Brush en Gray Granite Classic Stampin' Ink creëerde ik een zachte gloed rondom de afbeeldingen.
Over het achtergrondje plakte ik een aantal lussen Linen Thread en een gestanste pompoen, hiervoor gebruikte ik Mint Macaron, Gray Granite en Pale Papaya Cardstock.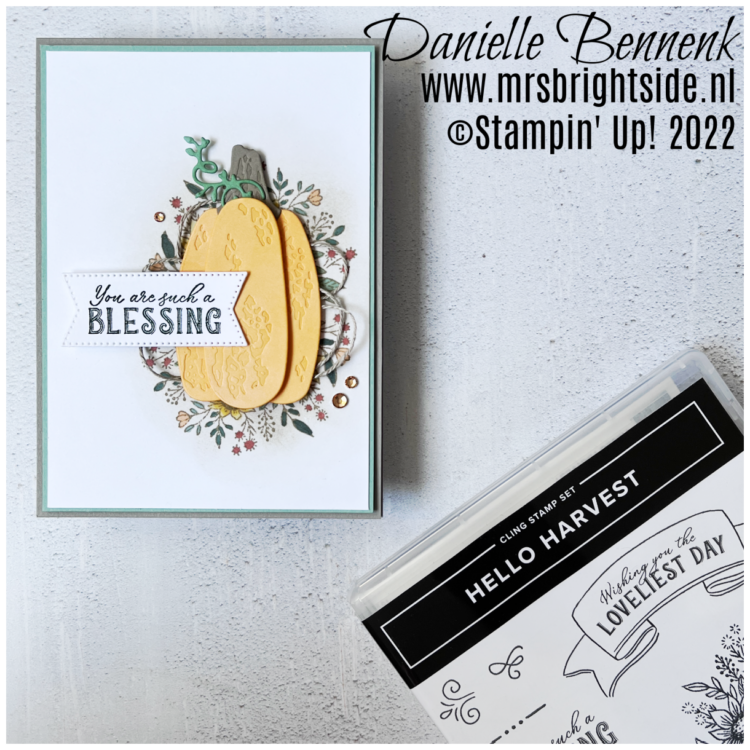 De tekst stempelde ik met Evening Evergreen Classic Stampin' Ink op een restje Basic White Cardstock. Daarna stanste ik de tekst uit met de Stylish Shapes Dies. Vervolgens voegde ik een drietal Champagne Rhinestone Basic Jewels.
Onder de Basic White Cardstock mat (9,7 x 13,7 cm) zit een Mint Macaron Cardstock mat (10 x 14 cm). Deze is vervolgens op een basiskaart (10,5 x 29 cm, rillen lange kant op 14,5 cm) van Gray Granite Cardstock geplakt.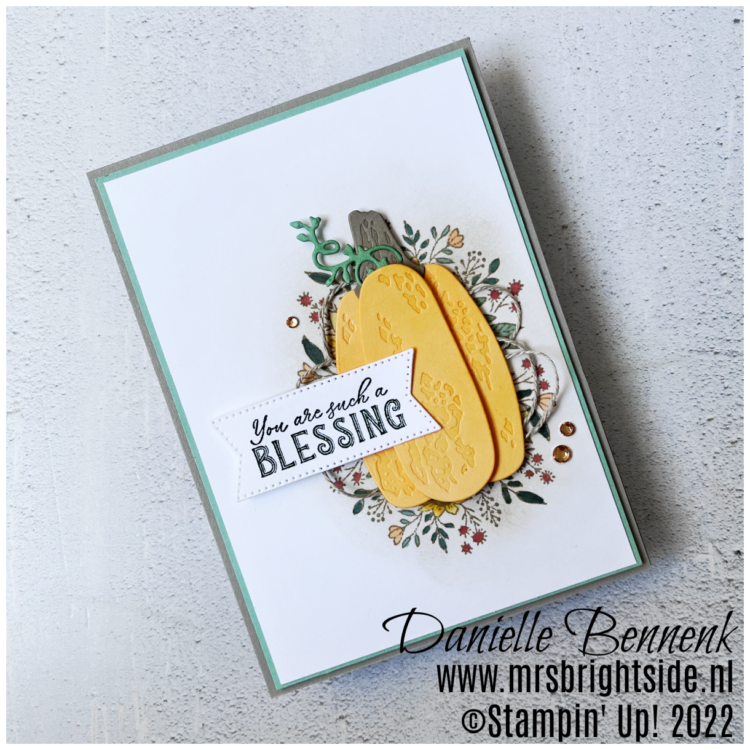 Meer inspiratie van het Stampin' Creative Design Team
Ik hoop dat je mijn interpretatie van het thema kan waarderen en ik hoop dat ik je met mijn project geïnspireerd heb. Ben je net als ik ook benieuwd naar de creaties van de andere Stampin' Creative Design Teamleden? Dan kun je eenvoudig door hoppen door op de naam onder die van mij (ik ben Danielle Bennenk) te klikken.
Ik wil je hartelijk danken voor je bezoek en wens je nog veel plezier bij het hoppen.

Gebruikte materialen
Ik verzorg graag je bestelling. Klik op de 'Stampin' Up! bestelling'-knop of de 'Webshop Stampin' Up!'-knop (PayPal, Ideal en credit card betaling) in de zijbalk om deze te plaatsen.