welcome to our january scrapbook Sunday!
Wow! Time flies and today it's already time for our second Scrapbook Sunday blog hop. Just like last month (click here), a group of talented International Stampin' Up! demonstrators will show their scrapbook and/or memory keeping projects. Of course, we have used the wonderful products of Stampin' Up! for our creations.
Wow! De tijd vliegt en het is vandaag al weer tijd voor onze tweede Scrapbook Sunday bloghop. Net als vorige maand (klik hier), laat een groep getalenteerde internationale Stampin' Up! demonstrators hun scrapbook en/of memory keeping projecten zien. Natuurlijk hebben we gebruikt gemaakt van de mooie producten van Stampin' Up! voor onze creaties
Color challenge
This month we've all used the same color palette for our scrap lay-outs: Green – Coral – Black. I'm very curious to see the versatility and interpretation of everyone's creations.
Deze maand hebben we allemaal hetzelfde kleurenpalet voor onze scrap lay-outs gebruikt. Ik ben zeer benieuwd om de veelzijdigheid en interpretatie van iedere creatie te zien.
Nature lay-out
As soon as I saw the color palette I thought about a black & white picture of the dunes in Burgh-Haamstede  (South-West of the Netherlands) I made in 2016. I thought it would fit perfectly with the colors. Because of the picture, the theme was easy: Nature.
Meteen toen ik het kleurenpalet zag dacht ik aan een zwart-wit foto van de duinen in Burgh-Haamstede (Schouwen-Duiveland), die ik in 2016 gemaakt heb. Ik dacht dat deze foto perfect zou passen bij de kleuren. Het thema was makkelijk door de foto: Natuur.
The base of the lay-out is a sheet of  12 x 12″ Whisper White cardstock. I started by stamping a circle with leaf images from the Jar of Love stamp set in three shades of green: Lemon Lime Twist, Wild Wasabi and Old Olive. I also stamped some bugs from the same stamp set in Archival Basic Black.
In addition, I stamped the corners of the lay-out with the challenge colors and the Timeless Textures and Butterfly Basics stamp sets.
De basis van de lay-out is een vel 12 x 12″ (30,5 x 30,5 cm) Whisper White cardstock. I ben begonnen met het stempelen van een cirkel met blad afbeeldingen uit de Jar of Love stempelset in drie tinten groen: Lemon Lime Twist, Wild Wasabi en Old Olive. Ook heb ik enkele insectjes, uit dezelfde stempelset, met Archival Basic Black gestempeld.
Verder heb ik ook de hoeken van de lay-out gestempeld met de challenge kleuren en de Timeless Textures en Butterfly Basics stempelsets.
Then I added dimension by die cutting leaves with the Bouquet Bunch Framelits, Eclectic Layer Thinlits and Lovely Laurel Thinlits. I used the same greens as the inks I used for stamping with the addition of the green glimmer paper from the spring/summer catalog. I also added some green glitter enamel dots and silver metallic enamel shapes to the wreath.
The Calypso Coral flowers in the wreath are die cut with the Celebration Thinlits. These are my absolute favorite little flowers at the moment. The sentiment 'Life is Beautiful' comes from the Petal Garden Memories & More card pack, and I used another card from the card pack to add the text in the left bottom corner.
Vervolgens heb ik dimensie toegevoegd door blaadjes te stansen met de Bouquet Bunch Framelits, Eclectic Layer Thinlits en Lovely Laurel Thinlits. Ik heb dezelfde kleuren groen als de inkt gebruikt met een toevoeging van het groene glimmer paper uit de voorjaars/zomercatalogus. Ik heb ook nog een aantal groene glitter enamel dots en silver metallic enamel shapes aan de krans toegevoegd.
De Calypso Coral bloemetjes uit de krans zijn gestanst met de Celebration Thinlits. Het zijn absoluut mijn favoriete kleine bloemetjes op het moment. De tekst 'Life is Beautiful' komt uit de Petal Garden Memories & More card pack, een zelfde soort kaartje heb ik gebruikt om de tekst in de linker onderhoek op te schrijven.
hidden message
You might not have seen it, but I did add some journaling on this lay-out. I added a hidden message behind the picture. The label slides between the dimensionals I used to adhere the picture to the cardstock and you can slide it out by using the circle tab on top of the label.
Je hebt het misschien nog niet gezien, maar ik heb ook wat tekst aan deze lay-out toegevoegd. Ik heb een geheim berichtje achter de foto verstopt. Het label schuift tussen de dimensionals waarmee ik de foto aan het cardstock heb bevestigd en je kunt het uitschuiven m.b.v. de circle tab boven aan het label.
just hop-a-long
I really enjoyed making this lay-out for our second Scrapbook Sunday blog hop, but now it's time to hop-a-long and see the beautiful projects the other design team members have made. Just click on the 'Next' button below to go to the blog of the amazing Cheryll Miller!
Ik vond het heel leuk om deze lay-out te maken voor onze tweede Scrapbook Sunday bloghop, maar nu is het tijd om door te hoppen en de mooie projecten van de andere design teamleden te bekijken. Klik gewoon op de 'Next' knop hieronder om naar het blog van de fantastische Cheryll Miller te hoppen.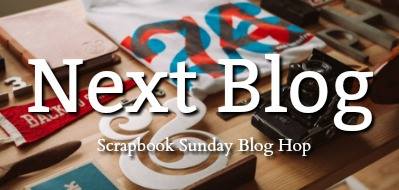 Have a wonderful Sunday! / Nog een geweldige zondag gewenst!
List of participants
galLery
If you missed some other scrap lay-outs I made with the wonderful Stampin' Up! products, just click on the small pictures below to go to the original post for each project! / Als je andere scrap projecten die ik gemaakt heb met de fantastische producten van Stampin' Up! gemist hebt, klik dan op de fotootjes hieronder om naar het originele bericht te gaan!
P.S. Hieronder vind je alle door mij gebruikte materialen. Wil je hier iets van aanschaffen? Dan verzorg ik graag je bestelling (mail: danielle@mrsbrightside.nl)! Je kunt op de onderstaande afbeeldingen klikken om naar mijn webshop (Credit Card only) te gaan.
Product List