*Dear international readers, please use the translate button on the right (see side bar) to translate this message to your preferred language.
Hallo Lente!
Welkom bij Mrs. Brightside! Vandaag hop ik met een heleboel Nederlandse Stampin' Up! demonstrators en we zetten allemaal een project met het thema Lente in de spotlight. Hierbij gebruiken we materialen uit de huidige Stampin' Up! catalogus en wellicht enkele sneak peeks!
Lente met de Tijdloze Tulpen!
Ik maakte een frisse lente kaart met de Tijdloze Tulpen stempelset en de Tulip Builder Punch. Hierbij gebruikte ik twee van de spiksplinternieuwe '21-'23 In Colors: Fresh Freesia en Soft Succulent. Prachtige kleuren om de lente mee in te luiden, al zeg ik het zelf 🙂
Onze tuin staat vol met verschillende tulpen op het moment, dus ik vond zeer toepasselijk om juist met deze mooie stempelset aan de slag te gaan.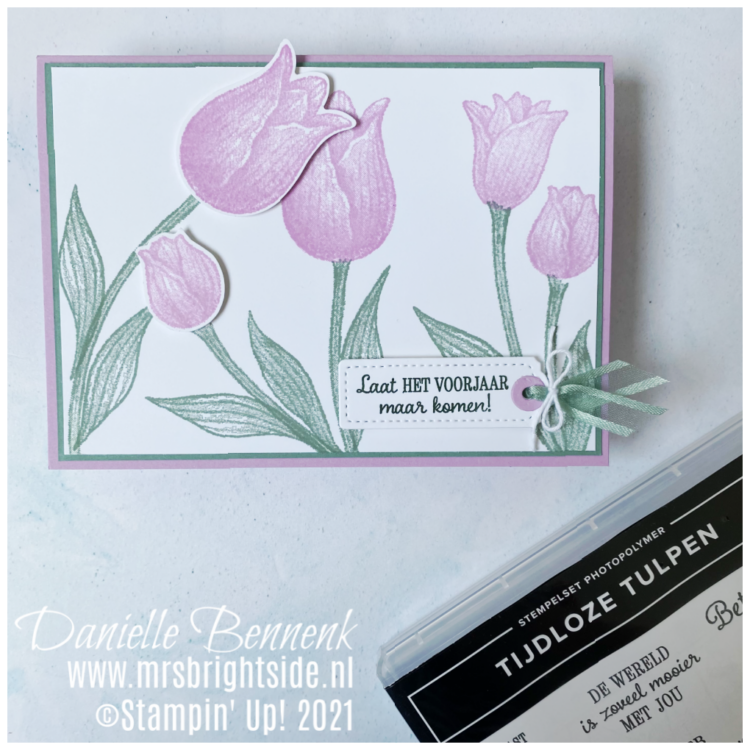 De basiskaart (14,5 x 21 cm, rillen lange kant op 10,5 cm) is van Fresh Freesia Cardstock, hierop zit een mat (10 x 14 cm) van Soft Succulent Cardstock.
De Basic White Cardstock mat (9,7 x 13,7 cm) heb ik bestempeld met diverse tulpen, blaadjes en stelen uit de Tijdloze Tulpen stempelset met Fresh Freesia en Soft Succulent Classic Stampin' Inkt.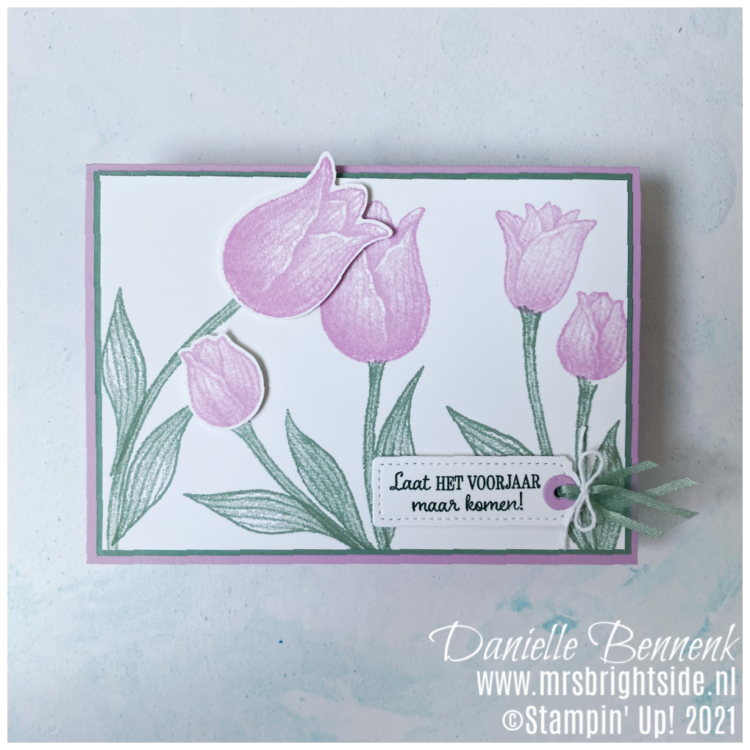 De tekst is met Evening Evergreen Classic Stampin' Inkt gestempeld. Het tekstlabel is gestanst met de Tailor Made Tags Dies en heeft een Soft Succulent Open Weave Ribbon. Die Tailor Made Tags zijn echt geweldig, hier zie je er nog twee kaarten mee 🙂
Nog veel meer inspiratie!
Ik ben blij met het vrolijke eindresultaat en ik hoop dat ik je heb weten te inspireren. Ben je net als ik ook benieuwd naar de creaties van de andere Stampin' Up! demonstrators? Dan kun je eenvoudig door hoppen naar het blog van Annette Elias door op de knop hieronder te klikken
Ik wil je hartelijk danken voor je bezoek en wens je nog veel plezier bij het hoppen.

Gebruikte materialen
Ik verzorg graag je bestelling. Klik op de 'Stampin' Up! bestelling'-knop of de 'Webshop Stampin' Up!'-knop (PayPal en credit card betaling) in de zijbalk om deze te plaatsen.