Aan de slag met de Mini Pizza Box!
Welkom bij Mrs. Brightside! Vandaag hop ik met het Creatieve Harten Team met het thema: Favoriete Verpakking. Zoveel verpakkingen kant-en-klaar in de catalogus of zelfgemaakt…. Zoveel keuzes. Uiteindelijk heb ik gekozen voor een kant-en-klare verpakking uit de Stampin' Up! jaarcatalogus: De Mini Pizza Box! Een super makkelijke verpakking die je op zoveel verschillende manieren kunt personaliseren.
*Dear international readers, please use the translate button on the right (see side bar) to translate this message to your preferred language.
Winterse Mini Pizza Box met kaart
Met het prachtige Plush Poinsettia Specialty Designpapier, de Merry Moose bundel en de Tasteful Labels dies kleedde ik de Mini Pizza Box aan. Om het helemaal af te maken maakte ik er ook een mooie slim line (21 x 21 cm, rillen op 10,5 cm) kaart.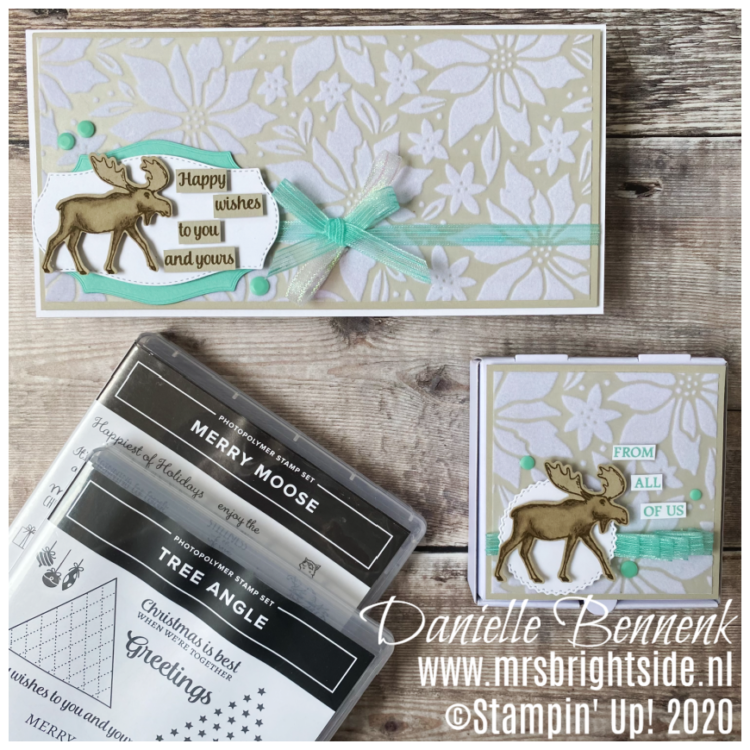 Winterse verpakking
Op de mini pizza box heb ik een Sahara Sand cardstock mat (8,5 x 8,5 cm) geplakt met daaroverheen een stuk van het Plush Poinsettia Specialty Designpapier (8×8 cm). Dit heb ik vast geplakt met Stampin' Seal. Erop heb ik wat van het fantastische Coastal Cabana sheer lint gebruikt uit het Playing With Patterns Ribbon Combo Pack. De leuke eland is gestempeld met Soft Suede inkt op Sahara Sand Cardstock en ingekleurd met Crumb Cake Combo Pack Stampin' Blends.
Net als bij de kaart wordt het achtergrondje gecreëerd door een Tasteful Labels Die Cut. De tekst, is net als bij de kaart afkomstig uit de Tree Angle stempelset. Een aantal Coastal Cabana Playing With Patterns Resin Dots.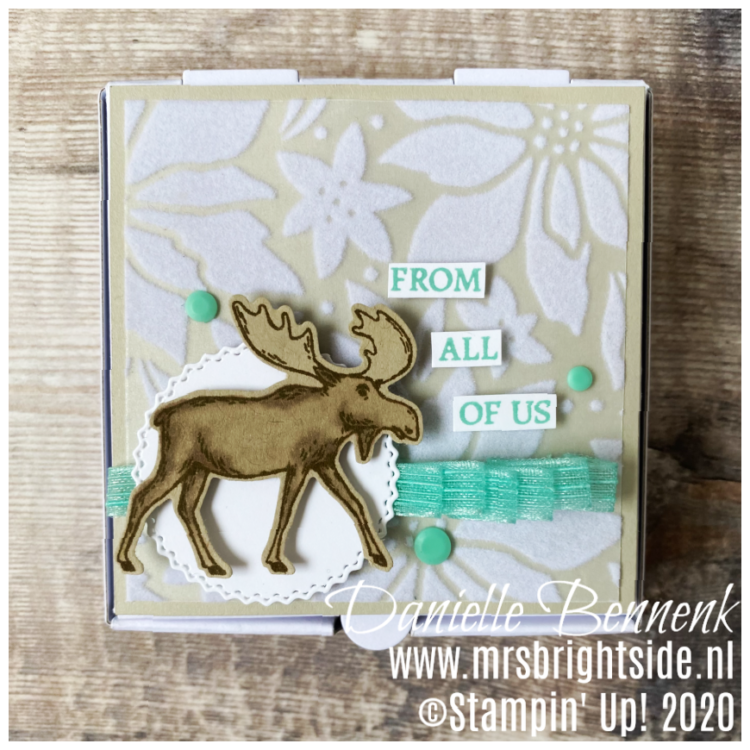 Nog meer Favo Verpakkingen!
Ben je net als ik ook benieuwd naar de favoriete verpakkingen en de projecten van de andere bloghop deelnemers? Dan kun je eenvoudig door hoppen door op de naam onder die van mij (ik ben Danielle Bennenk) te klikken.
Ik wil je hartelijk danken voor je bezoek en wens je nog veel plezier bij het hoppen.

Gebruikte materialen
Ik verzorg graag je bestelling. Klik op de 'Stampin' Up! bestelling'-knop of de 'Webshop Stampin' Up!'-knop (credit card only) in de zijbalk om deze te plaatsen.