Focus thema: Monochromatic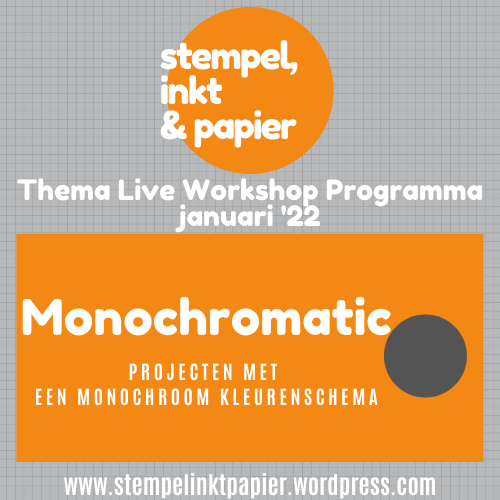 Hallo en welkom bij de Stempel, Inkt & Papier bloghop! In januari '22 richt Stempel, Inkt & Papier zich op het thema: Monochromatic. Dus projecten met een monochroom kleurenpalet of een zwart-wit-grijs palet. Natuurlijk maken we de projecten met de prachtige producten van Stampin' Up!
Voor mijn Monochromatic project van deze bloghop koos ik ervoor om je alvast een sneak peek te tonen van enkele producten die we terugzien in de nieuwe Januari-Juni Mini Catalogus die op 4 januari van start gaat.
Al deze nieuwe producten behoren bij de nieuwe productselectie Heart & Home. Echt een prachtige rustieke collectie met zachte en neutrale kleuren en een landelijk karakter.
Honeybee Home Monochromatic Kaart
Ik maakte een monochromatic kaart met Misty Moonlight en Basic White. Misty Moonlight voert wel de boventoon 🙂
De basiskaart is van Misty Moonlight Cardstock (14,5 x 21 cm, rillen lange kant op 10,5 cm), hierop heb ik twee matten geplakt. Eerst een mat (9 x 13 cm) van Misty Moonlight Cardstock die ik eerst heb bestempeld, daarna verfrommeld in mijn hand, weer uitgevouwen en toen opgeplakt. Daarop zit een mat (8,5 x 12,5 cm) van het Heart & Home Designpapier wat ik ook eerst verfrommeld heb voor het op te plakken.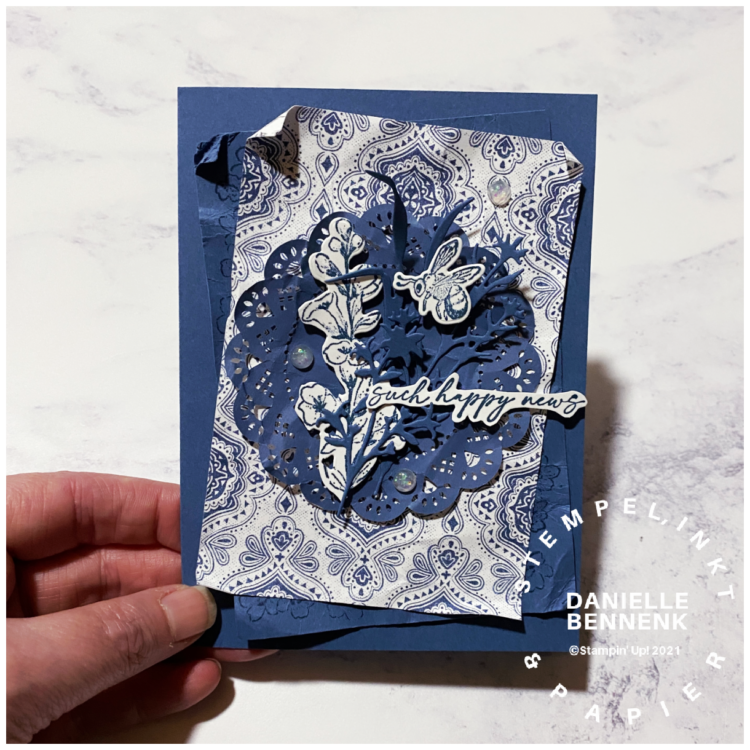 Alsof we dan nog niet genoeg laagjes hebben, heb ik er ook nog een, in mijn hand verfrommelde, Misty Moonlight Heart & Home Doily opgeplakt. Daarop heb ik diverse gestempelde en gestanste onderdelen geplakt. Deze zijn afkomstig uit de Honeybee Home stempelset en de Honeybee Blooms Dies.
De tekst is gestempeld met Misty Moonlight inkt op Basic White Cardstock en uitgeknipt. Een aantal Opal Rounds maken de kaart af.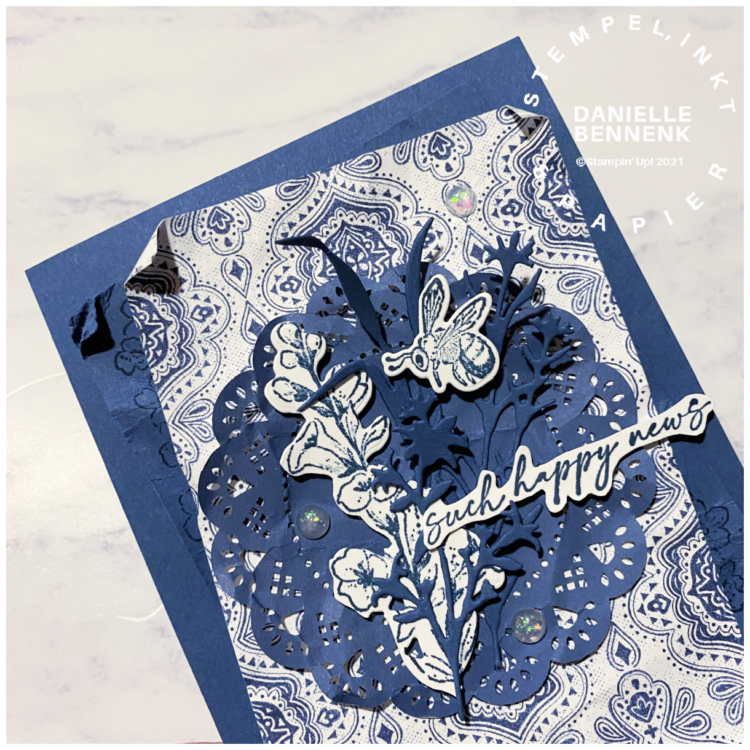 Wat is Stempel, Inkt & Papier?
Nog even ter informatie: Stempel, Inkt & Papier is een creatief initiatief van drie Nederlandse Stampin'Up! Demonstratrices – Sandra Korten, Lotte Noordzij-Walther en ikzelf – die elke maand een specifiek Stampin'Up! Product of specifiek thema centraal zetten in een "Live" workshop programma.
In dit programma bieden we tenminste 4 online workshops aan via Facebook Live uitzendingen in een besloten Facebook groep. Dit zijn dus "Live" workshops waarbij jij als kijker meteen met ons mee kan doen of later aan de slag kan gaan. Wil je weten hoe je aan dit "Live" workshop programma kunt mee doen ga dan naar deze pagina voor meer informatie.
Meer Stampin' Up! Specialty Basics Papier inspiratie
Hieronder vind je de linkenlijst, klik gewoon op de naam onder die van mij (ik ben Danielle) om door te gaan naar het volgende blog.

Gebruikte materialen
Ik verzorg graag je bestelling. Klik op de 'Stampin' Up! bestelling'-knop of de 'Webshop Stampin' Up!'-knop (PayPal en credit card betaling) in de zijbalk om deze te plaatsen.