Thema: Nature's Beauty
Het thema is deze maand Nature's Beauty, ofwel projecten met een natuur thema. Ik ben aan de slag gegaan met de mooie Peaceful Deer bundel uit de Stampin' Up! Mini Catalogus! Het is een gave bundel met de Peaceful Deer photopolymer stempelset en de bijpassende Deer Builder Punch.
*Dear international readers, please use the translate button on the right (see side bar) to translate this message to your preferred language.
Kaart met Nature's Beauty thema
Op het moment komt het thema Nature's Beauty dichtbij, iedere dag zien we in onze tuin de schoonheid van de natuur. Van de buizerd die zit te rusten op paaltje langs de wei en de hazen in het gras tot de vogels in de struiken en een groep reeën die door de akkers banjeren. Vooral dat laatste maakt dat ik de Peaceful Deer bundel zo'n mooie match met het Nature's Beauty thema vind.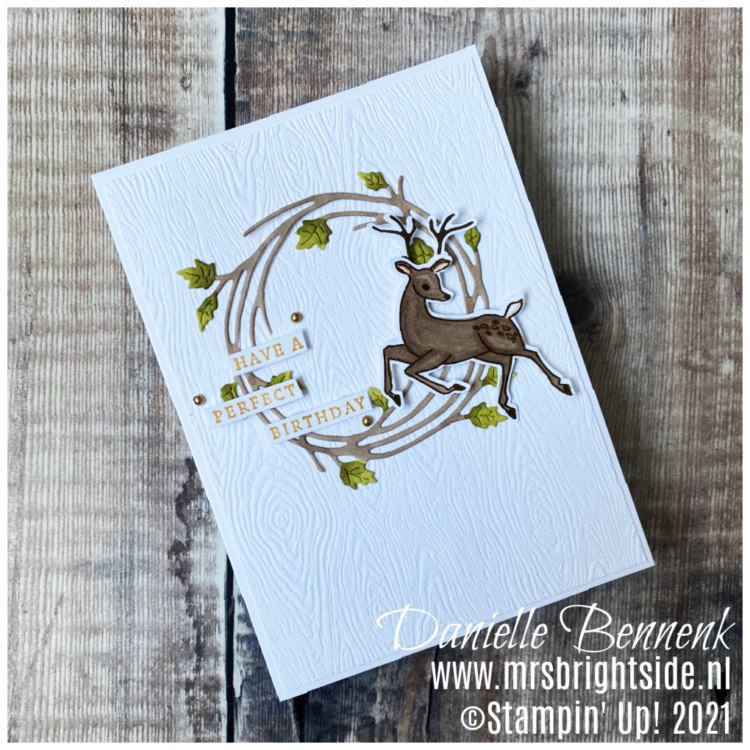 Ik heb geprobeerd om Nature's Beauty echt naar voren te brengen bij deze kaart. De gestanste krans (Seasonal Swirls Dies) heb ik ingekleurd met Crumb Cake en Old Olive Stampin' Blends en vervolgens heb ik deze op de Basic White Cardstock mat (10 x 14 cm) geplakt. Deze heb ik eerst embossed met de Timber 3D Embossing Folder.
Het hertje heb ik gestempeld met de Peaceful Deer Stempelset en Soft Suede Classic Stampin' Inkt. Daarna heb ik het ingekleurd met Crumb Cake en Petal Pink Stampin' Blends en geponst met de Deer Builder Punch. Het hertje is met Mini Stampin' Dimensionals op de mat geplakt.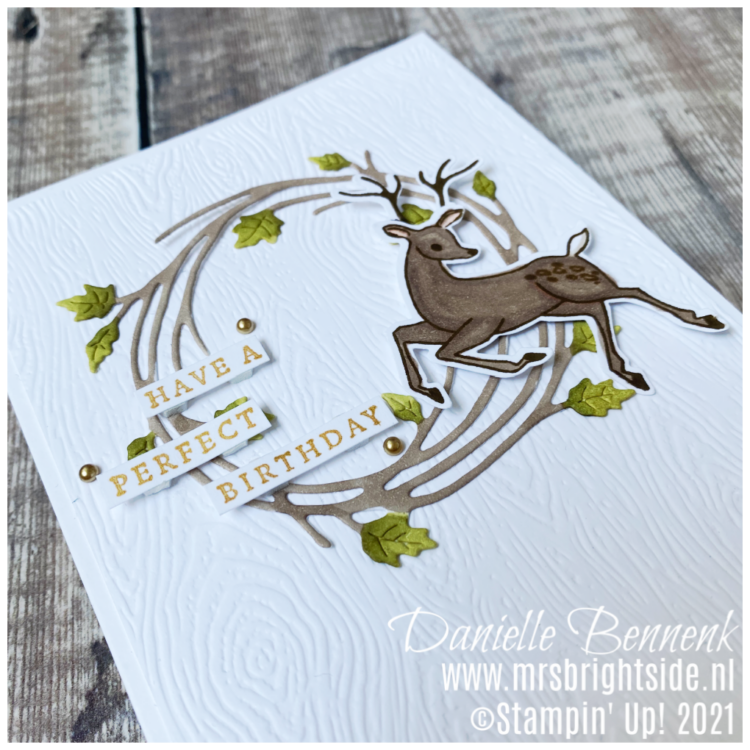 De tekst is afkomstig uit de spiksplinternieuwe Blessing Of Home Stempelset uit de aankomende Mini Catalogus, die Stampin' Up! demonstrators al hebben kunnen bestellen bij hun On Stage pakket. De tekst is goud heat-embossed en op de kaart geplakt met Mini Dimensionals. Een aantal Gold Metallic Pearls maken deze Nature's Beauty van een kaart af!
Meer inspiratie van het Stampin' Creative Design Team
Ik hoop dat je mijn interpretatie van het thema kan waarderen en ik hoop dat ik je met mijn project geïnspireerd heb. Ben je net als ik ook benieuwd naar de creaties van de andere Stampin' Creative Design Teamleden? Dan kun je eenvoudig door hoppen door op de naam onder die van mij (ik ben Danielle Bennenk) te klikken.
Ik wil je hartelijk danken voor je bezoek en wens je nog veel plezier bij het hoppen.

Gebruikte materialen
Ik verzorg graag je bestelling. Klik op de 'Stampin' Up! bestelling'-knop of de 'Webshop Stampin' Up!'-knop (PayPal en credit card betaling) in de zijbalk om deze te plaatsen.