Focus thema: One Sheet Wonder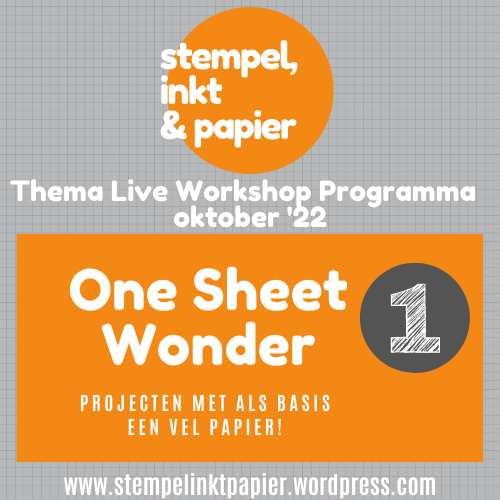 Hallo en welkom bij de Stempel, Inkt & Papier bloghop! In de maand oktober richt Stempel, Inkt & Papier zich op het thema: One Sheet Wonder. Een thema waarbij je een project maakt met als basis een vel papier. Of dat nu een groot of klein vel is, dat maakt niet uit.
We hebben allen gebruik gemaakt van producten uit de lopende Stampin' Up! catalogi.
Ik koos ervoor om aan de slag te gaan met het fleurige Meeste Feesten Designpapier. Een papier dat je kunt uitkiezen met je Stampin' Rewards. Ik maakte er ook dit gave project mee: Klik hier.
One Sheet Wonder Notecard Set
Mijn One Wheet Wonder is een doosje met belly band met daarin 4 Basic White notecards & envelopes. Het doosje, de belly band en het papier op de kaarten zijn allemaal afkomstig uit een vel van het Meeste Feesten Designpapier.
Op de belly band heb ik een label geplakt van Basic White Cardstock dat geponst is met de Decorative Circle Punch. De tekst, gestempeld met Tuxedo Black Memento, is afkomstig uit de Nederlandse stempelset Fantastische Feestdagen en de belletjes, Crushed Curry Classic Stampin' Inkt, komen uit de Magische Momenten Stempelset.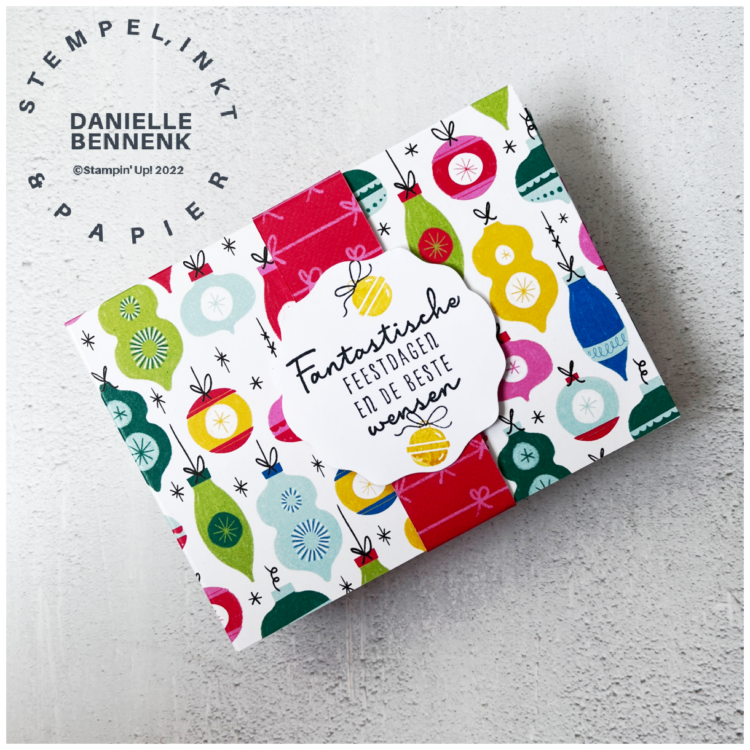 De Magische Momenten Stempelset heb ik ook gebruikt om de kaarten met te bestempelen. Ik vind dit echt een hele leuke set met die grote woorden, handgeschreven teksten en kleine afbeeldingen.
Bij twee kaarten heb ik de teksten en afbeeldingen meteen op de kaart gestempeld en bij de andere twee op een restje cardstock waarna ik de teksten heb uitgeknipt. Onderaan dit bericht vind je alle gebruikte kleuren.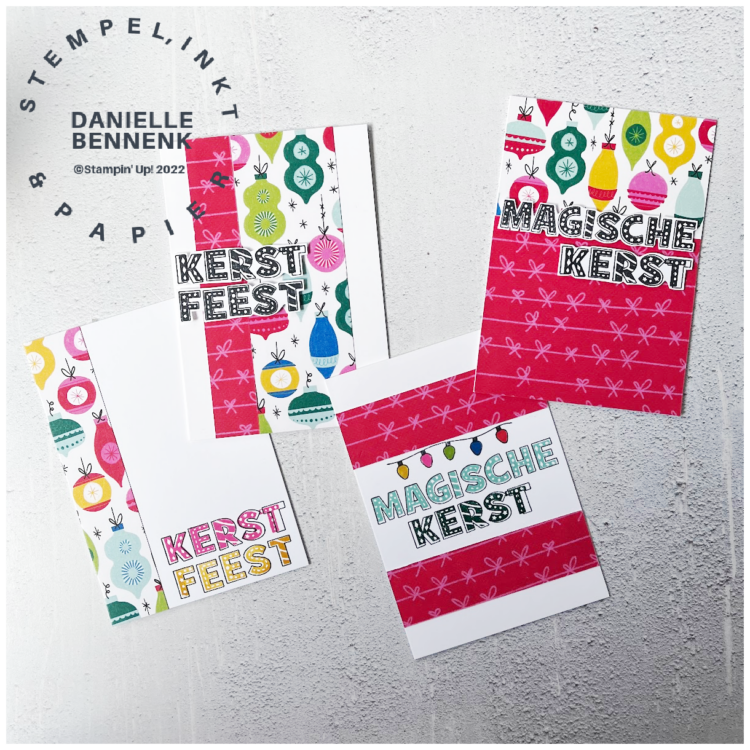 Hieronder zie je alle onderdelen van het project tezamen: Het doosje, de belly band, de enveloppen en allevier de kaarten. Ik vind het een fleurig geheel geworden. Leuk idee: Wanneer de kaarten geschreven en verstuurd zijn is het doosje zeer goed te gebruiken voor een klein kado, bijv. wat snoepgoed en een geschenkkaart.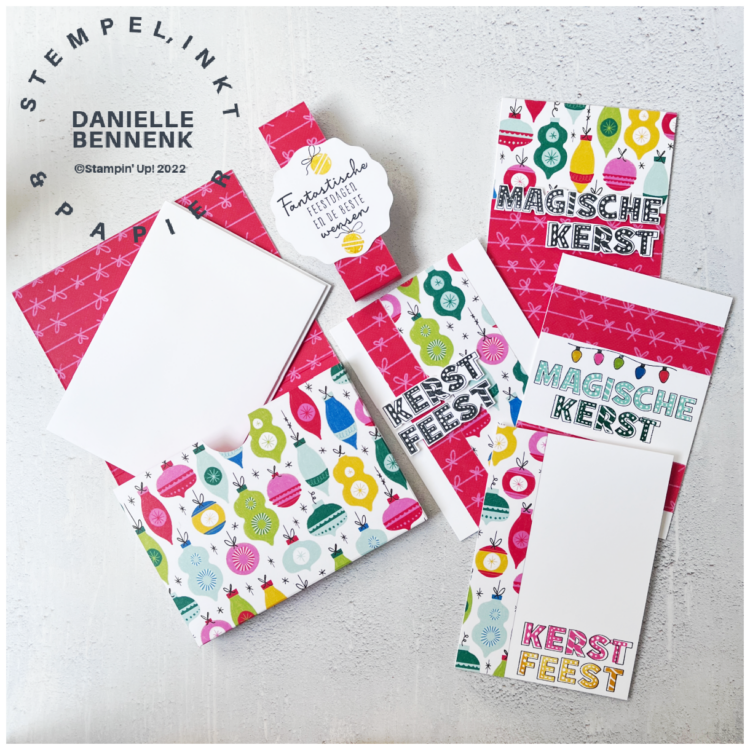 Wat is Stempel, Inkt & Papier?
Nog even ter informatie: Stempel, Inkt & Papier is een creatief initiatief van drie Nederlandse Stampin'Up! Demonstratrices – Sandra Korten, Lotte Noordzij-Walther en ikzelf – die elke maand een specifiek Stampin'Up! Product of specifiek thema centraal zetten in een exclusief workshop programma.
In dit programma bieden we exclusieve online workshops aan rondom thema's als techniek, step-it-up, alles behalve een kaart, Case The Catty of Memory Keeping, in een besloten Facebook groep. We doen ook altijd iedere maand een creatieve uitdaging met onze deelnemers.
Meer One Sheet Wonder inspiratie
Hieronder vind je de linkenlijst, klik gewoon op de naam van Lotte of Sandra om door te gaan naar het volgende blog.

Gebruikte materialen
Ik verzorg graag je bestelling. Klik op de 'Stampin' Up! bestelling'-knop of de 'Webshop Stampin' Up!'-knop (PayPal, Ideal en credit card betaling) in de zijbalk om deze te plaatsen.