Memories & More
Terwijl je dit leest zijn mijn lief en ik begonnen aan onze road trip naar Berlijn, Praag, Neurenberg en Keulen. Even een weekje weg om onze batterijen weer op te laden. Tijdens zo'n road trip maken we altijd veel foto's en die ga ik ook dit keer weer verwerken in een album.
Dit keer heb ik gekozen voor een 6×8″ album en de Perfect Days Memories & More card pack. Memories & More is de fantastische opvolger voor Project Life bij Stampin' Up! Weet je nog niet wat het inhoudt? Bekijk dan onderstaand filmpje.
While you're reading this my sweetheart and I have started our road trip to Berlin, Prague, Nuernberg and Cologne. Away for a week to recharge our batteries. During one of those trips we love to take pictures and I'm making an album with them when we get back.
This time I chose a 6×8″ album and the Perfect Days Memories & More card pack. Memories & More is the fantastic successor of Project Life by Stampin' Up! If you don't know what Memories & More is, please watch the video below.
album cover
Mijn foto's zullen uiteindelijk een plekje vinden in het 6×8″ Kraft album. Ik heb diverse kaarten uit het Perfect Days Memories & More card pack gebruikt om de voorkant aan te kleden. Ik vind de combinatie van het Kraft papier met het zwart, wit, Emerald Envy en zilver van de Perfect Day serie echt stoer. Ook hou ik van de grafische designs die terug te vinden zijn in het card pack. Op een van de kaartjes heb ik het acetate kaartje met "Hello" geplakt.
My pictures will end up in the 6×8″Kraft album. I used several cards from the Perfect Days Memories & More card pack to embellish the front. The combination between the Kraft paper with black, white, Emerald Envy and silver is rather tough looking I think. In addition, I really love the graphic designs used in the card pack. On one of the cards I glued the acetate card with "Hello" on it.
I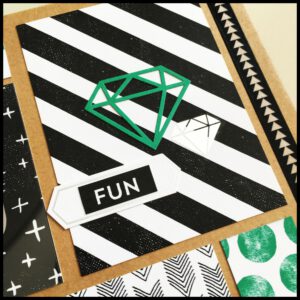 n het card pack zitten ook toffe bijpassende stickers en labels. Ik heb een aantal ervan gebruikt op een van de kleine kaartjes en ga dit ook zeker doen bij het samenstellen van het album.
Some cool coördinating stickers and labels are included in the card pack. I used a couple of these on one of the small cards and I will definitely use them when putting the album together.
Vervolgens heb ik ook nog een mooie tekst, afkomstig van de Bookcase Builder stempelset, gestempeld: "Today's little moments become tomorrow's precious memories" En dat is wat we proberen te doen tijdens onze vakantie!
I also added the sentiment: "Today's little moments become tomorrow's precious memories". A beautiful text from the Bookcase Builder stamp set and we're really going to do just that during our holiday.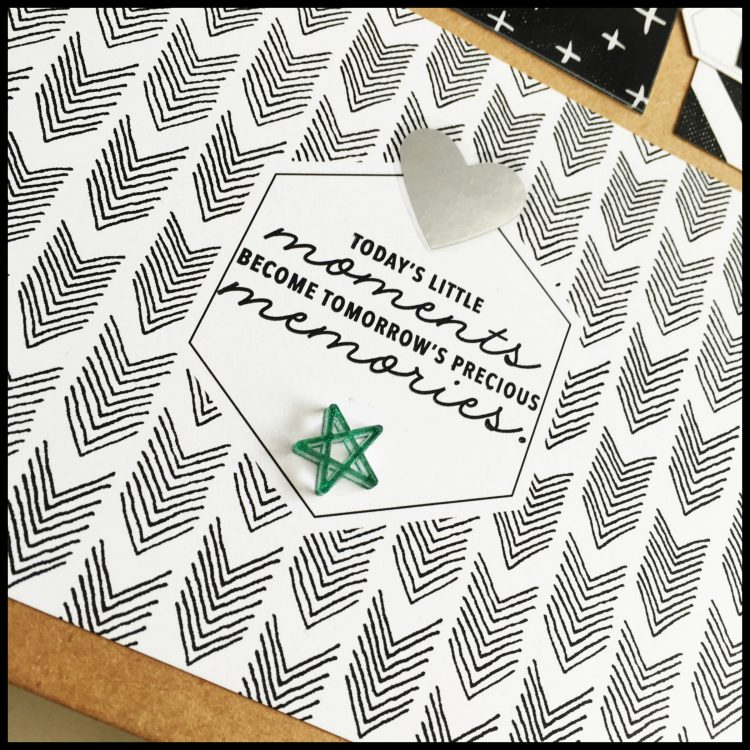 memory keeping workshop
Wil je ook kennismaken met Memories & More en meer doen met de foto's die je maakt? Dan is de Memories & More Introductie Party misschien iets voor jou!
Deze workshop kan bij jou thuis plaatsvinden of bij mij thuis (wijk Meilust, Bergen op Zoom). Tijdens de workshop ga je aan de slag met de materialen van Memories & More van Stampin' Up! en geef ik je tips & tricks om deze leuke manier van Memory Keeping toe te passen.
Het is de ideale manier om kennis te maken met Memories & More zonder dat je al allerlei spullen zelf moet kopen. Vind je het uiteindelijk leuk, dan kun je altijd je eigen Memories & More spullen aanschaffen.
Klik hier voor meer informatie of neem contact op per mail om een afspraak te maken.
more scrap Sunday inspiration
Vandaag tonen diverse  stempel & scrap vriendinnen hun Scrap Sunday creaties. Hieronder vind je een linkenlijst. Het is geen bloghop, want niet iedereen zal iedere week meedoen, maar door op hun naam te klikken kun je hun blog bezoeken en genieten van hun creaties.
Today, a couple of my stamp & scrap friends are also showing their Scrap Sunday creations. Below you'll find a link list. It's not a blog hop, because not everyone will participate every week, but by clicking their names you can visit their blogs and enjoy their creations.
Fijne zondag nog/ Happy Sunday,
Product List