Welkom '21-'23 In Colors – Polished Pink

Welkom bij Mrs. Brightside! Vandaag hop ik met het Creatieve Harten Team met het thema: Welkom '21-'23 In Colors. De design teamleden maken een project met een of meerdere van de nieuwe Stampin' Up! In Colors. Ik ging aan de slag met de fleurige kleur: Polished Pink.
*Dear international readers, please use the translate button on the right (see side bar) to translate this message to your preferred language.
Polished Pink Duo
Voor deze bloghop maakte ik twee projecten met die gave, fleurige kleur. Een leuk 10,5 x 10,5 cm kaartje en een Polished Pink Ombre Gift Bag.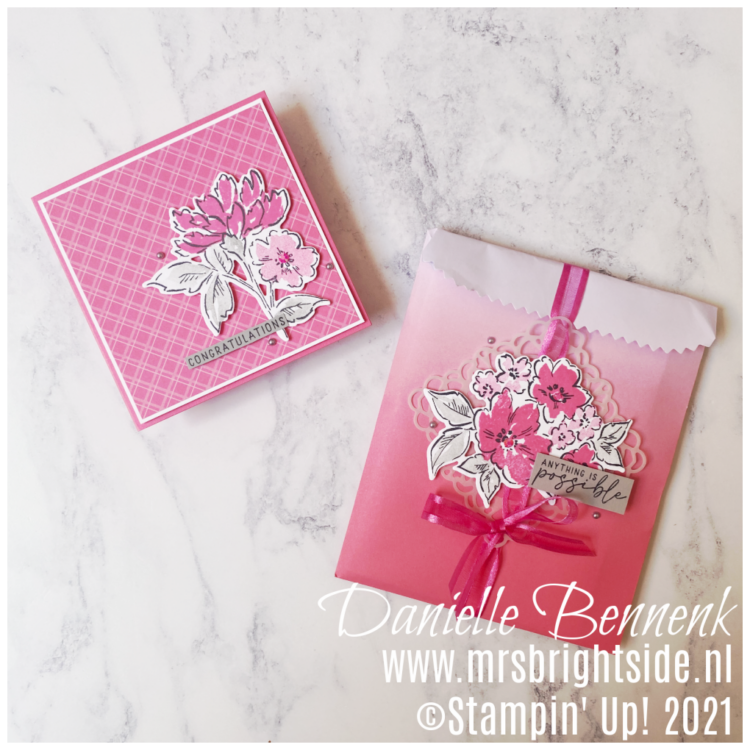 Polished Pink Kaart
De basiskaart (10,5 x 21 cm, rillen lange kant op 10,5 cm) is van Polished Pink Cardstock. Hier heb ik met Stampin' Dimensionals een Basic White Cardstock mat (10 x 10 cm) op geplakt en hierop zit weer een mat (9,5 x 9,5 cm) van 2021-2023 In Colors Designpapier.
De mat heb ik versierd met een mooie gestempelde afbeelding van de Hand-Penned Petals Stempelset, die ik gestanst heb met de Penned Flowers Dies. De tekst is op een stukje Smoky Slate Cardstock gestempeld. Een aantal zilveren Metallic Pearls maken de kaart af.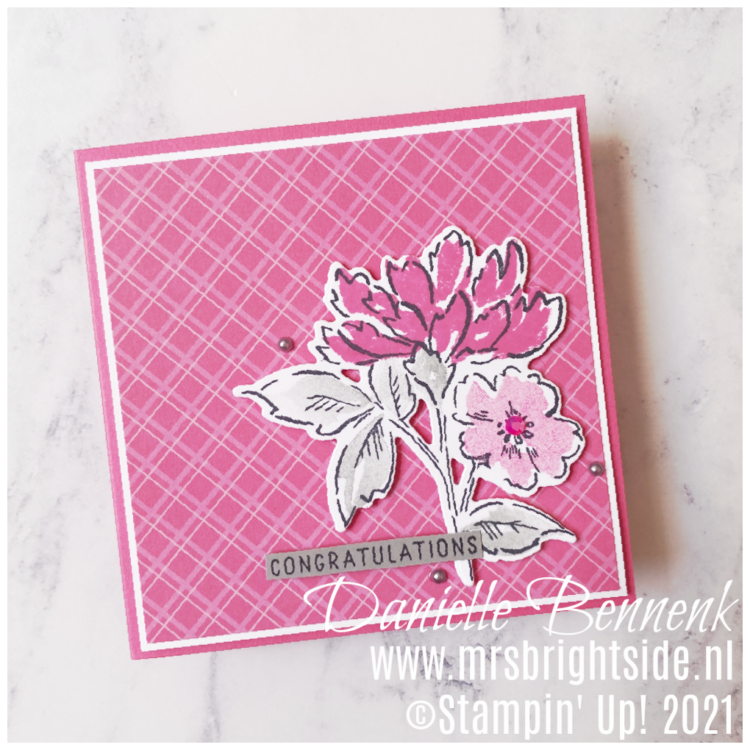 Polished Pink Ombre Gift Bag
De Ombre Gift Bag heb ik versierd door een Vellum Square Doily en het Polished Pink Open Weave Lint te gebruiken om het zakje dicht te houden. Op Vellum vierkant heb ik wederom een afbeelding geplakt uit de Hand-Penned Petals Stempelset. Net als bij de kaart is de tekst op Smoky Slate Cardstock gestempeld en zijn er Metallic Pearls toegevoegd.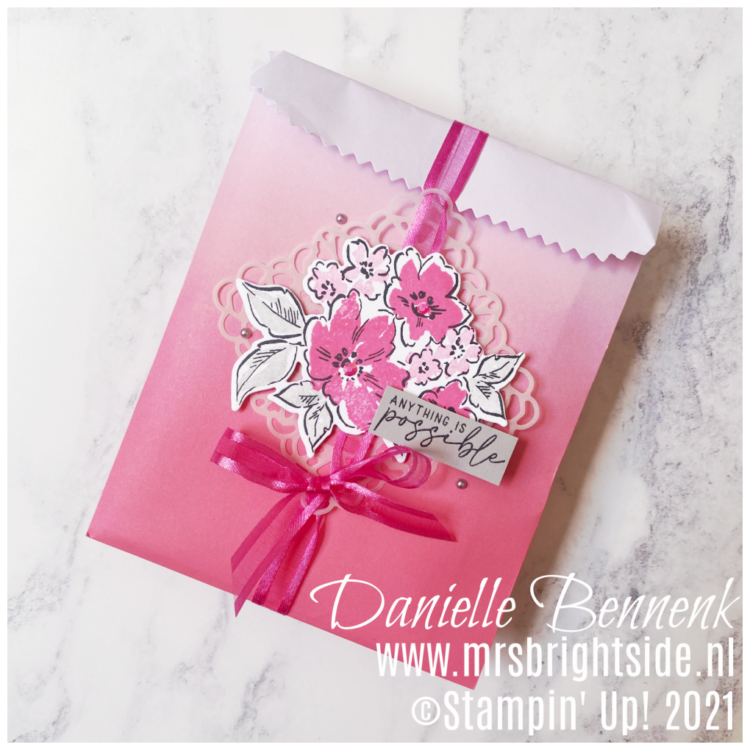 Meer projecten met nieuwe In Colors!
Ik ben erg blij met dit fleurige duo en ik hoop dat jij dit ook vindt. Ben je net als ik ook benieuwd naar de projecten van de andere bloghop deelnemers? Dan kun je eenvoudig door hoppen door op de naam onder die van mij (ik ben Danielle Bennenk) te klikken.
Ik wil je hartelijk danken voor je bezoek en wens je nog veel plezier bij het hoppen.

Bestelvoordelen Mrs. Brightside!
Gebruikte materialen
Ik verzorg graag je bestelling. Klik op de 'Stampin' Up! bestelling'-knop of de 'Webshop Stampin' Up!'-knop (PayPal en credit card betaling) in de zijbalk om deze te plaatsen.