Thema: Sketch
Het thema is deze maand een sketch, zie de afbeelding hieronder, en ik ben aan de slag gegaan met een golden oldie: De Pluk De Dag stempelset en de spiksplinternieuwe In Colors '21 – '23, die vanaf 4 mei aanstaande verkrijgbaar zijn. Want dan gaat de nieuwe Stampin' Up! Jaarcatalogus van start.
*Dear international readers, please use the translate button on the right (see side bar) to translate this message to your preferred language.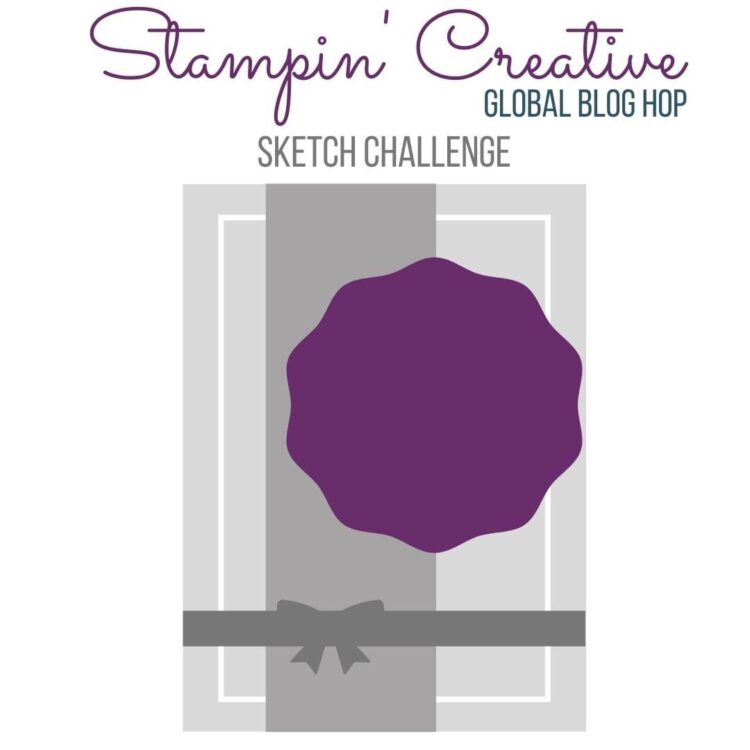 Pluk De Dag Sketch kaart
Zoals gezegd heb ik als uitgangspunt voor deze sketch de Pluk De Dag stempelset gebruikt met de bijpassende Daisy en Medium Daisy Punch. De nieuwe In Colors '21-'23 passen perfect bij deze stempelset.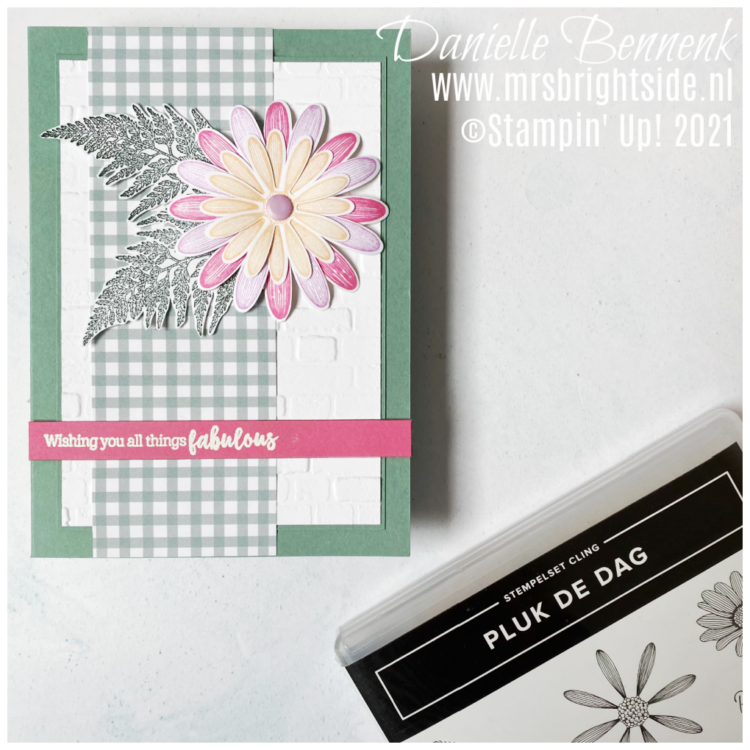 Op mijn basiskaart (14,5 x 21 cm, rillen lange kant op 10,5 cm) van Soft Succulent Cardstock zit eveneens een mat (9 x 13 cm) van Soft Succulent Cardstock. Hierop zit een Basic White Cardstock mat (8,7 x 12,7 cm), deze heb ik embossed met de Bricks & Mortars 3D Embossing Folder. Vervolgens heb ik er een strook (5 x 14,5 cm) van het Pansy Petals Designpapier overheen geplakt.
De margriet bestaat uit maar liefst 4 bloemen: 2 Grote daisies, gestempeld met Polished Pink en Fresh Freesia Classic Stampin' Inkt en 2 medium daisies, gestempeld met Pale Papaya Classic Stampin' Inkt. Het hartje is een Playing With Patterns Resin Dot. Onder de bloem zitten bladeren, gestempeld met Evening Evergreen Classic Stampin' Inkt en uitgeknipt met Paper Snips.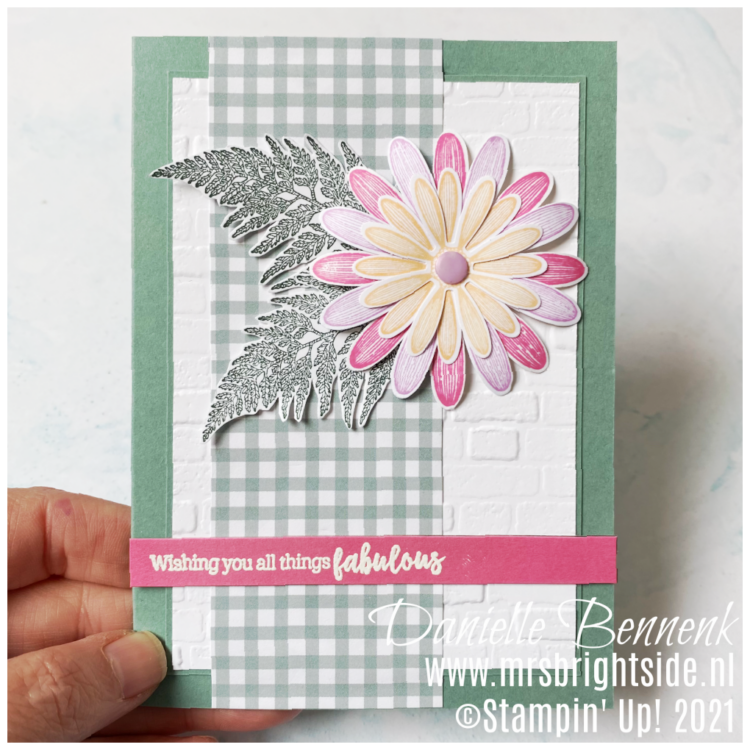 De tekst uit de All Things Fabulous Stempelset is embossed op een strook (1 x 10,5 cm) Polished Pink Cardstock en met Stampin' Dimensionals op de kaart geplakt.
Meer inspiratie van het Stampin' Creative Design Team
Ik hoop dat je mijn interpretatie van het Sketch thema kan waarderen en ik hoop dat ik je met mijn project geïnspireerd heb. Ben je net als ik ook benieuwd naar de creaties van de andere Stampin' Creative Design Teamleden? Dan kun je eenvoudig door hoppen door op de naam onder die van mij (ik ben Danielle Bennenk) te klikken.
Ik wil je hartelijk danken voor je bezoek en wens je nog veel plezier bij het hoppen.

Gebruikte materialen
Ik verzorg graag je bestelling. Klik op de 'Stampin' Up! bestelling'-knop of de 'Webshop Stampin' Up!'-knop (PayPal en credit card betaling) in de zijbalk om deze te plaatsen.
| | | | | |
| --- | --- | --- | --- | --- |
| | | | | |
| | | | | |
| | | | | |