Thema: Something With Sparkle
Het thema is deze maand Something With Sparkle, ofwel projecten met een glimmertje of glans. Ik ben aan de slag gegaan met de leuke Glad We're Friends Stempelset en voor de sparkle met het Snowflake Specialty Vellum en 2022-2024 In Colors Glimmer Paper. Natuurlijk zijn alle producten van Stampin' Up!
*Dear international readers, please use the translate button on the right (see side bar) to translate this message to your preferred language.
Something With Sparkle Kaart
Voor mijn Something With Sparkle-kaart wilde ik het leuke trotse katje van de Glad We're Friends Stempelset in het zonnetje zetten.
De basiskaart is van Basic White Thick Cardstock, met daarop een mat van Basic White Cardstock en daarop een vierkant van het prachtige Snowflake Specialty Vellum.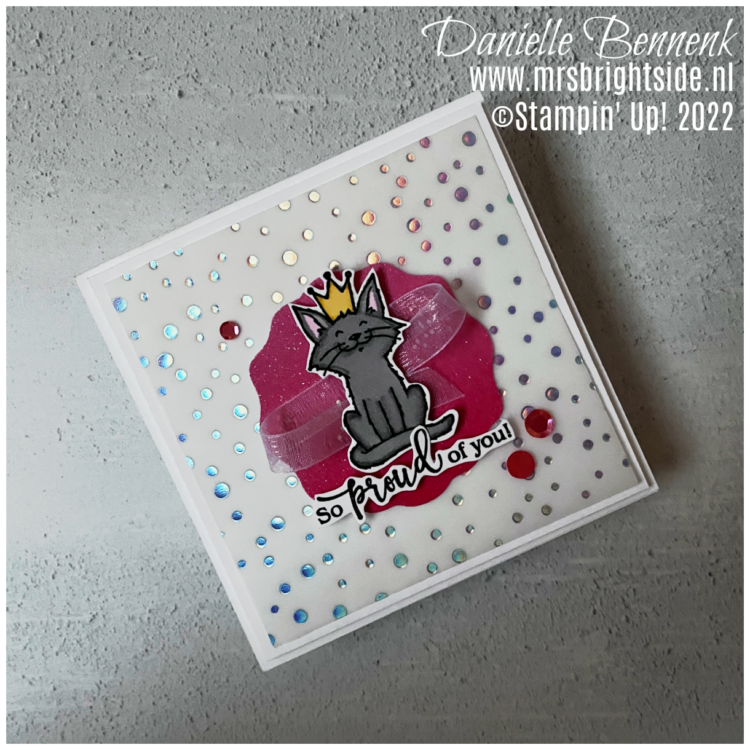 Uit het Sweet Sorbet 2022-2024 Glimmer Paper ponste ik een label met de Decorative Circle Punch. Hierop plakte ik een lus met het White Glittered Organdy Ribbon en daarop heb ik het leuke katje geplakt met Stampin' Dimensionals.
Het katje heb ik ingekleurd met Stampin' Blends, de gebruikte kleuren vind je onderaan dit bericht. De tekst is afkomstig uit A Grand Kid Stempelset. Een aantal Sweet Sorbet Adhesive Backed Seasonal Sequins maken het af.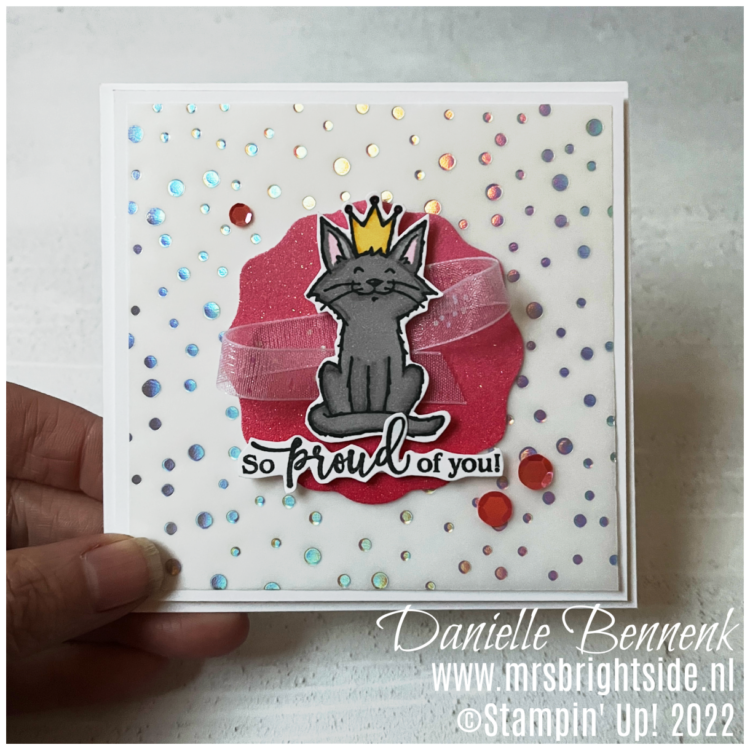 Meer inspiratie van het Stampin' Creative Design Team
Ik hoop dat je mijn interpretatie van het thema kan waarderen en ik hoop dat ik je met mijn project geïnspireerd heb. Ben je net als ik ook benieuwd naar de creaties van de andere Stampin' Creative Design Teamleden? Dan kun je eenvoudig door hoppen door op de naam onder die van mij (ik ben Danielle Bennenk) te klikken.
Ik wil je hartelijk danken voor je bezoek en wens je nog veel plezier bij het hoppen.

Gebruikte materialen
Ik verzorg graag je bestelling. Klik op de 'Stampin' Up! bestelling'-knop of de 'Webshop Stampin' Up!'-knop (PayPal, Ideal en credit card betaling) in de zijbalk om deze te plaatsen.