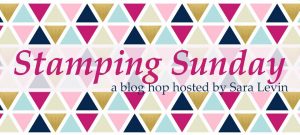 Memories & More
Welcome to our monthly Stamping Sunday Blog Hop and this month the design team has created with the amazing Memories & More card packs from Stampin' Up! We're also happy to be hopping with the super talented RuthTrice this month, I'm already looking forward to see her projects.
Welkom bij onze maandelijkse Stamping Sunday Bloghop en deze maand is het design team aan de slag gegaan met de fantastische Memories & More card packs van Stampin' Up! We zijn blij dat deze maand de super getalenteerde Ruth Trice met ons mee hopt, ik kijk er nu al naar uit om haar projecten te gaan bekijken.
What is Memories & More? A quick and easy way to keep your memories. You fill so called pocket pages with your pictures, fun themed cards from the Memories & More card packs and you add your memories in writing. This form of memory keeping is fun for everyone. From beginner to advanced stampers, from young to old and from creative guru to someone who doesn't think she/he's not creative at all. Of course, you can also use the Memories & More cards to make cards, scrap layouts and even mini albums.
Wat is Memories & More? Een snelle, makkelijke manier om jouw herinneringen te bewaren. Je vult zogenaamde pocket pages met jouw foto's, leuke thema-kaartjes van Memories & More en schrijft je herinneringen ook nog eens op. Deze vorm van Memory Keeping is geschikt voor iedereen. Van beginner tot gevorderd, van jong tot oud en van creatieveling tot iemand die denkt dat hij/zij helemaal niet creatief is. Natuurlijk kun je Memories & More cards ook gebruiken om kaarten mee te maken, scrap layouts en zelfs mini albums.
color theory pocket pages
For my first project, I've created two 6 x 8″ pocket pages with the Color Theory Card Pack. I've slowly been filling this Memories & More album with pocket pages to commemorate our wonderful vacation in Canada in 2016 and with these pages I captured our first day in Banff NP. I did this by creating a 6 x 8″ Scrap Layout and a pocket page.
Voor mijn eerste project heb ik twee 6 x 8″ pocket pages gemaakt met de Color Theory Card Pack. Ik ben langzaam maar zeker dit Memories & More album aan het vullen met pocket pages om onze fantastische vakantie in Canada te gedenken en met deze pagina's heb ik de eerste dag in Banff NP vastgelegd. Ik heb dit gedaan door een 6 x 8″ Scrap Layout te maken en een pocket page te vullen.
The layout is made on a piece of Whisper White thick cardstock. On it, I combined some Color Theory cards with embellishments from the card pack, journaling and glitter enamel shapes.
De layout is gemaakt op een stuk Whisper White thick cardstock. Hierop heb ik een aantal Color Theory kaartjes gecombineerd met embellishments uit het card pack, journaling en wat glitter enamel shapes
The cards make it so easy to fill a pocket page. I embellished the cards with the, totally applicable, Picnic With You bundle. By combining the picture with the story, we'll never forget that special moment.
De kaartjes maken het zo makkelijk om een pocket page te vullen. Hier heb ik de kaartjes opgeleukt met de, hier wel heel toepasselijke, Picnic With You bundel. Door de foto te combineren met het verhaal, zullen we dit speciale moment nooit vergeten.
Petal Passion pocket mini album
The second project of the day is a pocket mini album which feature the Petal Passion card pack and designer series paper. Of course, I made it into a Canada mini album and I can keep it in one of the large pocket pages in my Memories & More album.
This album holds loads of photos and space to journal our memories. In the slide show below you'll see how I filled the album. It was such a joy to make and made me relive all those moments again. That's the beauty of memory keeping for me. It's not just a creative process but also a way to stand still and remember the wonderful times.
Het tweede project van vandaag is een pocket mini album gemaakt met de Petal Passion card pack en designer series papier. Natuurlijk heb ik er een Canada mini album van gemaakt en ik bewaar het in een van de grote pocket pages in mijn Memories & More album.
Dit album bevat heel veel fotos en ruimte om herinneringen op te schrijven. In de dia show hieronder kun je zien hoe ik het album gevuld heb. Het was zo leuk om te maken en het deed me denken aan al die leuke momenten. Dat vind ik het magische van memory keeping. Het is niet alleen een creatief proces maar ook een manier om stil te staan en de goede momenten te herinneren.
Ben je enthousiast geworden over de mogelijkheden met Memories & More? Dan kun je altijd een Memories & More introductie party bij mij boeken. Lees er hier meer over!
hop-a-long
I hope you enjoyed my projects. Now, it's time to hop-a-long, just click on the name below mine (I'm Danielle Bennenk) to go to their blog. Wishing you tons of inspiration and hopefully see you soon back on my blog!
Ik hoop dat je hebt genoten van mijn projecten. Nu, is het tijd om door te hoppen, klik gewoon op de naam onder die van mij (ik ben Danielle Bennenk) om naar haar blog te gaan. Ik wens je veel inspiratie en hopelijk zie ik je snel weer terug op mijn blog!
Enjoy the rest of your Sunday! / Geniet van de rest van je zondag!
Product List
| | | | | |
| --- | --- | --- | --- | --- |
| | | | | |
| | | | | |
| | | | | |
| | | | | |
| | | | | |
| | | | | |
| | | | | |