*Dear international readers, please use the translate button on the right (see side bar) to translate this message to your preferred language.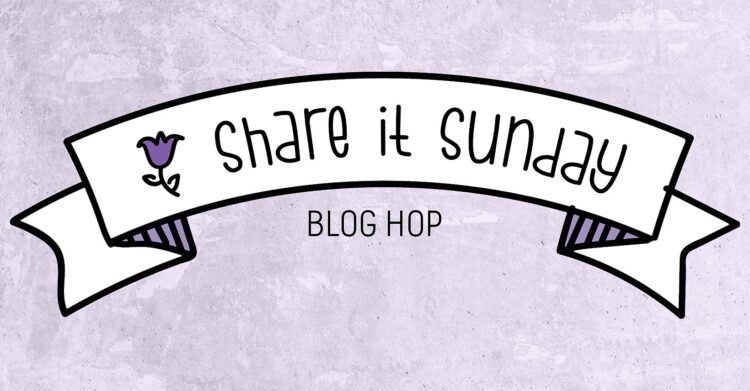 Share It Sunday Bloghop – What's Cookin'
Samen met een groot aantal internationale Stampin' Up! demonstrators doe ik mee aan de Share It Sunday Bloghop georganiseerd door Stefanie van de Crafty Medic uit Canada. Deze bloghop heeft geen speciaal thema, we delen gewoon waar we zin in hebben 🙂 Iedereen maakt bij zijn/haar project wel gebruik van de mooie producten van Stampin' Up! en ik gebruikte het What's Cookin' Productpakket om een kleurrijke kaart te maken.
What's Cookin' Kaart
Voor mijn basiskaart (14,5 x 21 cm, rillen lange kant op 10,5 cm) gebruikte ik Smoky Slate Cardstock. Hierop zit een mat (10,2 x 14,2 cm) van dezelfde kleur. Het 'theedoekje' op het midden van de kaart heb ik gemaakt met een stuk Basic White Cardstock, de Checks & Dots Embossing folder en de Petal Pink Stampin' Blends. De randjes en de hoekjes heb ik wat omgekruld.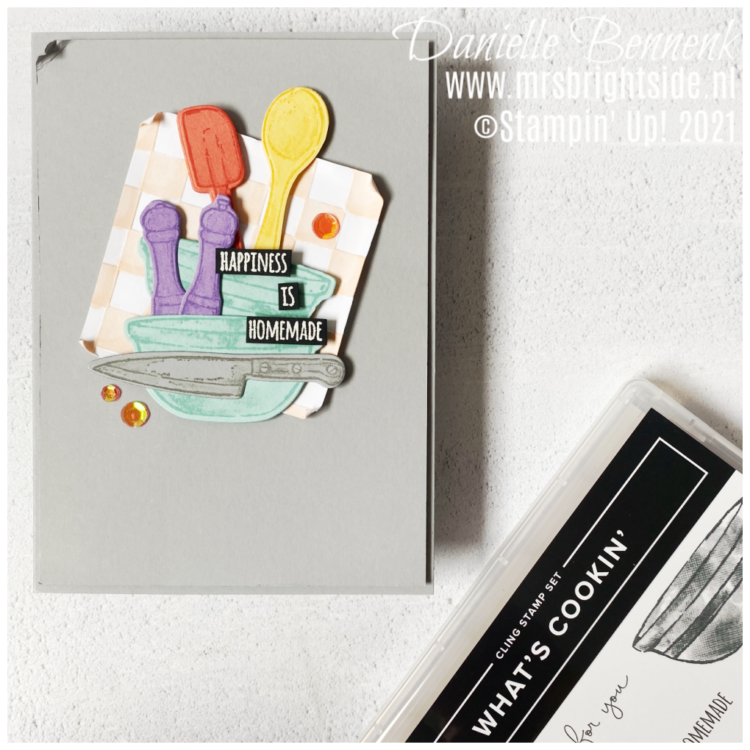 Vervolgens stempelde en stanste ik diverse keukenmaterialen met het What's Cookin' productpakket dat bestaat uit de What's Cookin' Stempelset en de bijpassende Cookin' Dies. Ik gebruikte een viertal subtle kleuren – Calypso Coral, So Saffron, Pool Party en Highland Heather – in combinatie met het neutrale Smoky Slate.
De gestanste onderdelen plakte ik een-voor-een op de kaart met Multipurpose Liquid Glue en Stampin' Dimensionals.
Als laatste heb ik de tekst uit de What's Cookin' Stempelset op een restje Basic Black Cardstock embossed met Versamark en White Stampin' Emboss Powder. Ik knipte het uit met Paper Snips en plakte het op de kaart. Een aantal Calypso Coral Artistry In Bloom Sequins maken het kaartje af.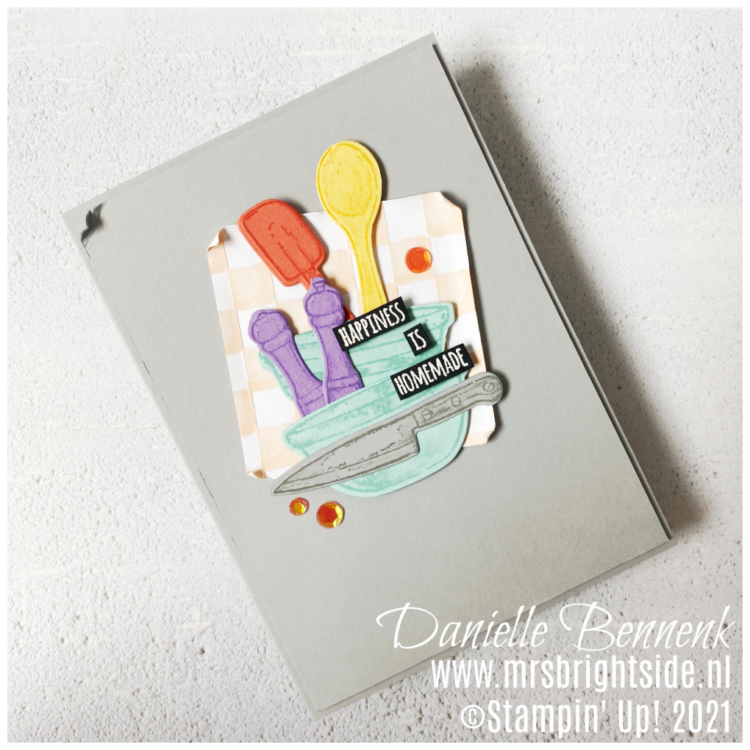 Meer Share It Sunday inspiratie
In de onderstaande lijst vind je nog meer Share It Sunday inspiratie met de mooie producten van Stampin' Up!. Als je op de naam onder die van mij (Danielle Bennenk) klikt ga je naar het volgende blog.

Bestelvoordelen Mrs. Brightside!
Gebruikte Materialen
Ik verzorg graag je bestelling. Klik op de 'Stampin' Up! bestelling'-knop of de 'Webshop Stampin' Up!'-knop (PayPal of credit card betaling) in de zijbalk om deze te plaatsen.