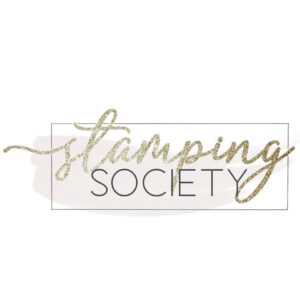 In the Spotlight: Autumn or Spring projects
Hallo! Welkom bij de Stamping Society bloghop. Deze maand staat tijdens onze bloghop en de tutorial bundel het thema Autumn of Spring centraal! Aangezien ons designteam van over de hele wereld komt, wonen sommigen op een plek waar het binnenkort lente wordt en de rest waar de herfst bijna arriveert. Ik heb gekozen voor Autumn en ben net als bij dit project (klik hier) aan de slag gegaan met de Seasons of Fun Stempelset uit de Stampin' Up! Mini Catalogus.
*Dear international readers, please use the translate button on the right (see side bar) to translate this message to your preferred language.
Autumn – Seasons of Fun kaart
De Seasons of Fun Stempelset heeft geweldige afbeeldingen om in te kleuren en voor mijn project koos ik dat leuke jongetje die aan het spelen is in een berg bladeren. Dat herinner ik mij van vroeger, spelen in de bossen op de Veluwe en 'snow angels' maken in blad in plaats van in sneeuw 🙂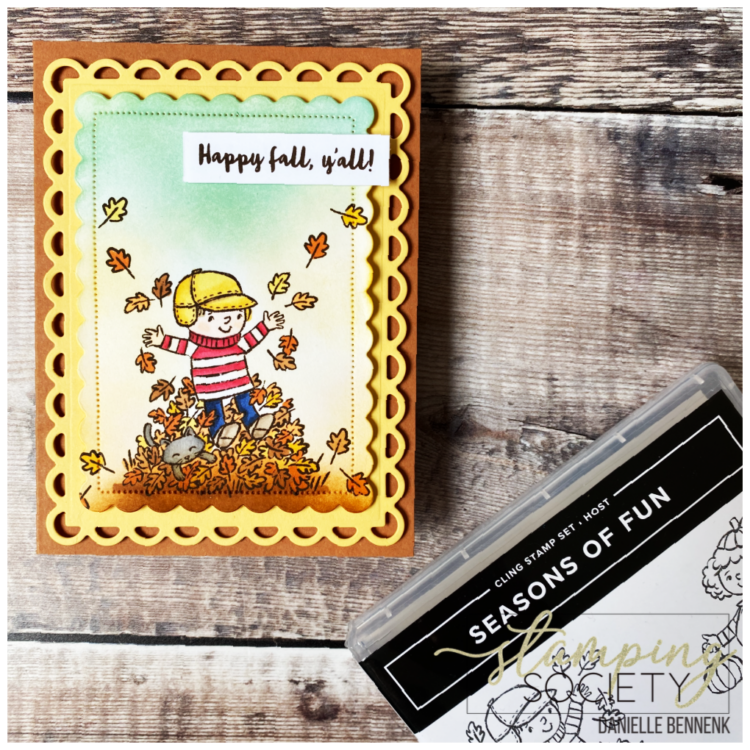 De basiskaart (14,5 x 21 cm, rillen lange kant op 10,5 cm) is van Cinnamon Cider Cardstock. Hierop zit een mat van So Saffron Cardstock. Deze is gestanst met de Scalloped Contours Dies en met Stampin' Dimensionals op de kaart geplakt. Ook de Basic White Cardstock mat waarop ik heb gestempeld heb is gestanst met deze stansset.
De afbeelding is gestempeld met Early Espresso Classic Stampin' Inkt en heeft een Autumn Feel gekregen door de gebruikte kleuren Stampin' Blends: Daffodil Delight, Pumpkin Pie, Cinnamon Cider (alledrie voor de bladeren), Real Red, Night of Navy, Crumb Cake, Petal Pink (voor het jongetje) en Smoky Slate (voor de kat, net zo grijs als mijn eigen kat George 🙂 ).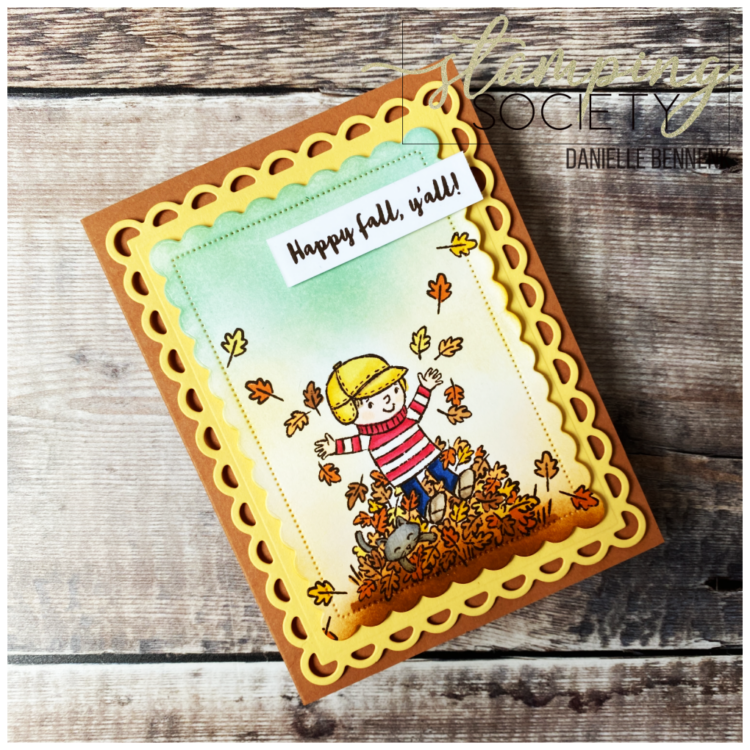 De achtergrond van de gekleurde afbeelding heb ik gecreëerd met de Blending Brushes en de kleuren Cinnamon Cider, So Saffron en Pool Party Classic Stampin' Inkt. De tekst komt uit de Banner Year stempelset en is met Early Espresso Inkt gestempeld en met Stampin' Dimensionals op de mat geplakt.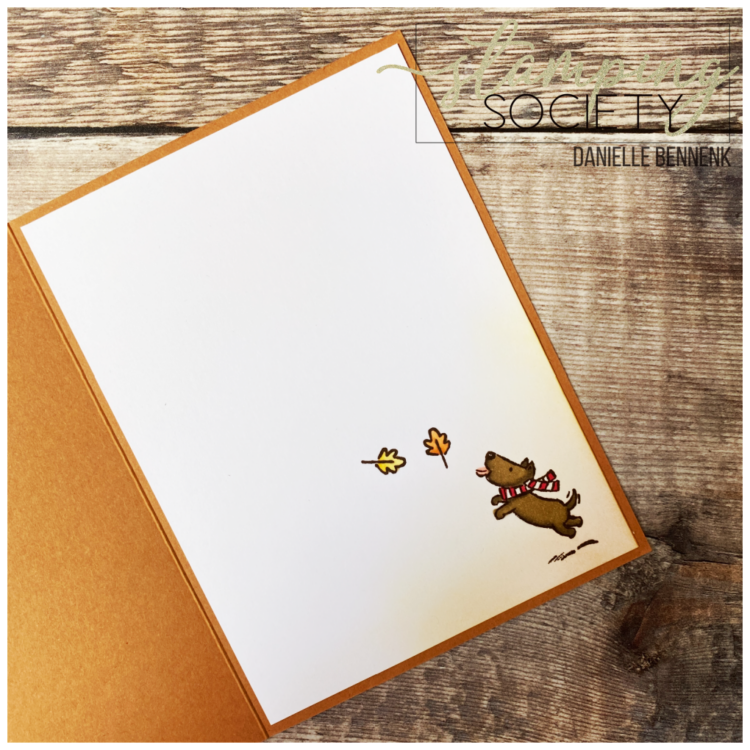 Aan de binnenzijde van de kaart heb ik op een Basic White Cardstock mat (10 x 14 cm) een hoek geblend met Cinnamon Cider inkt en er vervolgens het hondje en wat blaadjes op gestempeld en ingekleurd met Soft Suede Stampin' Blends. Ik heb zijn dasje laten matchen met de sweater van het jongetje.
Hoe kun je de Stamping Society Tutorial bundel ontvangen/aanschaffen?
Er zijn drie manieren:
Je ontvangt de Stamping Society Video tutorial bundel gratis wanneer je een bestelling van 22 Euro of meer bij mij plaatst via mail of mijn webshop. De bundel wordt vervolgens aan het eind van de maand naar je gemaild!
Je ontvangt de Stamping Society Video tutorial bundel wanneer je lid bent van mijn team, hierover ontvang je maandelijks informatie. Wil je ook onderdeel uitmaken van Team Brightside en meer weten over het startpakket? Klik dan hier.
Je kunt de Stamping Society Video tutorial bundel ook los aanschaffen voor 6,15 Euro, zodra ik je betaling binnen heb wordt de bundel gemaild. Klik gewoon op de link hieronder om per mail je bestelling te plaatsen.
Klik hier om je bundel aan te schaffen!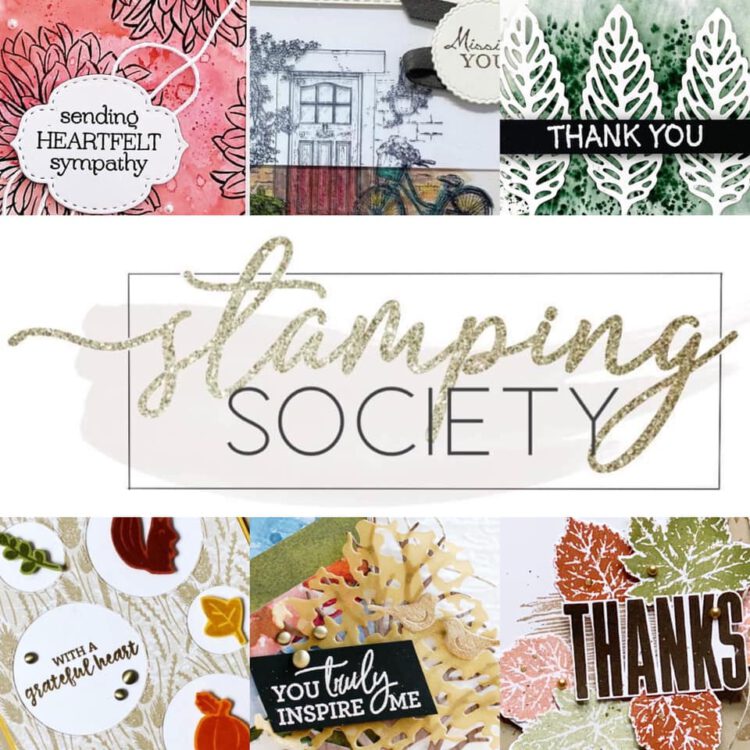 Meer inspirerende projecten
Wil je nog meer inspirerende projecten met het Autumn of Spring thema zien? Klik dan snel op de volgende naam van de lijst en het wonder van het internet brengt je waar je moet zijn!
Heel erg bedankt voor je bezoek en nog veel plezier gewenst.

Gebruikte materialen
Ik verzorg graag je bestelling. Klik op de 'Stampin' Up! bestelling'-knop of de 'Webshop Stampin' Up!'-knop (PayPal en credit card betaling) in de zijbalk om deze te plaatsen.
| | | | | |
| --- | --- | --- | --- | --- |
| | | | | |
| | | | | |
| | | | | |
| | | | | |
| | | | | |