Hand-Penned Petals in de spotlight!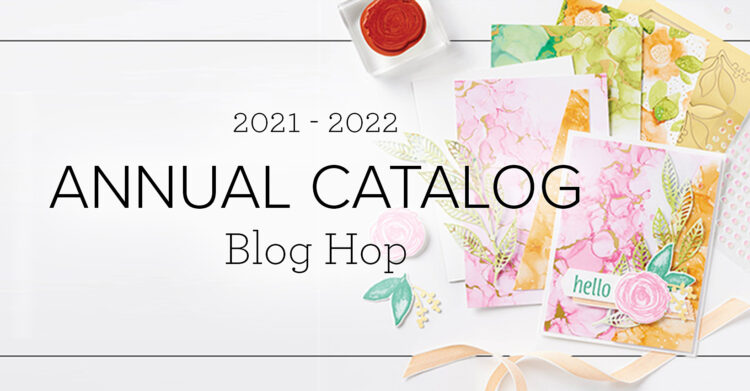 Samen met een groot aantal internationale Stampin' Up! demonstrators doe ik mee aan de Annual Catalog Bloghop georganiseerd door Stefanie van de Crafty Medic uit Canada. Met deze bloghop zetten we een of meer van de nieuwe producten uit de nieuwe Stampin' Up! Jaarcatalogus centraal.
*Dear international readers, please use the translate button on the right (see side bar) to translate this message to your preferred language.
Hand-Penned Petals kaart
Voor deze bloghop ben ik aan de slag gegaan met meerdere nieuwe producten, namelijk de Hand-Penned Petals bundel, bestaande uit de Hand-Penned stempelset en de bijpassende Bloemetjesstansen, en een aantal nieuwe Stampin' Blends in de kleuren Polished Pink, Evening Evergreen en Soft Succulent. Die Stampin' Blends zijn echt geweldig, kijk ook maar eens naar deze kaart.
Mijn basiskaart (14,5 x 21 cm, rillen lange kant op 10,5 cm) is van Soft Succulent Cardstock. Hierop plakte ik een mat (10 x 14 cm) van Basic White Cardstock, deze heb ik embossed met de Tasteful Textile 3D Embossing Folder. Hierop ik een Stitched Rectangle Die cut van Sahara Sand Cardstock geplakt.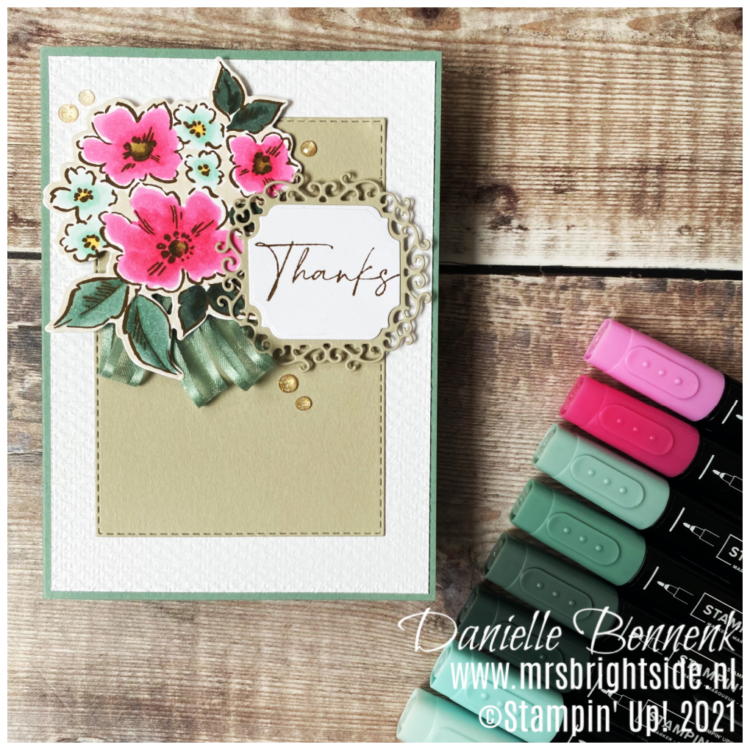 Vervolgens stempelde ik het bloemenarrangement van de Hand-Penned Petals stempelset met Soft Suede Classic Stampin' Inkt op Basic White Cardstock. De afbeelding kleurde ik in met Polished Pink, So Saffron, Pool Party, Soft Succulent, Evening Evergreen en Soft Suede Stampin' Blends. De afbeelding heb ik daarna gestanst met de Bloemetjesstansen.
Met het prachtige Soft Succulent Open Weave Ribbon maakte ik een aantal lussen en hierop plakte ik de bloemenafbeelding met Stampin' Dimensionals. Het tekstlabel heb ik gestanst met de Ornate Frames Dies, de tekst is gestempeld met Soft Suede Classic Stampin' Inkt en komt ook uit de Hand-Penned Petals stempelset.
Last but not least, voegde ik een aantal van de Genial Gems toe aan de kaart.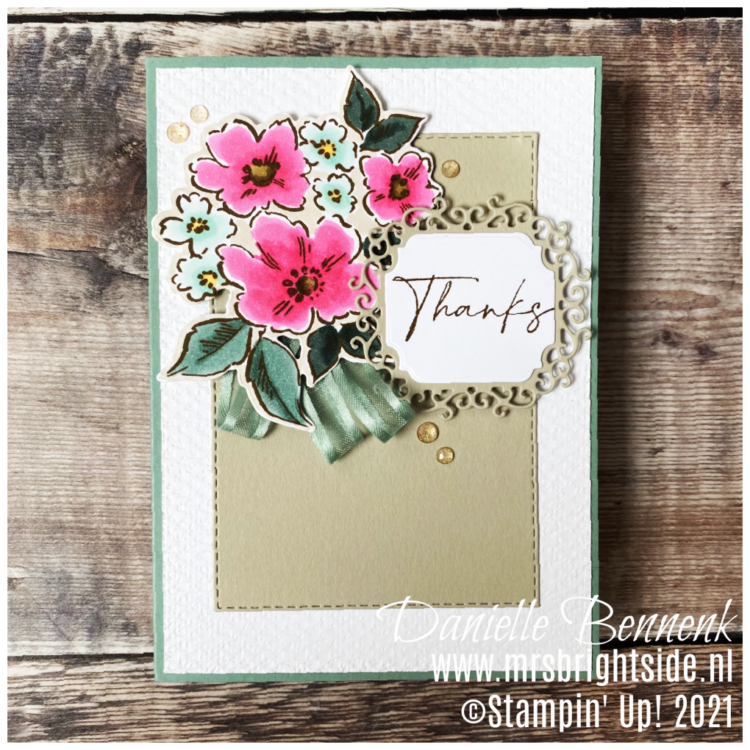 Een heerlijk fris en fleurig kaartje, ik ben er blij mee 🙂
Meer Annual Catalog inspiratie
In de onderstaande lijst vind je nog meer mooie projecten. Als je op de naam onder die van mij (Danielle Bennenk) klikt ga je naar het blog van de volgende designer.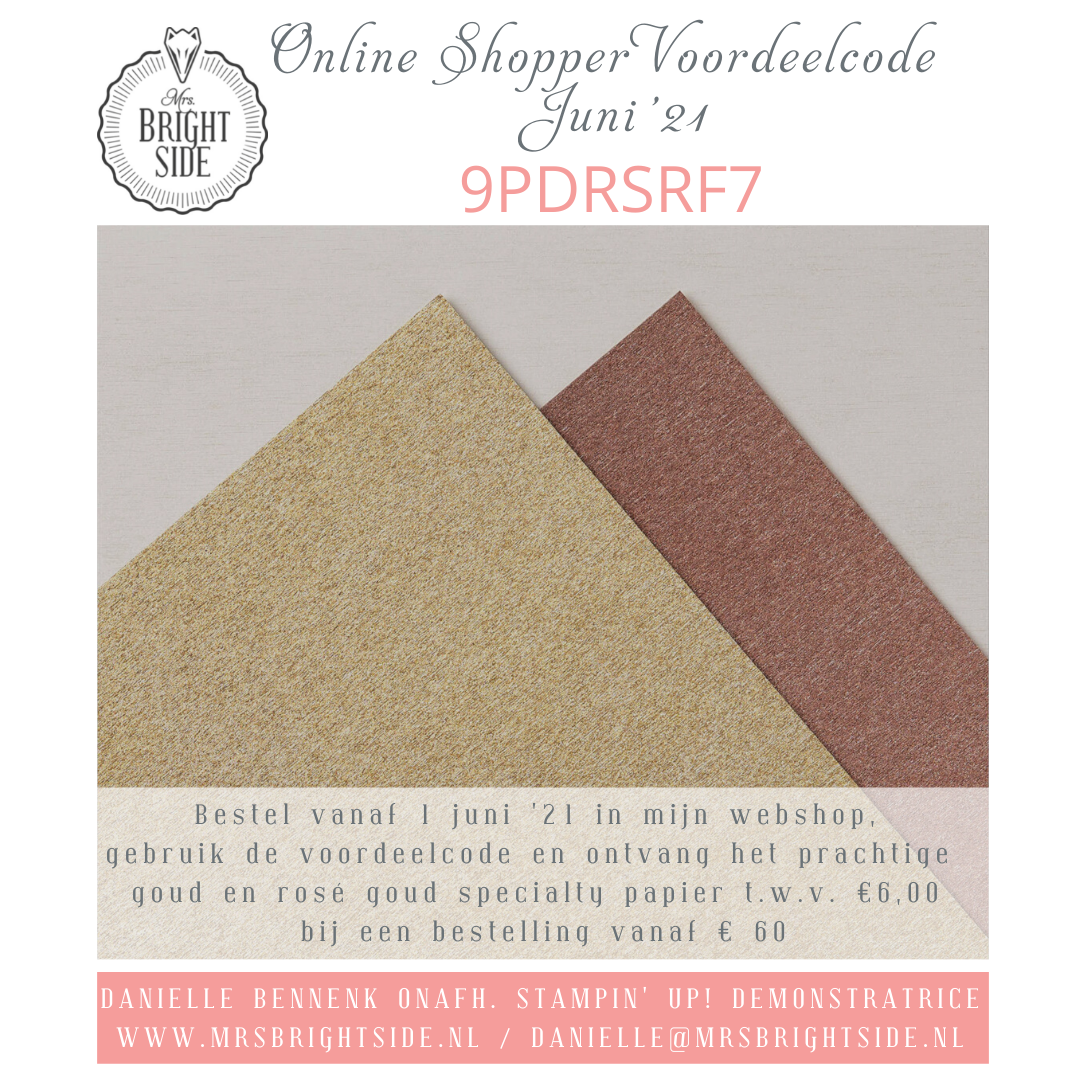 Bestelvoordelen Mrs. Brightside!
Gebruikte Materialen
Ik verzorg graag je bestelling. Klik op de 'Stampin' Up! bestelling'-knop of de 'Webshop Stampin' Up!'-knop (PayPal of credit card betaling) in de zijbalk om deze te plaatsen.