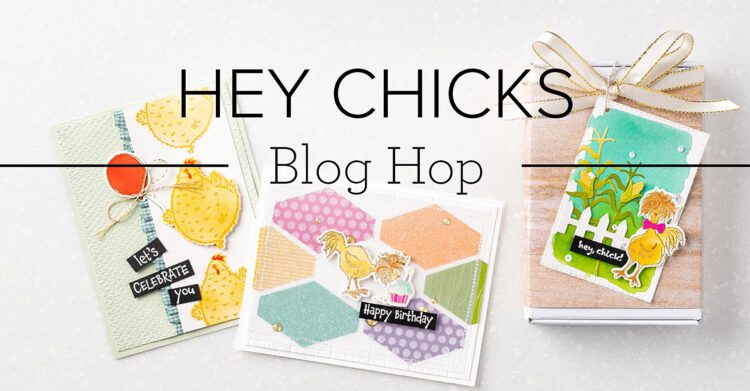 Hey Chicks Bloghop
Samen met een groot aantal internationale Stampin' Up! demonstrators doe ik mee aan de Hey Chicks Bloghop georganiseerd door Stefanie van de Crafty Medic uit Canada. Bij deze bloghops staan de Hey Chick bundel en/of de Hey Birthday Chick bundel van Stampin' Up! centraal.
De Hey Chick stenpelset herken je misschien van de Sale-A-Bration folder van een aantal jaar geleden en nu is hij weer beschikbaar met een bijpassende stansset! De Hey Birthday Chick stempelset staat in de januari – juni Mini Catalogus en daar zijn nu ook bijpassende stansen bij te krijgen, echt helemaal te gek. Klik hier om naar beide bundels te gaan in mijn online webshop.
*Dear international readers, please use the translate button on the right (see side bar) to translate this message to your preferred language.
Hey Chick kaartensetje
Voor deze Hey Chick bloghop heb ik een kaartensetje gemaakt met de Hey Chick bundel. Het zijn kleine mini kaartjes van 9,5 x 15 cm, gerild aan de lange kant op 7,5 cm. Bij alledrie de kaartjes heb ik gebruik gemaakt van dezelfde kleuren: Basic White, Basic Grey, Seaside Spray en Pumpkin Pie.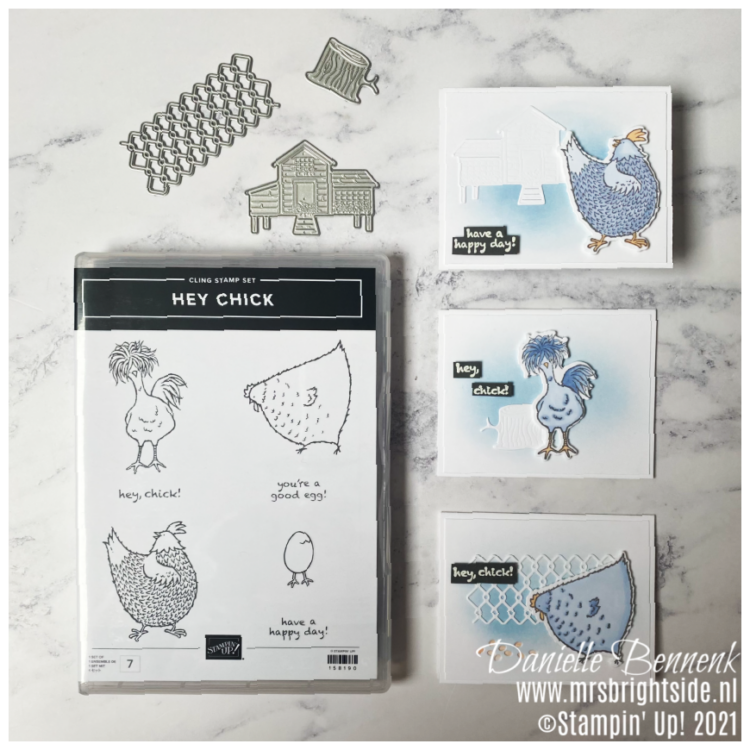 Alle Hey Chick kaartjes op een rij
Op heb basiskaartje van Basic White Thick Cardstock zit een Basic White Cardstock mat (7 x 9 cm). Met een Blending Brush en Seaside Spray Classic Stampin' Ink heb ik een achtergrond gemaakt op de mat. Hierop heb ik het kippenhok, gestanst met de Chick Dies, geplakt. Het is echt een heel tof stansje die niet alleen de vorm van een kippenhok uit stanst, maar er ook details in embossed.
De kip heb ik gestempeld met Basic Grey Classic Stampin' Ink en ingekleurd met de Seaside Spray Stampin' Blends Combo Pack en alleen de Light versie van de Pumpkin Pie Stampin' Blends. Daarna is het kippetje gestanst met de Chick Dies.
Net als de tekst, White Heat Embossed op Basic Grey Cardstock, is de kip met Stampin' Dimensionals op de kaart geplakt.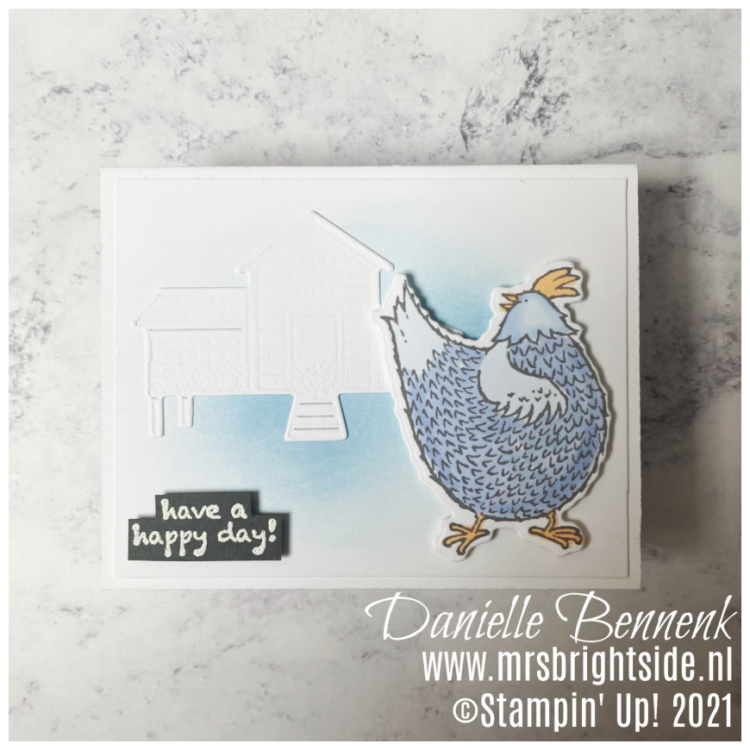 Ook bij het onderstaande kaartje heb ik een achtergrondje gecreëerd met de Blending Brush. Deze keer heb ik een boomstronkje als detail toegevoegd aan het kaartje. Ook deze crazy chicken is ingekleurd met Stampin' Blends.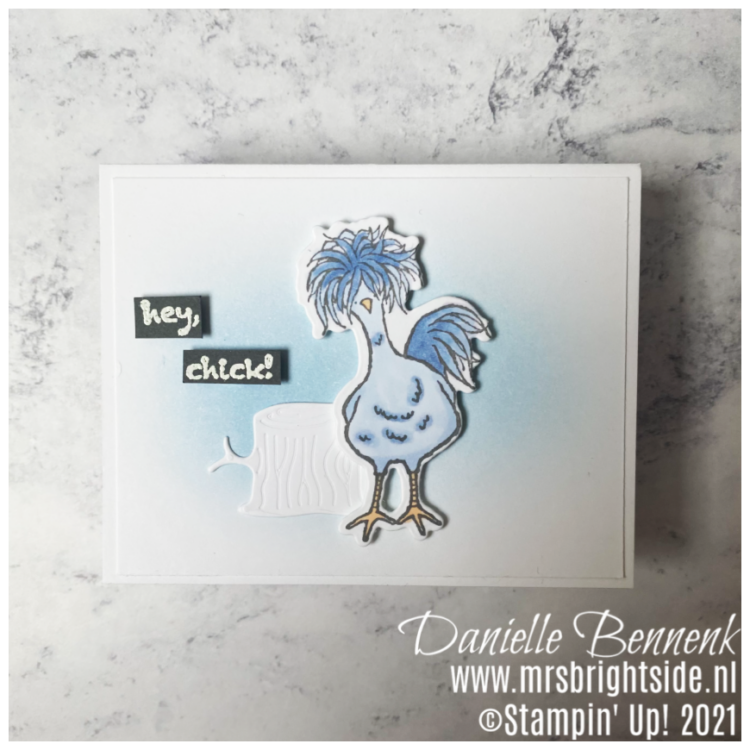 Bij dit laatste kaartje komt het raster echt heel mooi naar voren. Wat een leuk stansje is dat. Net als de graankorrels trouwens. Deze stanst kleine gaatjes uit het cardstock. Het cardstock wat je daaronder zit heb ik een kleurtje gegeven met de Light Pumpkin Pie Stampin' Blend, zodat de graankorrels goed te zien zijn. Dit geeft een heel leuk effect vind ik zelf.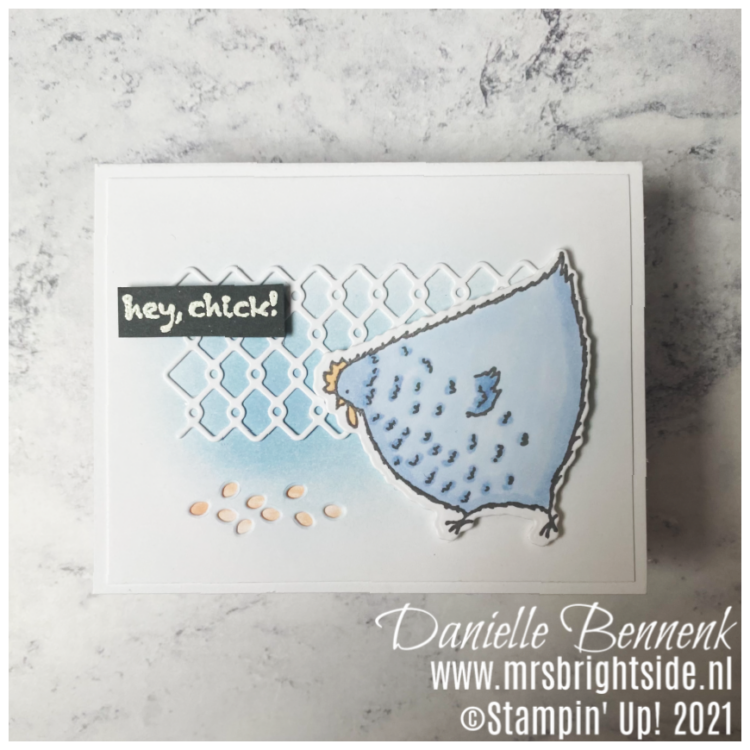 Ik hoop dat je de kaartjes net zo leuk vind als dat ik het vond om ze te maken 🙂
Meer Hey Chicks inspiratie
In de onderstaande lijst vind je nog meer Hey Chicks inspiratie met de mooie producten van Stampin' Up!. Als je op de naam onder die van mij (nr. 9 – Danielle Bennenk) klikt ga je naar het blog van de volgende designer.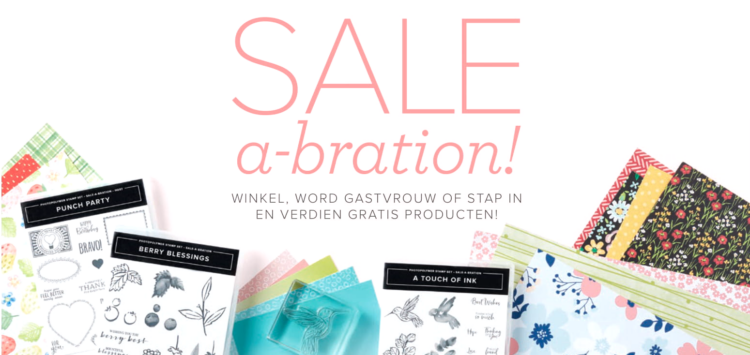 Gebruikte Materialen
Ik verzorg graag je bestelling. Klik op de 'Stampin' Up! bestelling'-knop of de 'Webshop Stampin' Up!'-knop (PayPal of credit card betaling) in de zijbalk om deze te plaatsen.