Feel Good Stampin' thema: Textuur & Structuur
Deze maand staat het thema Textuur & Structuur centraal bij de Feel Good Stampin' Bloghop. De design teamleden maken allen een project met bijv. verschillende texturen, structuren, laagjes etc.. Hierbij gebruiken ze natuurlijk hun favoriete Stampin' Up! producten. Ik ging aan de slag met de mooie Nederlandse Hof Van Eden bundel uit de Stampin' Up! Jan-Jun Minicatalogus.
Over de Feel Good Stampin' Bloghop…
Ter informatie: Het Feel Good Stampin' Design Team bestaat uit een groep Nederlandse Stampin' Up! Demonstrators die samenwerken om de lezers/bezoekers van onze blogs te inspireren en hen met onze Stampin' Up! projecten een goed (Feel Good) gevoel te geven. Dat Feel Good gevoel is met name nu, in tijden van onzekerheid, zeer welkom.
Iedere 2e donderdag van de maand hoppen we met thema's die een 'Feel Good vibe' hebben.
Tevens geven we onze lezers/bezoekers uitleg (via beschrijving, foto tutorial of instructie video) over het door ons gemaakte project. Zo willen we proberen om het Feel Good gevoel dat wij hebben bij het maken van projecten en het werken met Stampin' Up! producten zoveel mogelijk door te geven.
Hof Van Eden Kaart
De Hof Van Eden Stempelset heeft mooie Nederlandse teksten en prachtige bijpassende stansen, met bladerkransen, takjes en een label. Perfect om mijn project te voorzien van diverse texturen.
De basiskaart (14,5 x 21 cm, rillen lange kant op 10,5 cm) is van Soft Suede Cardstock. Hierop zitten twee matten: Een van Mint Macaron (10 x 14 cm) en een van Crumb Cake Cardstock (9,5 x 13,5 cm). Deze laatste heb ik embossed met de Timeworn Type 3D Embossing Folder. De randen heb ik distressed.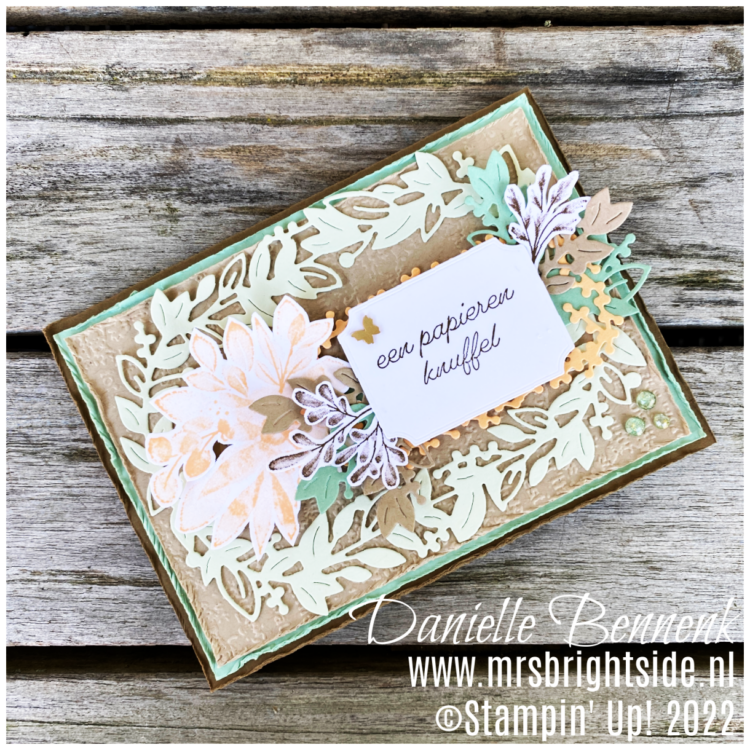 Vervolgens heb ik diverse lagen gecreëerd met de Eden Dies en Soft Sea Foam, Crumb Cake, Mint Macaron en Pale Papaya Cardstock. Het grote bloemencluster heb ik gestempeld met Pale Papaya Inkt en de kleine takjes met de Soft Suede Inkt. Deze afbeeldingen kom en allen uit de Hof Van Eden stempelset evenals de tekst.
Deze heb ik op een restje Basic White Cardstock gestempeld, die ik daarna gestanst heb met de Tasteful Labels Dies. Als laatste heb ik een aantal Genial Gems op de kaart geplakt en een Brushed Brass Butterfly.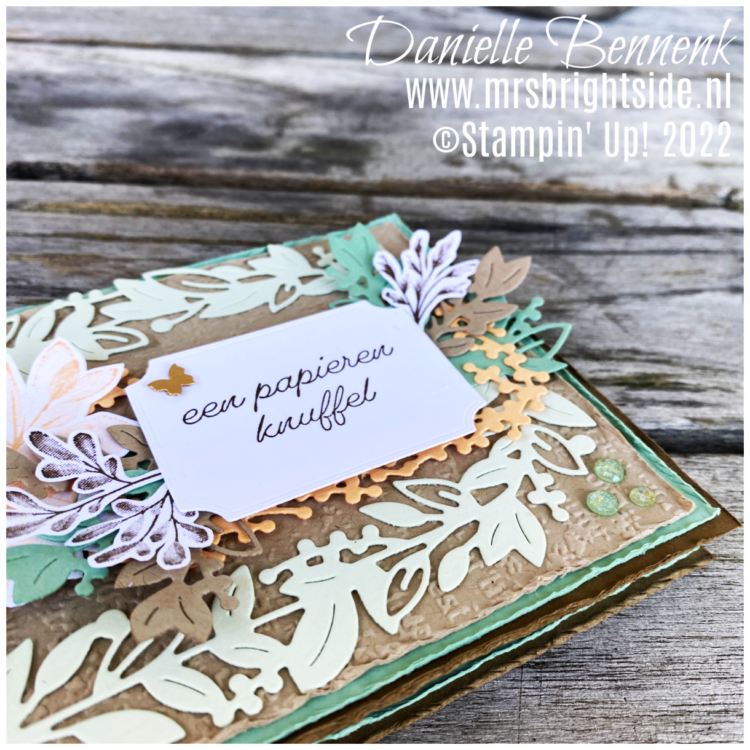 Feel Good Projectbeschrijving
Zoals ik bij de inleiding al schreef, geeft ieder Feel Good Stampin' Design Teamlid een projectbeschrijving. Dit doen we via een PDF-bestand dat je kunt downloaden. In deze PDF vind je de beschrijving, de gebruikte materialen, de afmetingen en deze maand een foto tutorial. Je kunt vervolgens de PDF opslaan zodat je het project later kunt maken.
Hieronder vind je mijn gratis foto tutorial (klik op de afbeelding hieronder) met daarin de alle stappen van het project.

Meer inspirerende projecten
Wil je zien wat de andere Design Teamleden deze maand gemaakt hebben? Klik dan snel op de naam onder die van mij op de lijst en het wonder van het internet brengt je waar je moet zijn!
Heel erg bedankt voor je bezoek en nog veel plezier gewenst.

GEBRUIKTE MATERIALEN
Ik verzorg graag je bestelling. Klik op de 'Stampin' Up! bestelling'-knop of de 'Webshop Stampin' Up!'-knop (PayPal en credit card betaling mogelijk) in de zijbalk om deze te plaatsen.