Whoop! Whoop! Weer nieuwe Nederlandse Stempelsets!
Stampin' Up! is een Amerikaans merk en wij maken in de Nederlandse markt gebruik van een Engelstalige Stampin' Up! jaarcatalogus. Dit betekent dat de stempelsets in deze catalogus in het Engels getoond worden, maar er zijn wel degelijk Nederlandstalige stempelsets beschikbaar. In het '21-'22 jaarassortiment zijn namelijk maar liefst 13 Nederlandse stempelsets opgenomen, hoera! Ook in de Jan-Jun Mini Catalogus staan weer nieuwe Nederlandse stempelsets en om het feest compleet te maken is er ook weer een Nederlandse Sale-A-Bration stempelset.
Hieronder stel ik dit nieuwe Nederlandse trio aan je voor! Wil je ook alle andere stempelsets uit de collectie bekijken? Klik dan hier!
Nieuwe Stempelset Galerie
Hieronder laat ik de drie nieuwe Nederlandse stempelsets zien met een korte beschrijving. Wanneer je op de afbeelding klikt ga je naar een PDF met alle prijsinformatie, artikelnummers en bijpassende gereedschappen zoals stansen en/of ponsen.
Wist je trouwens dat je deze Nederlandse stempelsets ook heel makkelijk kunt vinden in mijn webshop? Klik hier om ze daar te bekijken!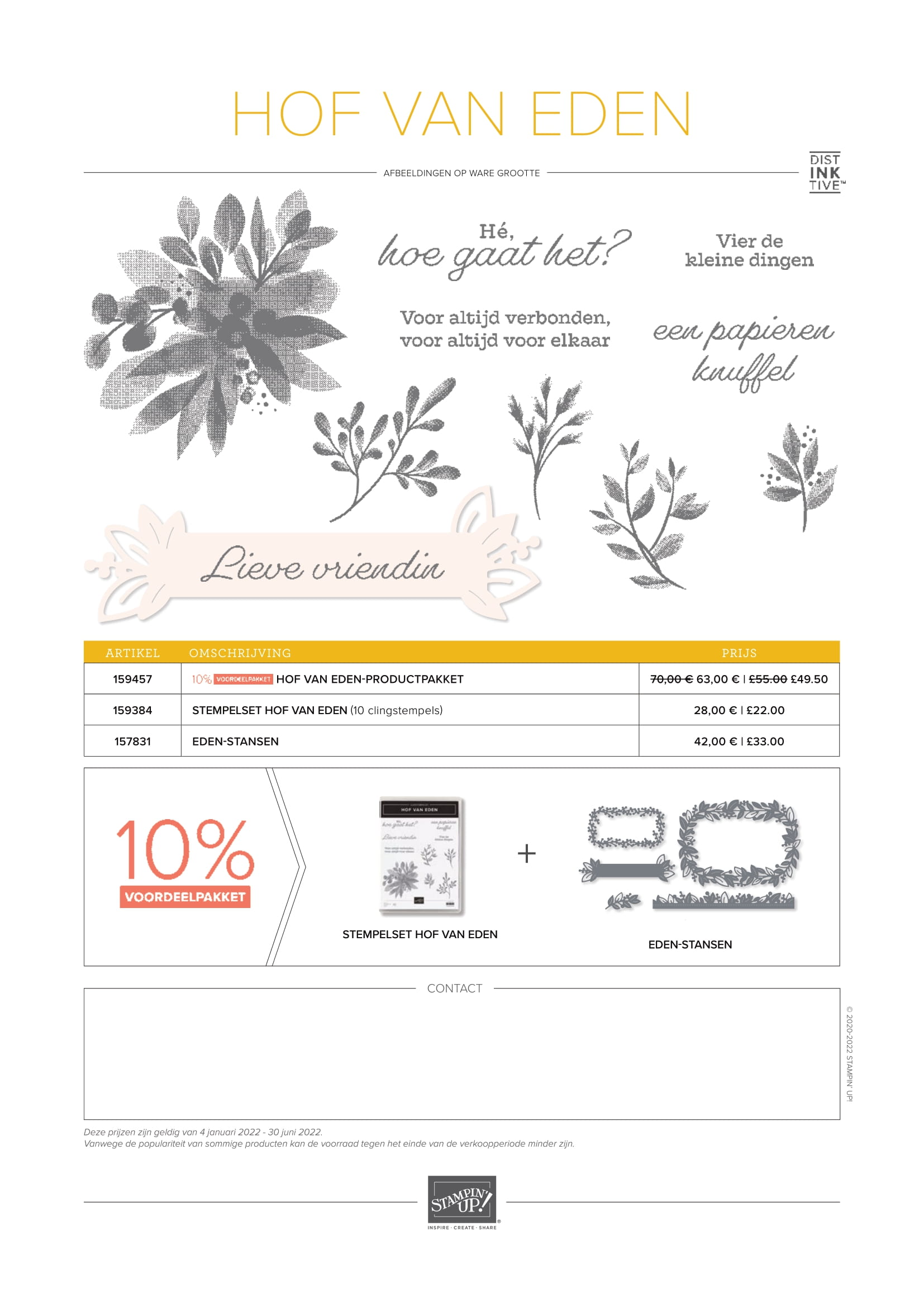 Hof Van Eden
Een prachtige stempelset met mooie watercolor effect afbeeldingen en mooie veelzijdige teksten. Deze stempelset kan samen met de prachtige gedetailleerde Eden stansen met 10% bundelkorting besteld worden.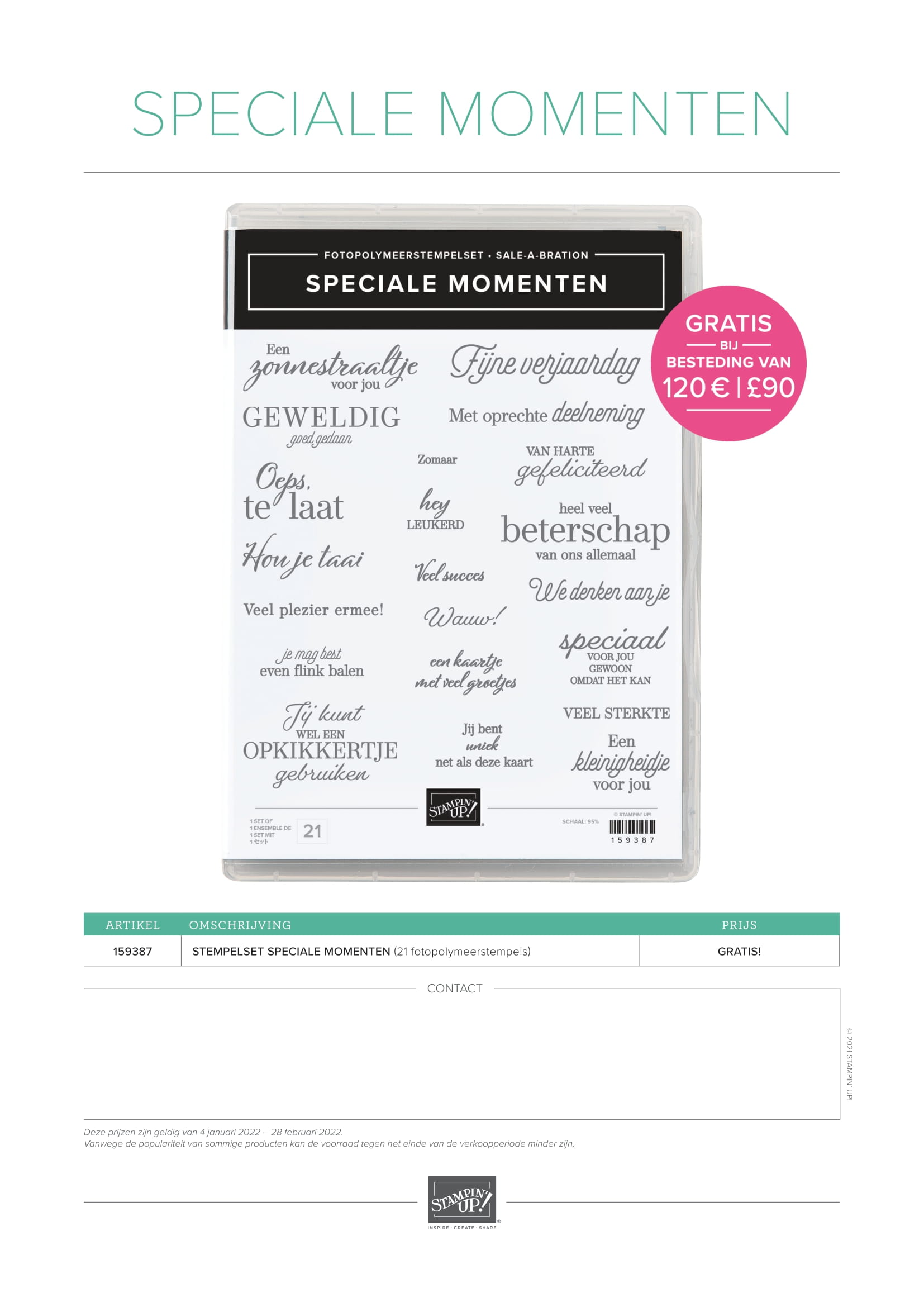 In Je Eigen Woorden
De stempelset Speciale Momenten bevat verschillende teksten voor verschillende gelegenheden. Veel verschillende fonts en formaten, echt te gebruiken voor al je projecten. Deze stempelset ontvang je gratis bij een bestelling van €120 of meer.
Bestellen?
Mocht je geïnteresseerd zijn in de aanschaf van een (of meer) van de bovenstaande stempelsets dan verzorg ik graag je bestelling. Door de prachtige producten van Stampin' Up! bij mij te bestellen kun je ook meteen sparen voor gratis project tutorials en tutorial bundels, zoals de Stamping Society tutorial bundel. Tevens kun je een gratis bedankje verdienen bij een bestelling via mijn persoonlijke webshop (lees hier meer over deze bestelvoordelen!)
Je kunt je bestelling plaatsen via e-mail (danielle@mrsbrightside.nl) of in mijn persoonlijke webshop (credit card betaling). Op de Stampin' Up! Info vind je alle informatie.