Focus thema: Kant-en-klare Stampin' Up! Verpakkingen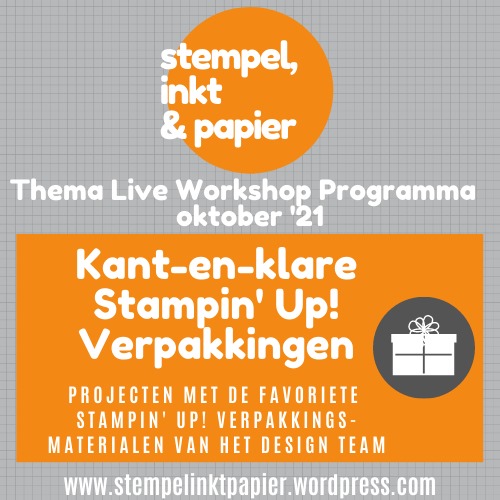 Hallo en welkom bij de Stempel, Inkt & Papier bloghop! Deze maand richt Stempel, Inkt & Papier zich op het thema: Kant-en-klare Stampin' Up! Verpakkingen. Dus een of meer van de kant-en-klare verpakkingen die Stampin' Up! aanbiedt in de huidige catalogi. Ik koos om aan de slag te gaan met een Ombre Gift Bag uit de Stampin' Up! jaarcatalogus.
Het is altijd moeilijk om te kiezen uit zoveel mogelijkheden en ik twijfelde enorm tussen de Kraft Gift Box (zie een voorbeeld hier) en de Ombre Gift Bag, omdat die misschien niet zo voor de hand ligt… Toch is de Ombre Gift Bag perfect voor een verpakking, zie hier voor nog een voorbeeld.
Vervolgens heb ik de fantastische Delivering Cheer Stempelset en de Scalloped Contour Dies gebruikt om de verpakking een feestelijk tintje te geven
Ombre Gift Bag Pocket Geschenkkaarthouder
Bij mijn project heb ik van de Soft Succulent Ombre Gift Bag een Pocket Geschenkkaarthouder gemaakt. En dat is dus heel makkelijk. Ja, echt! Je vouwt de Ombre Gift Bag dubbel, gewoon met je handen, rillen is niet nodig.
Vervolgens bind je een lintje om de dubbelgevouwen Ombre Gift Bag – in dit geval het Flirty Flamingo Metallic Ribbon – om de pockets te creëren. Er komt geen lijm aan te pas.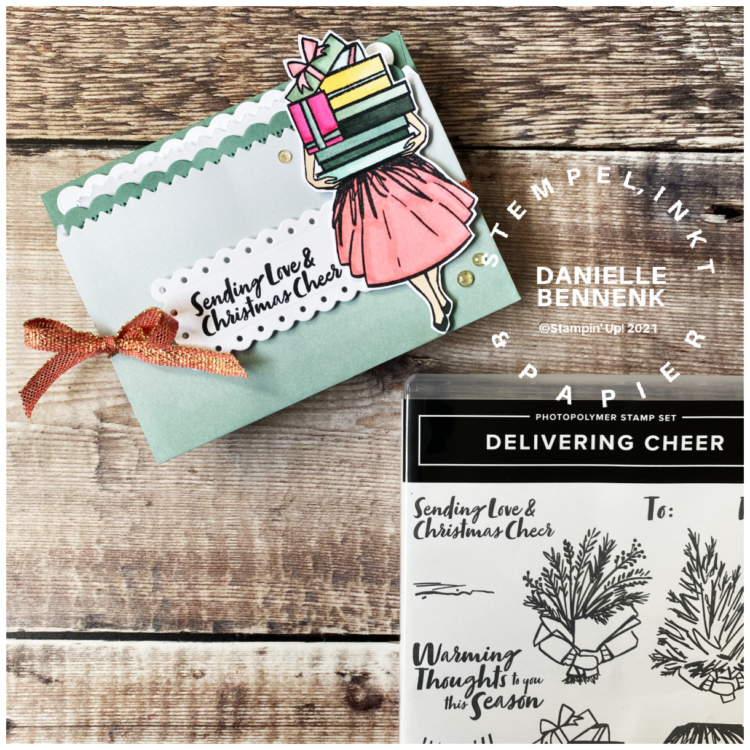 De voorzijde van de Ombre Gift Bag Pocket Geschenkkaarthouder heb ik versierd met een tekstlabel, het kleinste label van de Scalloped Contours Dies, en een prachtige afbeelding van de Delivering Cheer Stempelset welke ik heb ingekleurd met Stampin' Blends. Ik gebruikte de volgende kleuren: Ivory, Flirty Flamingo, Polished Pink, So Saffron, Mint Macaron, Soft Succulent, Evening Evergreen en Pool Party. Daarna heb ik de afbeelding uitgeknipt met mijn Paper Snips. Een aantal Genial Gems maken het af.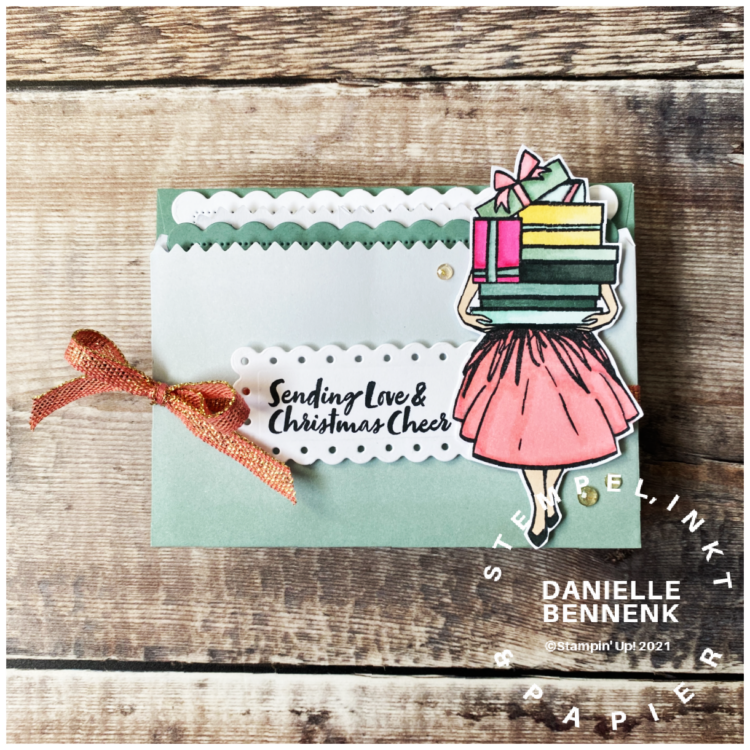 Vervolgens heb ik twee inserts gemaakt met de Scalloped Contours Dies van Basic White en Soft Succulent Cardstock. Op een ervan heb ik teksten gestempeld en de andere bevat de geschenkkaart.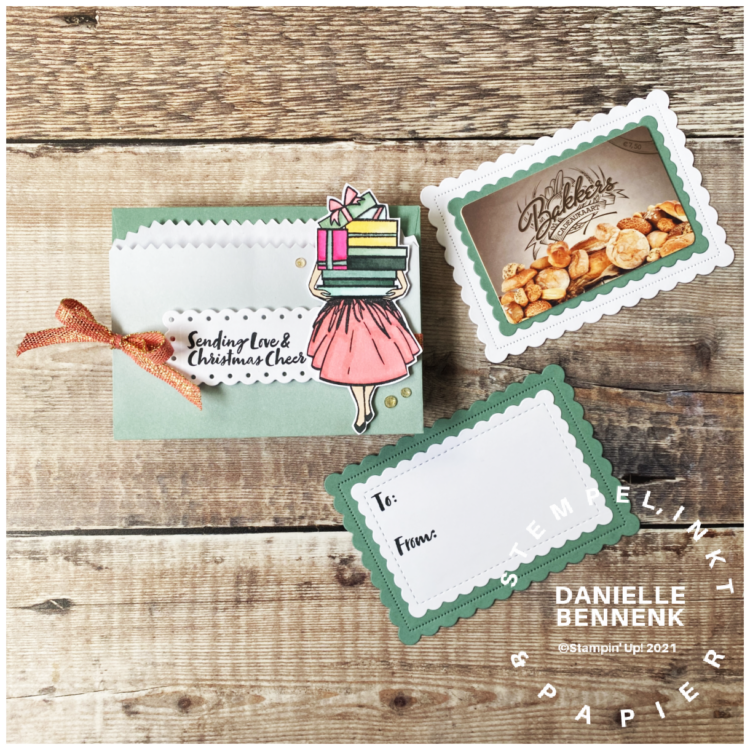 Wat is Stempel, Inkt & Papier?
Nog even ter informatie: Stempel, Inkt & Papier is een creatief initiatief van drie Nederlandse Stampin'Up! Demonstratrices – Sandra Korten, Lotte Noordzij-Walther en ikzelf – die elke maand een specifiek Stampin'Up! Product of specifiek thema centraal zetten in een "Live" workshop programma.
In dit programma bieden we tenminste 4 online workshops aan via Facebook Live uitzendingen in een besloten Facebook groep. Dit zijn dus "Live" workshops waarbij jij als kijker meteen met ons mee kan doen of later aan de slag kan gaan. Wil je weten hoe je aan dit "Live" workshop programma kunt mee doen ga dan naar deze pagina voor meer informatie.
Meer Kant-En-Klare Verpakkingen inspiratie
Hieronder vind je de linkenlijst, klik gewoon op de naam onder die van mij (ik ben Danielle) om door te gaan naar het volgende blog.

Gebruikte materialen
Ik verzorg graag je bestelling. Klik op de 'Stampin' Up! bestelling'-knop of de 'Webshop Stampin' Up!'-knop (PayPal en credit card betaling) in de zijbalk om deze te plaatsen.
| | | | | |
| --- | --- | --- | --- | --- |
| | | | | |
| | | | | |
| | | | | |
| | | | | |