FAVORIET: PRETTY PERENNIALS BUNDEL
Welkom bij Mrs. Brightside! Vandaag hop ik met een groep Nederlandse Stampin' Up! demonstrators en het thema is Sale-A-Bration en Mini Catalogus. Dus aan de slag met een favoriet item uit een van beide catalogi. Ik ging aan de slag met Pretty Perennials bundel uit de Januari-Juni Mini Catalogus van Stampin' Up!
De Pretty Perennials bundel is een zogenaamde 1 Million Sales set en mede-ontworpen door 1 Million Sales Achiever Dena Rekow van the Creativity Cave. De bundel bestaat uit de Pretty Perennials stempelset en de Perennial Petals Dies.
*Dear international readers, please use the translate button on the right (see side bar) to translate this message to your preferred language.
PRETTY PERENNIALS KAART
Deze gave bundel nodigt uit om er frisse en vrolijke kaartjes mee te maken. Dit deed ik dan ook tijdens mijn Creatief Live (te zien vanaf 41 minuten) in het Mrs. Brightside Craft Forum.
De basiskaart (10,5 x 29 cm, rillen lange kant op 14,5 cm) is van Crumb Cake Cardstock. De mat (9,5 x 13,5 cm) is van Basic White Cardstock en hierop heb ik een strook (2,5 x 13,5 cm) Fine Art Floral Designpapier geplakt. Vervolgens heb ik er wat Linen Thread om heen gewonden en gestrikt.
Daarna heb ik de kaart aangekleed met het mooie takje gestanst met de Perennial Petals Dies en een bloem gestempeld met Pretty Perennials stempelset met Magenta Madness en Mango Melody Classic Stampin' Inkt. De gestempelde afbeeldingen heb ik ook gestanst met de Perennials Dies net als het ranke bloemetje van Magenta Madness Cardstock.
Helemaal onderin de tekst met Soft Suede Classic Stampin' Inkt en een aantal Pumpkin Pie Holiday Rhinestone Basic Jewels maken het kaartje af.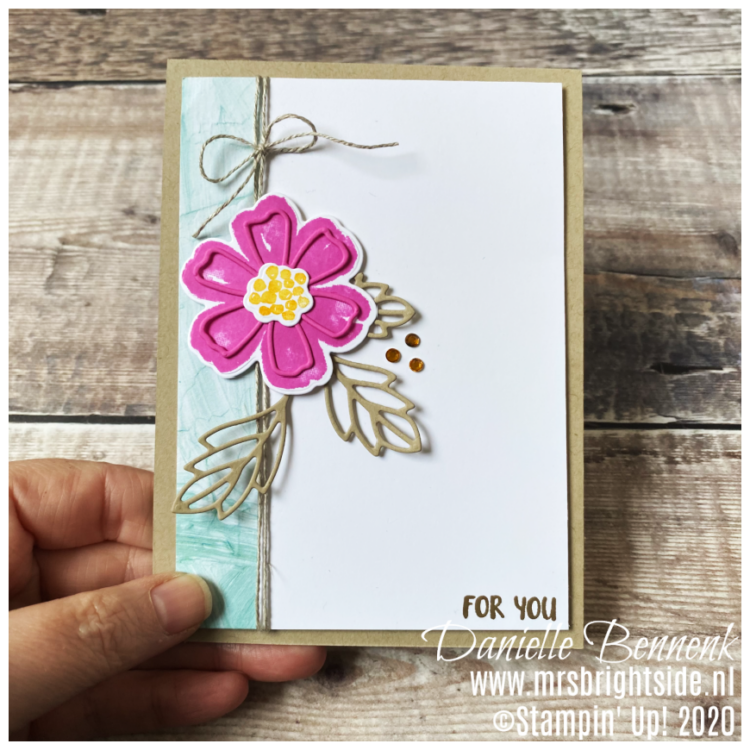 Tijdens mijn Creatief Live maakte ik een tweede variant van dit kaartje, waarbij ik voor de bloem Flirty Flamingo Classic Stampin' Inkt en Cardstock gebruikte. Wederom een super frisse combinatie, met name ook door dat strookje van het Fine Floral Art Designpapier. Welke versie is jouw favoriet?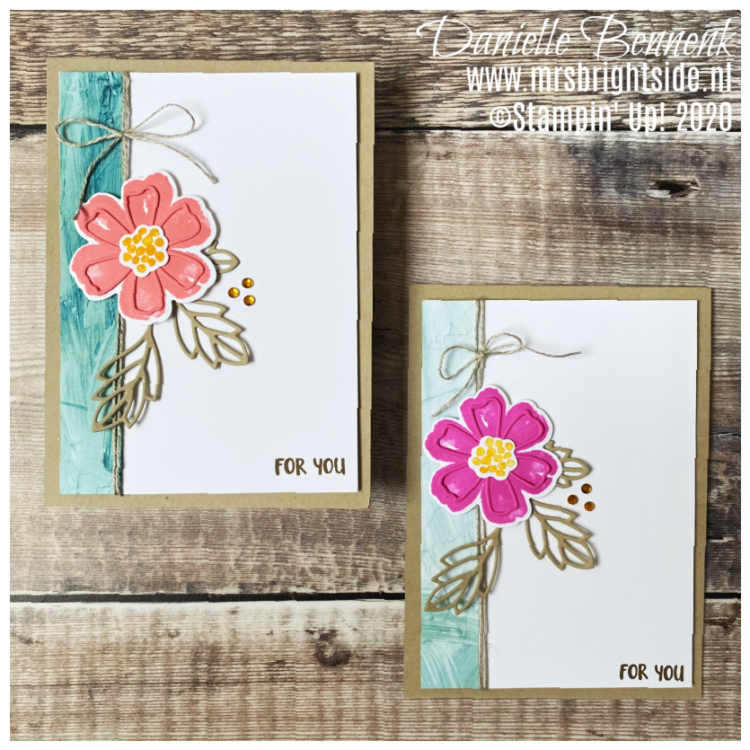 NOG MEER SALE-A-BRATION & MINI CATALOGUS FAVORIETEN
Ben je net als ik ook benieuwd naar de favoriete items die de andere bloghop deelnemers hebben gebruikt? Dan kun je eenvoudig door hoppen door op knop 'volgende' te klikken.
Ik wil je hartelijk danken voor je bezoek en wens je nog veel plezier bij het hoppen.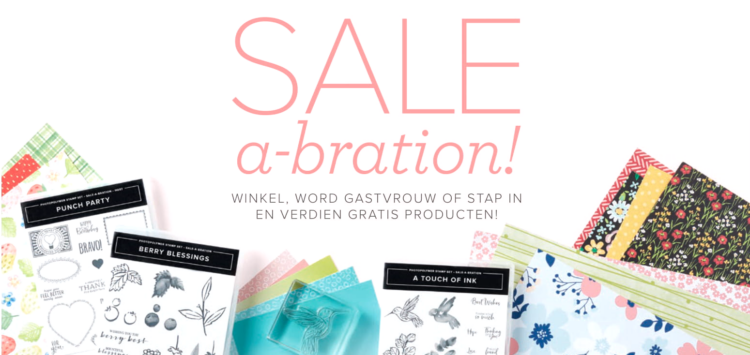 Gebruikte materialen
Ik verzorg graag je bestelling. Klik op de 'Stampin' Up! bestelling'-knop of de 'Webshop Stampin' Up!'-knop (credit card only) in de zijbalk om deze te plaatsen.