Thema: Glitter & Glamour
Het thema is Glitter & Glamour en ik ben aan de slag gegaan met het Golden Garden Designer Specialty Acetate. Om mijn project een tikje glitter & glamour te geven. Deze prachtige acetaat is te bestellen bij mij en staat in de januari-juni Stampin' Up! Mini Catalogus.
*Dear international readers, please use the translate button on the right (see side bar) to translate this message to your preferred language.
Glitter & Glamour Thank You kaart
Het Golden Garden Designer Specialty Acetate heeft een gouden kant, maar ook een van zilver en die kant heb ik geshowcased op mijn kaart. Ik wilde ook weer eens gebruik maken van de Prized Peony bundel uit de Stampin' Up! jaarcatalogus. Deze bundel vind ik echt prachtig, maar heb ik veel te weinig gebruikt naar mijn zin, dus bij dezen 🙂 Kijk hier voor nog een project met deze mooie bundel.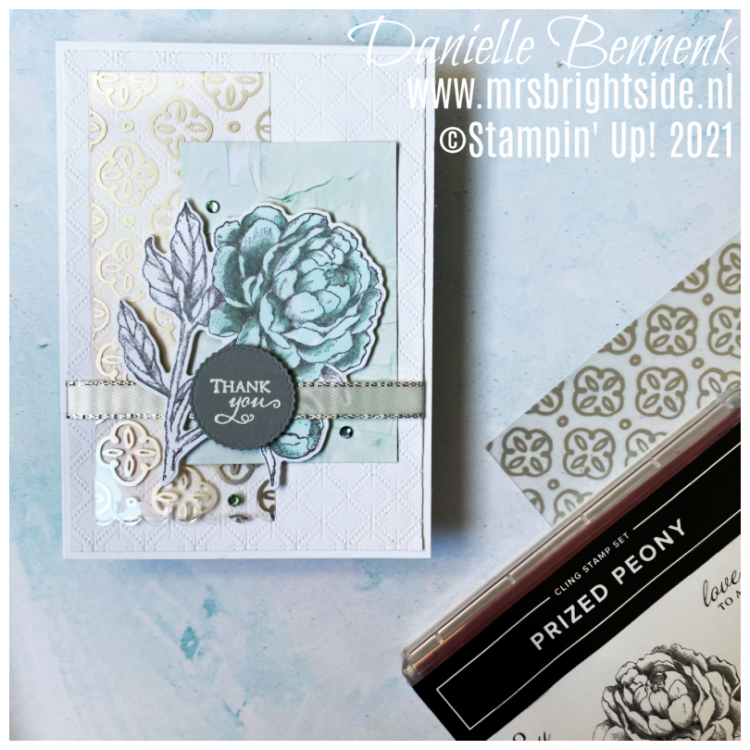 Op mijn basiskaart (14,5 x 21 cm, rillen lange kant op 10,5 cm) van Basic White Thick Cardstock zit een mat (10 x 14 cm) van Basic White Cardstock. Deze mat heb ik embossed met de Dainty Diamonds 3D Embossing Folder.
Vervolgens heb ik een strook (5 x 13 cm) van het Designer Acetate aan de onderzijde gestanst met een stans uit de Peony Dies. Die strook heb ik op de mat geplakt met een stukje Tear & Tape. Hierover heen zit een rechthoek (6 x 9) van het Fine Floral Art Designpapier.
Vervolgens heb ik de pioenroos gestempeld met Basic Gray Classic Stampin' Inkt op Basic White Cardstock. De roos is ingekleurd met de Pool Party Stampin' Blends en gestanst met de Peony Dies.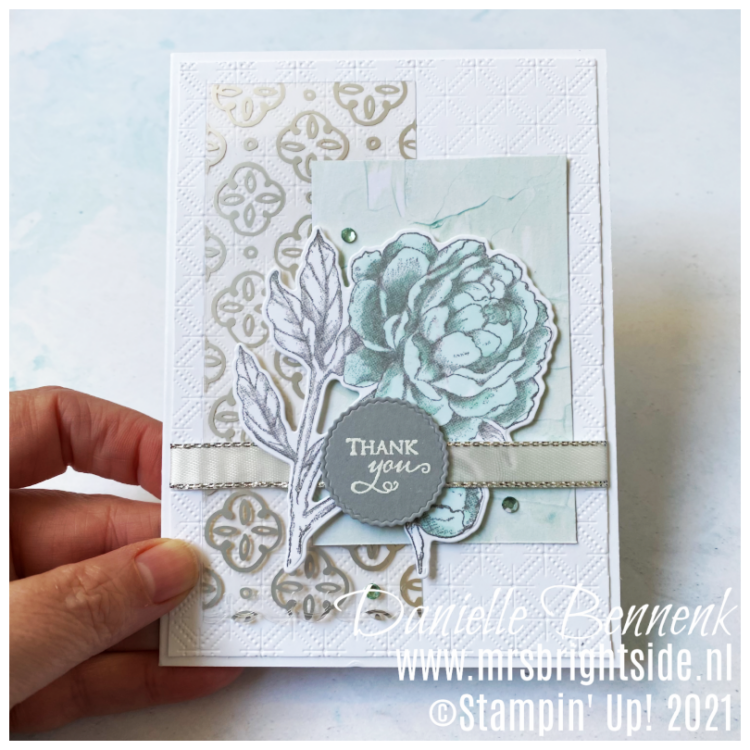 De pioenroos heb ik op de kaart geplakt met Stampin' Dimensionals. Ik heb een stuk Silver Metallic-Edge lint door de gestanste bloem gevlochten en aan de achterzijde van de mat bevestigd. Hierop zit een tekstlabel, gestanst met de Tasteful Labels Dies, met een embosste tekst van de Very Versailles Stempelset. Een aantal Pool Party Holiday Rhinestone Basic Jewels maken de kaart af.
Meer inspiratie van het Stampin' Creative Design Team
Ik hoop dat je mijn interpretatie van het thema kan waarderen en ik hoop dat ik je met mijn project geïnspireerd heb. Ben je net als ik ook benieuwd naar de creaties van de andere Stampin' Creative Design Teamleden? Dan kun je eenvoudig door hoppen door op de naam onder die van mij (ik ben Danielle Bennenk) te klikken.
Ik wil je hartelijk danken voor je bezoek en wens je nog veel plezier bij het hoppen.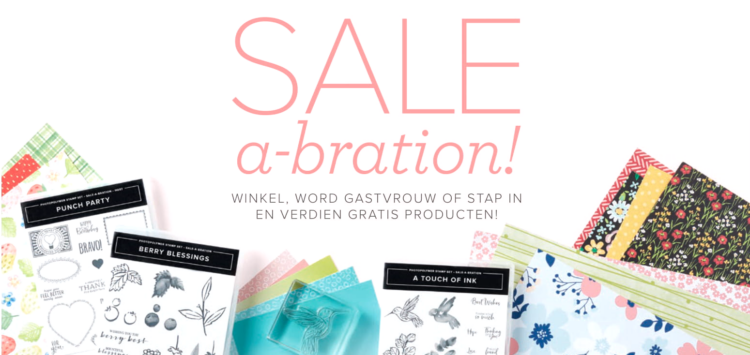 Gebruikte materialen
Ik verzorg graag je bestelling. Klik op de 'Stampin' Up! bestelling'-knop of de 'Webshop Stampin' Up!'-knop (PayPal en credit card betaling) in de zijbalk om deze te plaatsen.